In the early hours of this morning AMD finally unveiled its first Polaris graphics card: the RX480. With specifications that peg it as comparable in power, but far more efficient than the R9 390, AMD also twinned up two of the $200 (£140) cards against a Nvidia GTX 1080 and by all accounts they did rather well.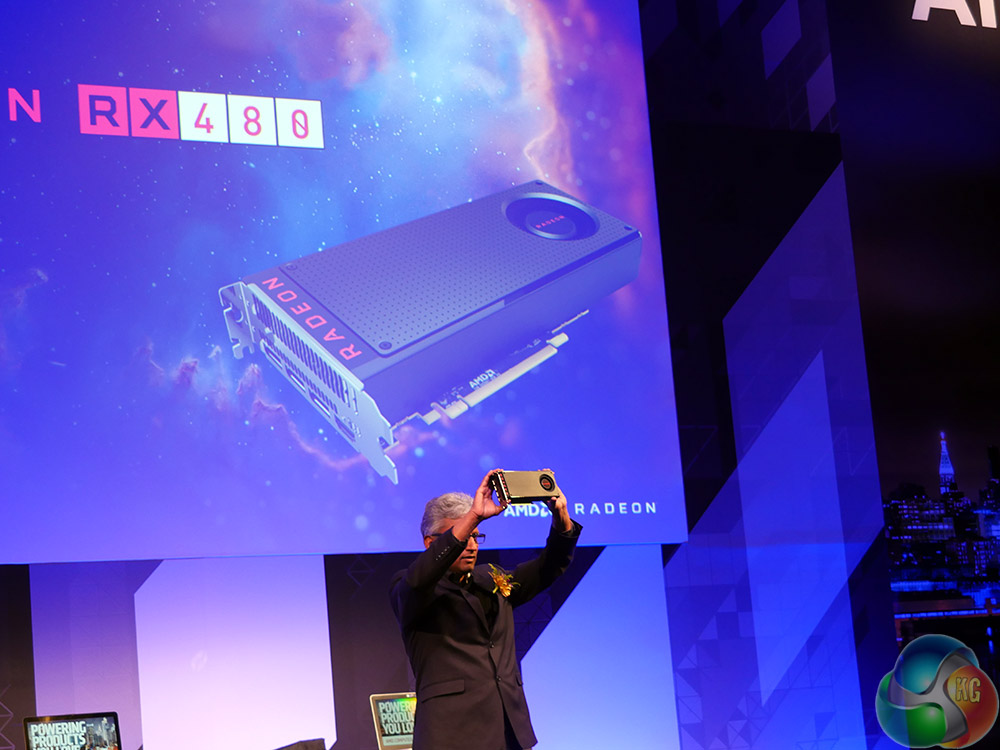 The RX480 is one of the most intriguing releases of this year so far. Unlike Nvidia, which went quite traditional with its GTX 1080 and 1070 release, in that they are high-performance, high-cost, AMD's latest GPU is much more affordable.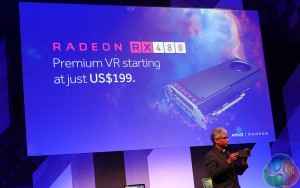 Specifications wise, it has similar hardware on board to a R9 390, though of course using the 14nm FinFet design. It's vastly more efficient at just 150w of peak power-draw and is also very affordable, with a price tag of just $200 (£140).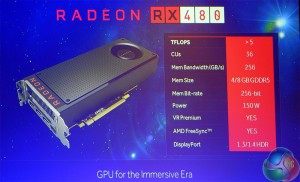 The purpose of this card is to make it easy for anyone to bring their PC up to spec for virtual reality. This card should be more than capable of handling current-gen VR and it may not even be that weak or a performer in general gaming too.
Thanks to better support for DirectX12, CrossFire and an improved architectural efficiency, AMD showed a pair of RX480s beating out a single GTX 1080 in a test of Ashes of the Singularity. We weren't privy to which settings were used, but cost wise, it would be far cheaper to buy a pair of RX480s, than it would be a single GTX 1080.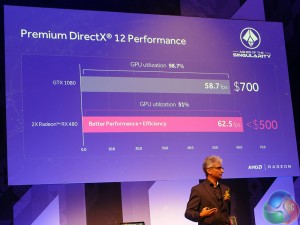 Our man on the scene, Leo Waldock did report however, that he felt the RX480s in the test system may have been modified, possibly higher-powered versions, since the cost rating was said to be sub-$500 (rather than $400), suggesting a few extra dollars were spent on those GPUs.
AMD's RX480 will launch officially on the 29th June.
Discuss onour Facebook page, HERE.
KitGuru says: Although this isn't likely to get reviewers excited for the benchmarking capabilities, if AMD has managed to package R9 390 or higher performance into a single, low-power-draw card, the RX480 could well be a winner at that price point.