Nvidia has debuted a new pair of graphics cards as part of its Pascal line up, but these ones aren't designed to give you ungodly frame rates in the latest and greatest games, these ones are for the business users. Workstations, renderers and situations that require more power than a GTX Titan X can put out, could all benefit from teaming up with the new Quadro P5000 and P6000.
These cards are being shown off by Nvidia for the first time at this year's SIGGRAPH conference, where visitors will get a chance to see both cards up close, with live demos of 4K videos being stitched together in real time, to create seamless 360 degree movies.
The former of the two cards is, as you might expect, the smaller one – but that doesn't mean it's weak. Able to output just shy of nine teraflops of power, the P5000 is no push over. It comes equipped with 2,560 CUDA cores and 16GB of GDDR5X.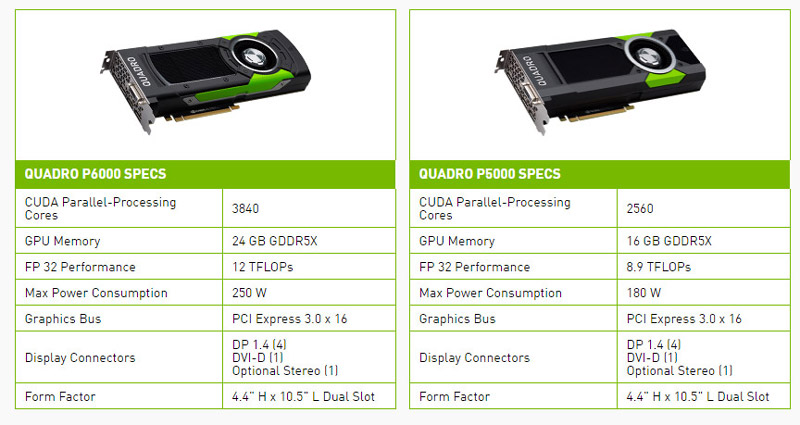 Nvidia didn't give us any details on what the clock speeds for both the memory and core are, but we do know that the P5000 draws 180w of power, which isn't too hectic.
Its bigger brother the P6000 though, draws a much heftier 250w, because it puts out as much as 12 teraflops of floating point performance. That's thanks to its monstrous 3,840 CUDA cores, combined with 24GB of GDDR5X memory.
Both of these GPUs are compatible with Nvidia's VR works, and they're being pitched as good hardware for use in making new 360 degree video, as well as developing virtual reality games. The P6000 and P5000 also support Nvidia Opitx 4, Nvidia's Ray Tracing engine.
KitGuru Says: Complete overkill for any gamer and certainly not optimised for the tasks within your average game, but it's hard not to salivate at those specifications.