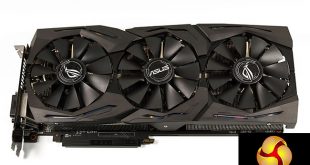 AMD launched their RX 480 at the end of June and I was on hand to offer my analysis of the reference card at the time. Today we present our review of the new Asus RX 480 Strix Gaming OC, a custom solution featuring enhanced clock speeds, a modified triple fan cooler and 'Aura' RGB lighting. At £289.99 inc vat the Asus card hits the same price points as many Nvidia GTX 1060 solutions, so we have high hopes it can compete.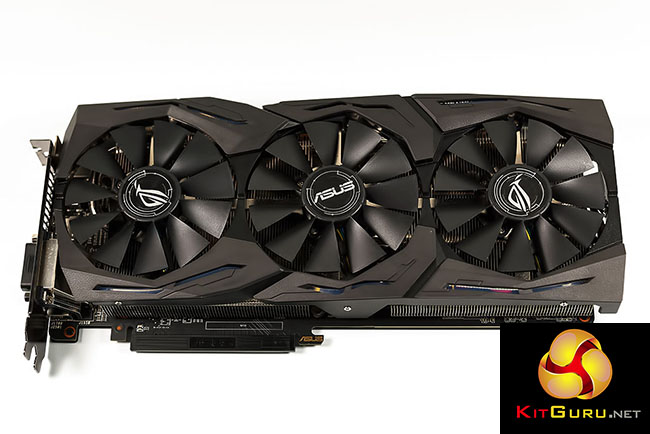 The new AMD Radeon RX 480 is built on the FinFET 14nm process. For Polaris, AMD selected Samsung and Global Foundries 14nm FinFET based process technology, the densest foundry process available. FinFET transistors are crucial to reduce power consumption while enabling operating voltages which are 150mV lower than the previous generation.
The AMD RX 480 will be available in two different memory capacities, 4GB and 8GB. We have heard retail prices of $199 for the 4GB card and $239 for the 8GB card with UK prices around £180 and £215 respectively. Pricing is a little higher in the UK, but I guess most of us are getting used to that now.
GPU
Radeon R9 290X
Radeon R9 390
Radeon R9 390X
Radeon R9 Fury
Radeon R9
Fury X
Radeon RX 480
Shader Units
2816
2560
2816
3584
4096
2304
ROPs
64
64
64
64
64
32
Graphics Processor
Hawaii
Hawaii
Hawaii
Fiji
Fiji
Ellesmere
Transistors
6200M
6200M
6200M
8900M
8900M
5700M
Memory Size
4GB
8GB
8GB
4GB
4GB
4GB/8GB
Memory Bus Width
512 bit
512 bit
512 bit
4096 bit
4096 bit
256 bit
Core Clock
1000 mhz
1000 mhz
1050 mhz
1000 mhz
1000 mhz
up to 1266mhz
Memory Clock
1250mhz
1500mhz
1500mhz
500mhz
500mhz
2000mhz
The Asus RX 480 Strix Gaming OC Aura will ship in 'gaming mode' with a clock speed set at 1310mhz. Our sample was hardcoded with the faster OC mode BIOS @ 1330mhz. We have tested previous Asus Strix cards at the fastest speed because this is how the majority of KitGuru readers will be using the hardware via the supplied GPU Tweak software package.
Our review sample has the latest BIOS installed.
Be sure to check out our sponsors store EKWB here