This is our first look at a custom RX 480 and getting the results in this review have been a somewhat frustrating experience for us over the last week. Firstly we experienced some kind of driver related issue which would intermittently switch the target temperature settings between 65c and 75c. This had a rather large impact on the acoustics and thermal results as we would expect.
We only noticed the issue when measuring the noise emissions under load. We tracked the issue down in Wattman – which would show a target temperature of 65c on boot up, then 75c after another reboot. While we are waiting on feedback from ASUS, we discovered the same issue with some Sapphire RX 480 cards we are testing right now as well.
Sapphire confirmed there is an issue and that their cards will likely suffer from target temperature issues. We aren't sure if the Catalyst Driver is overriding thermal settings in the cards BIOS, but we will update this page when we get more information.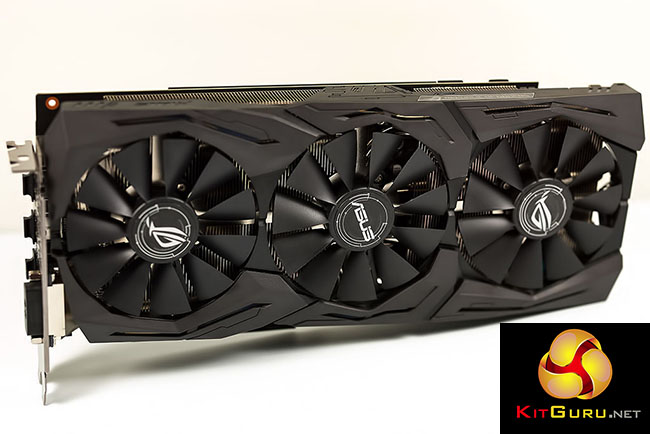 As it stands, our results today were taken from the Asus RX 480 Strix Gaming OC running with a 65c target temperature setting. The triple fan cooler is certainly effective at these settings, but it is also rather loud as well – it has to work hard to maintain load temperatures at or below 65c.
Based on our experience with ASUS Strix solutions in recent months, this overtly aggressive profile seems out of character, so we would imagine that a new driver, or a BIOS change will adjust the profile to a target temperature of 75c. We have been unable to resolve the issue during the last week but we managed to test some games with the profile set at 75c (this would happen randomly on a reboot), and the game test results were the same. The only results to change are the acoustic reports, and thermal results.
There is no doubt that there is some overclocking headroom available and that the Asus RX 480 Strix Gaming OC Aura outperforms the reference RX 480 we had in our labs for launch. Sadly we ran into a problem here as well. With AMD's own, over complicated Wattman software, we were only able to increase the core to around 1,380mhz before instability would occur. We had more success with the ASUS GPU Tweak software, but were limited due to the sliders stopping at 1,400mhz. At this speed the core was completely stable, but there is potentially more headroom available.
The Asus RX 480 Strix Gaming OC is certainly an improvement over the AMD reference card, however in most situations it is unable to outperform the reference Nvidia GTX 1060. It also consumes more power than the GTX 1060. The price point is therefore critical for AMD and their partners right now.

If we look on Overclockers UK today we can see the Asus RX 480 Strix Gaming OC is priced at £289.99 inc vat HERE. This is the same price as some GTX 1060 partner cards available today, but if we compare 'like for like' it is around £35 less than the Asus GTX 1060 Strix OC, priced at £325.99 inc vat on OCUK HERE. You can read our review of the GTX 1060 Strix incidentally, published this week, over HERE.
The Asus RX 480 Strix Gaming OC Aura is a high performance card that will be more than capable of handling modern game engines at 1080p and 1440p settings. AMD fans will be pleased with the performance, triple fan cooler enhancements and overclocking potential. We experienced a few issues testing this card over the last week, but none were related to stability or performance. We are confident that the target temperature issues will be resolved with a driver or BIOS update, and that Asus will rectify the limited slider overclocking capabilities set in their current version of the GPU Tweak software suite.
Discuss on our Facebook page, over HERE.
Pros:
a great looking RX 480.
three fan cooler is powerful.
our sample hits 1400mhz+ (GPU tweak wouldn't allow us to move higher).
LED lighting is lovely.
backplate.
fans disable below 54c.
Cons:
target temperature glitches switching between 65c and 75c.
priced at the same point as some (faster) GTX 1060 cards.
a little loud with the profile at 65c under load.
GPU tweak sliders stop at 1,400mhz.
consumes more power than the GTX 1060.
Kitguru says: We had our fair share of glitches and software issues when testing the Asus RX 480 Strix Gaming OC Aura, but the card is very capable and a solid improvement over the reference card.