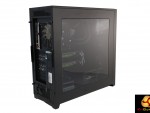 PC Specialist Leviathan X is packed with two Nvidia Titan X graphics cards that use the latest Pascal technology. One Titan X is £1,100/US$1,200 of gaming insanity so what sort of performance can we hope to see from two of these monsters linked in SLI?
Titan X is only available directly from Nvidia – there are no partner cards – and there is a strict limit of two cards per customer. Added to that there are only two PC builders in the UK who are permitted to use Titan X in their systems. PC Specialist is one of those companies and they rushed us their new Leviathan X PC so we could experience the finest gaming experience that money can buy. Yes that's a bold claim but as you will see the test results we obtained are out of this world.
Watch via our VIMEO Channel (Below) or over on YouTube at 1080p60 HERE.
PC Specialist Leviathan X Specifications:
Case Corsair Obsidian 750D Full Tower Case
CPU Overclocked Intel Six Core i7-6850K (3.6GHz @ MAX 4.3GHz)
Motherboard Asus ROG Strix X99 Gaming: ATX, Broadwell-E CPU, USB 3.0, SATA 6 GB/s
Memory (RAM) 32GB HyperX Savage DDR4-3000MHz (4x8GB Kit)
Graphics Card 12GB Nvidia Titan X (The Ultimate, Pascal Edition) – DVI, HDMI, DP
2nd Graphics Card 12GB Nvidia Titan X (The Ultimate, Pascal Edition) – DVI, HDMI, DP
1st Hard Disk 480GB HyperX Savage 2.5″ SSD, SATA 6 Gb/s (up to 560MB/Read | 530MB/Write)
2nd Hard Disk 2TB WD Black 3.5″ WD2003FZEX, SATA 6 Gb/s, 64MB CACHE (7200rpm)
1st DVD/Blu-Ray Drive 24x Dual Layer DVD Writer ±R/±RW/RAM
Power Supply Corsair 1000W RMx Series Modular 80 Plus Gold, Ultra Quiet
Processor Cooling Corsair H100i V2 Hydro Cooler w/ PCS Liquid Series Ultra Quiet Fans
Thermal Paste Arctic MX-4 Extreme Thermal Conductivity Compound
Sound Card On-board 8 Channel (7.1) High Def Audio
Networking 10/100/1000 Gigabit LAN Port
USB Options 2x USB 3.1, 6x USB 3.0 and 6 x USB 2.0 Ports
Power Cable one Metre UK Power Cable (Kettle Lead)
Operating System Genuine Windows 10 Home 64 Bit – inc DVD & Licence
Anti-Virus BullGuard Internet Security – Free 90 Day License inc. Gamer Mode
Warranty 3 Year Standard Warranty (1 Month Collect & Return, 1 Year Parts, 3 Year Labour)
Price for review system: £3,899. Purchase and configuration webpage HERE.
Before we get down to brass tacks let's take a tour around the PC. The case is a Corsair Obsidian 750D which is a full tower design that has plenty of space inside without going to the extremes of larger cases such as the Obsidian 900D. This is a good balance as the pair of Titan X graphics cards require a certain amount of space for air to circulate, however there is little realistic prospect of the customer performing much in the way of upgrades so extra space inside the case would simply be unnecessary.
There are two 140mm Corsair fans at the front of the case and one 140mm at the rear that pretty much dwarf the 240mm Corsair H100i liquid cooler in the roof with its pair of 120mm fans.
At the heart of the system we have an Intel Core i7-6850K which is a fairly expensive six-core Broadwell-E processor that sells for just under £600. We doubt there would have been any gaming advantage if PC Specialist had stepped up to an eight-core Core i7-6900K costing £900 or a £1500 Core i7-6950X. On the other hand a step down to the £400 Core i7-6800K would probably have been a bad move as the number of PCI Express 3.0 lanes would be reduced from 40 to 28 so the choice of Core i7-6850K makes perfect sense. To sweeten the deal PC Specialist has overclocked the CPU from 3.6GHz to 34x125MHz=4.25GHz.
To back up the CPU you get 32GB of HyperX Savage DDR4-3000MHz RAM and it is at this point that two points dawn on the observer. The first is that the innards of the PC are rather dark with plenty of black and grey. The second point is that PC Specialist hasn't gone to town with the specification of Leviathan X as the components are fairly modest. Take the next component, the Asus ROG Strix X99 Gaming motherboard which is a solid candidate for X99 duties that was recently released for the Broadwell-E launch.
When you consider that Asus X99 motherboards range in price from £200 to £500 the ROG Strix X99 Gaming rates as a mid-range product, however it performed perfectly well during our testing and gave us no cause for concern.
In terms of I/O the Strix X99 Gaming has a truly colossal number of ports and connectors. At the front of the case there are two USB 2.0 and two USB 3.0 ports along with headset jacks. On the I/O panel there are four USB 2.0, four USB 3.0, one USB 3.1 and one type C USB 3.1 port. That's a total of 14 USB ports.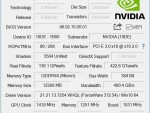 And so we come to the graphics cards. There is no point repeating the details of Pascal Titan X except to say that each GPU has 1.4x as many CUDA cores as GTX 1080 and you get most of the clock speed too. If, for some reason, you haven't yet read the KitGuru review you should head HERE.
Good, isn't it? Or rather, good, aren't they? As we have two Pascal Titan X to deal with in this PC.
If we have a complaint at this point it is that Leviathan X clearly has two beefy GeForce graphics cards installed yet it isn't the least bit obvious they are enormously expensive and potent Titan X GPUs. How much effort would it take to slap on some Titan X logos Nvidia?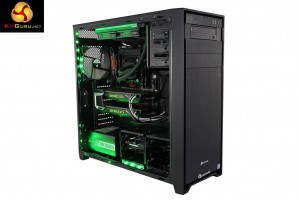 The final parts of the specification are the 480GB HyperX Savage SSD, which is a perfectly sound 2.5-inch SATA 6Gb/s that is powered by a Phison controller and to back that up you get a 2TB WD Black hard drive that spins at 7,200rpm.
If we were picking fault it would have been good to have a bang up to date SSD with NVMe and while we're at it a 3TB or 4TB drive would have been desirable however these are minor quibbles.
It was only towards the end of the review that we realised the Leviathan X also sports an optical drive that can read Blu-Rays and write Dual Layer DVDs. These days an optical drive appears so irrelevant to us that it is literally invisible. Having said that, some of you love the things so we're happy and have no complaints.
Testing
With a pair of Titan X Pascal graphics cards and a overclocked 6-core Intel CPU, can the PC Specialist Leviathan X deliver smooth gameplay at 4K and even 5K resolutions? And how do its 4.25GHz i7-6850K and 32GB of DDR4 memory cope with non-gaming workloads?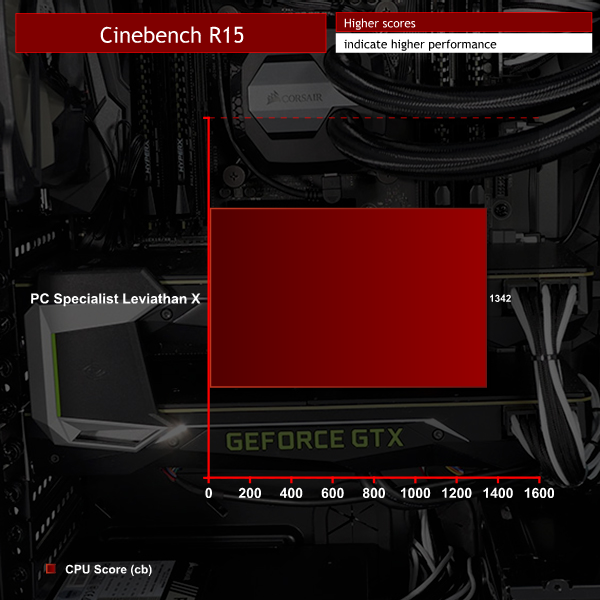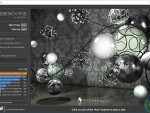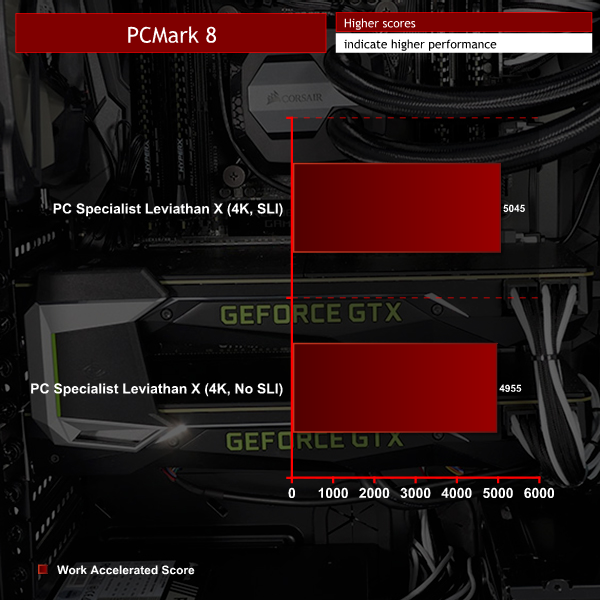 Testing – 3DMark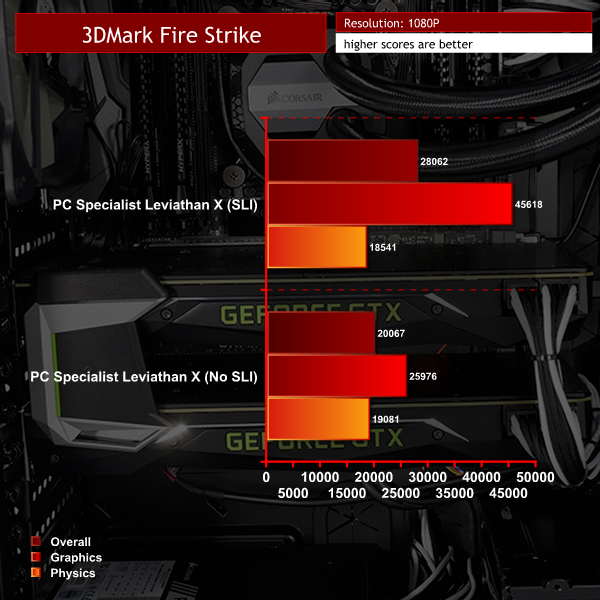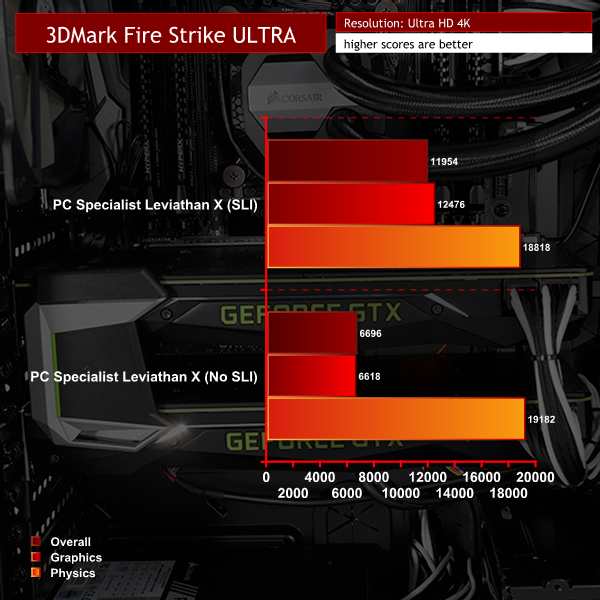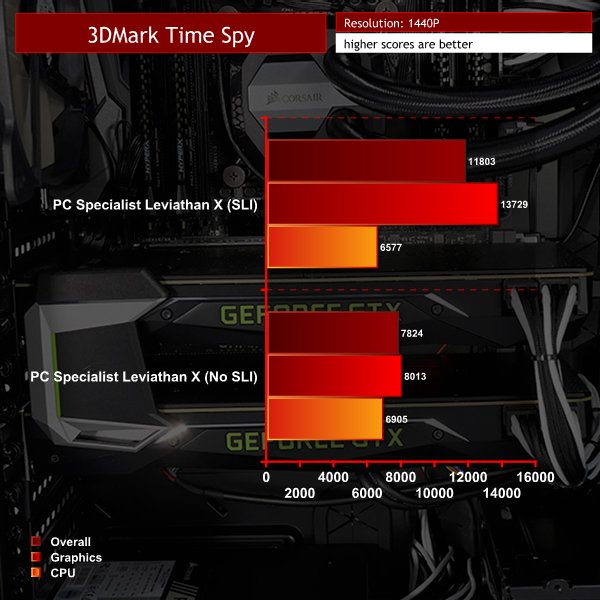 First things first, we used the synthetic 3DMark to run through Fire Strike, Fire Strike Extreme and Fire Strike Ultra along with the new DX12 Time Spy test. The results were huge, as we expected, the PC was fairly quiet and the power draw at the wall socket wasn't too scary.
More to the point the test results chimed nicely with Zardon's Titan X scores which was reassuring as you never quite know how new technology will behave.
Testing – Games
We know Titan X powers through 4K benchmarks so we had to find a way to push things further. After all, if Titan X runs well at 4K and a pair of Titan X merely gives you higher frame rates or slightly better image quality that is a questionable use of an extra £1100. The answer lay in the 5K Dell U2715K which won our Must Have award quite recently. 5K may sound like it is only 25 percent more pixels than 4K however this is not the case.
1080p is 1,920×1,080 = 2 Megapixel
4K is 3,840×2,160 = 8 Megapixel
5K is 5,120×2,880 = 15 Megapixel
And that, gentle reader, is the reason why 4K drags your PC to its knees as it demands four times the work of 1080p. 5K is pretty much double the workload of 4K and seemed like the perfect fit. If one Titan X does 4K then two should do 5K.
We mention in the video that we ran GTA V at 5K with anti aliasing enabled and saw it required 21GB of the 24GB of graphics memory (12GB per Titan X). The game played perfectly well but in all honesty it was a bit dull at 40fps which is why we knocked off the AA for the on-screen demo so you could watch the game zip along briskly.
The reason for mentioning this is that it came as a surprise the settings for GTA V, Rise of the Tomb Raider, Deus Ex: Mankind Divided and Ashes of the Singularity all handled 5K without a problem.
SLI scaling is a different matter, as we shall see. While the second graphics card gave a healthy boost in every instance, the amount of extra performance varied from game to game.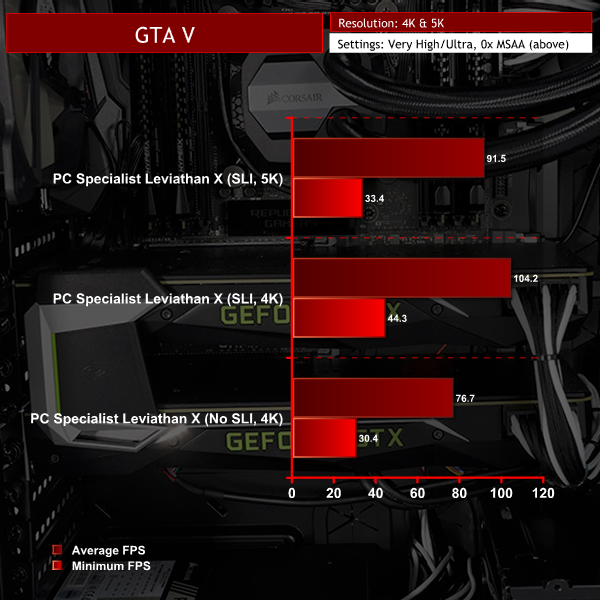 GTA V stormed along at 77fps in 4K with a single Titan X. Enabling SLI increased the frame rate to 104fps which is only 35 percent more however once you get past 100fps the exact rate is something of a detail. Stepping up to 5K was interesting as the average frame rate only dropped to 92fps which means that either the extra pixels almost come free of charge or, more likely, SLI Titan X is wasted at 4K.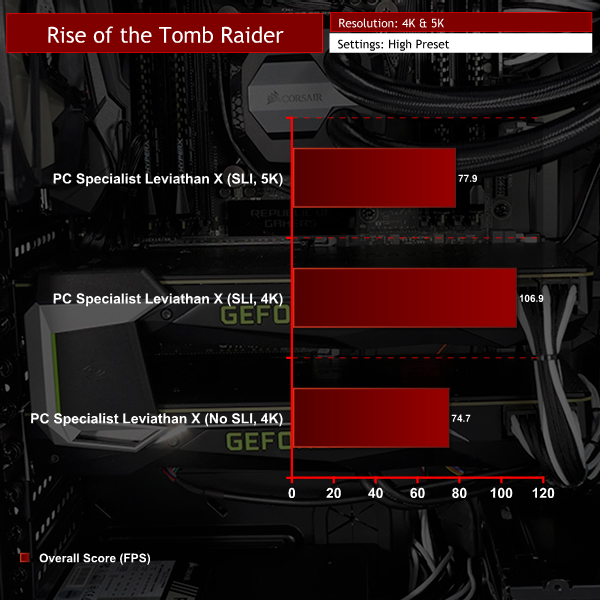 Rise of the Tomb Raider at High image quality looks superb and the test result with SLI disabled at 4K set a solid benchmark of 75fps. Enabling SLI raised the frame rate to 107fps, which is a similar story to GTA V and an increase of 43 percent. Stepping up to 5K saw the frame rate run at 78fps which is almost the same as the single Titan X in 4K and exactly what we predicted before we started the 4K/5K experiment.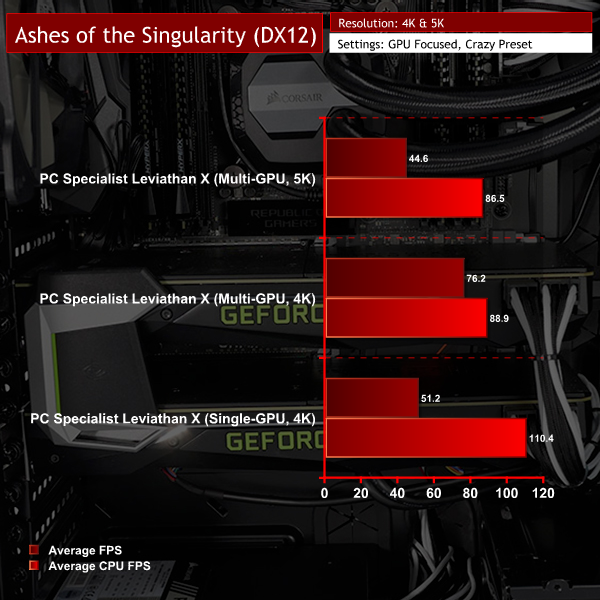 Ashes of the Singularity is an amusing game for benchmarks as you have to disable SLI in the graphics driver and then Enable Multiple GPUs in the games settings. This is a harsh introduction to the ways of DirectX 12 but is what enables the game to support multiple dissimilar GPUs working together.
With a single Titan X doing the work on Crazy settings the game averaged 51fps which stepped up to 76fps when using Multiple GPUs. That's an increase of 50 percent which is heading in the direction we hope to see when you use SLI or CrossFireX. Moving over to the 5K Dell saw the frame rate drop to 45fps which is below the 4K non-SLI score. This suggests that Ashes has a significant overhead working behind the scenes that drags the frame rate down lower than we would expect.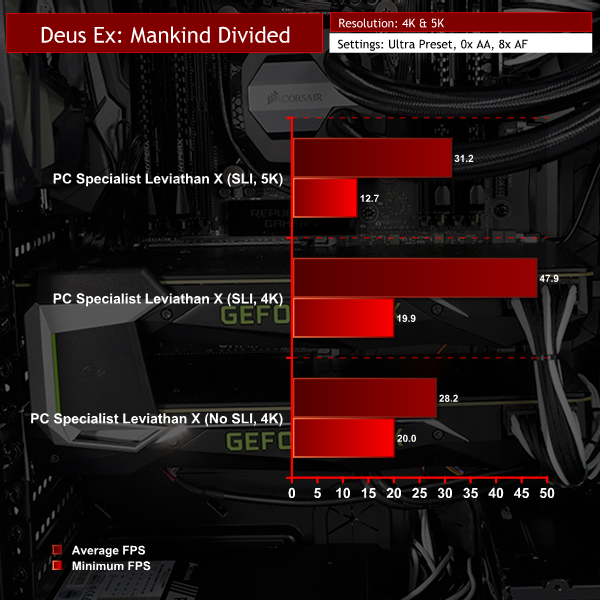 Deus Ex: Mankind Divided is brand new so no doubt it will evolve in the coming weeks and there will certainly be driver updates that are optimised for this game. Having said that, on Ultra settings the non-SLI set-up ran at a lowly 28fps at 4K which increased to 48fps with SLI.
That is an impressive 71 percent increase and by far the best SLI scaling we saw in this batch of testing. Moving on to 5K saw the frame rate drop to 31fps which is slightly higher than the single Titan X in 4K. For a new game these are impressive results and now we simply want to see higher frame rates across the board.
Also worth adding is that we were able to run the GPU-taxing Metro Redux at 5K resolution with an average frame rate in the region of 70 FPS using Very High IQ and SSAA.
Power Consumption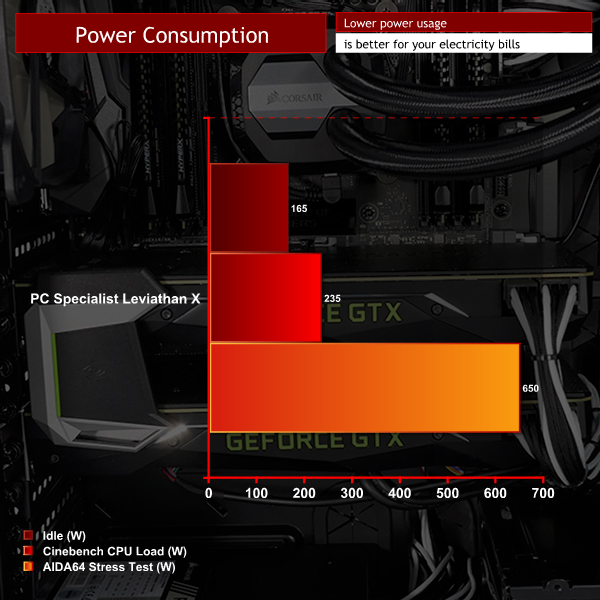 There are no surprises here – two mighty graphics cards and a hefty CPU require loads of electricity.
Cooling Performance.
Ambient = 25°C.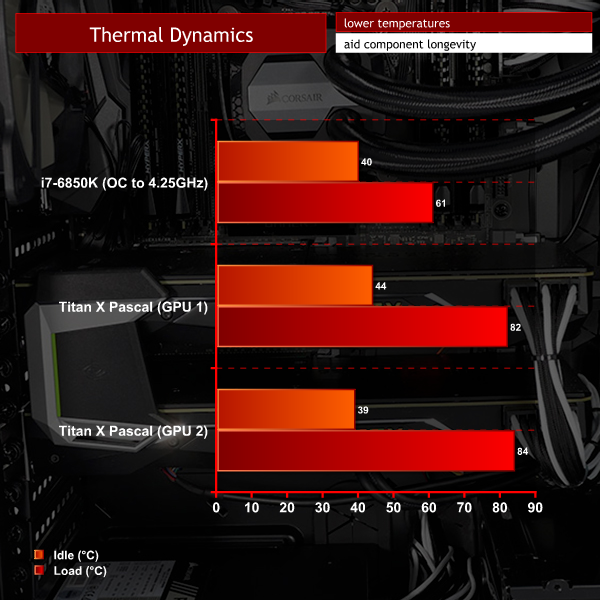 Titan X is a toasty GPU that idles around 40 degrees and ramps up to around 85 under heavy load. PC Specialist had the good sense to space the two cards apart and this allows cooling air to flow through the reference coolers.
While the Nvidia coolers do a decent job it is clear that water blocks and a custom loop are the obvious way forward in the next version of this PC, both as a way of reducing temperatures and also for extending the life of this brutally expensive hardware.
Acoustics performance.
Leviathan X is pleasantly quiet in operation. Your reviewer was in the exhaust path during the GTA V part of the video and while the steady blast of hot air was significant (fill in your own joke there) it is also true to say the noise levels were modest.
The case fans were also very quiet and the Corsair H100i CPU cooler was effectively inaudible. Overall this is an impressively quiet PC when you consider the workload and the amount of power that it consumes.
Closing Thoughts
PC Specialist rushed Leviathan X out of the door in very short order and we know full well they had little time to do specialised development for this mighty PC. They clearly opted for reliable and trusted components from solid brands such as Corsair, Asus, WD and Kingston and the results speak for themselves. There are areas where performance might be increased, for example by using an NVMe SSD, and we would like to see a Platinum or Titanium power supply in place of the Gold unit.
Having said that, PC Specialist has got all the big bits absolutely right and they support the dual Titan X graphics cards with aplomb. More importantly they do their jobs without fuss and with no hint of a problem.
It is clear this PC would be improved by the addition of a custom cooling loop that works on the CPU and both graphics cards. That ought to cost around £600 and while that sounds like a lot of money in this instance it is half of one graphics card. The sooner that PC Specialist offers this option for a total cost of, say, £4,500 the better.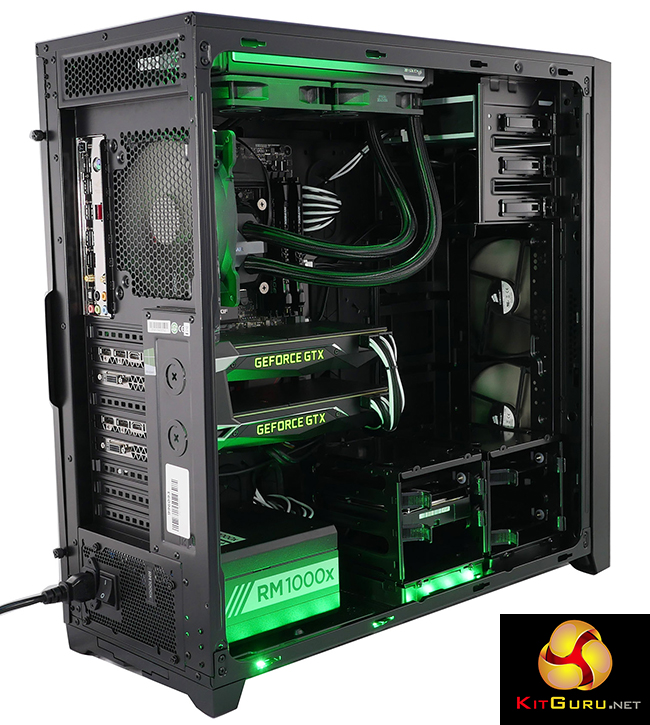 The PC that we have in front of us is impeccable. Obviously it has been built to a price and lacks much in the way of glitz or glamour but it works superbly well. If you removed the green LED lighting kit you could easily believe it was a workstation rather than a gaming rig.
We have two brief thoughts here about the graphics. We know full well that Quadro P6000 has 3,840 CUDA cores and 24GB of GDDR5X memory on a single graphics card. Also, it doesn't take a genius to predict that Nvidia will release GTX 1080 Ti at some point in the near future. When that happens Titan X will look somewhat like a white elephant but until that moment Titan X is the must-have GPU.
Also, and we hate to sound pretentious, this is an important PC. Leviathan X proves that 4K gaming is a walk in the park for dual Titan X Pascal GPUs and 5K gaming is the way to really stretch your hardware. That Dell U2715K is a stunning display and if it didn't have the annoyance of requiring dual DisplayPort cables would be pretty much perfect.
If you have £4,000 in your pocket you really should rush out and buy this PC with indecent haste. We know it is a snapshot in time but in the summer of 2016 this is absolutely the gaming PC you should be using.
You can buy the system at its special review price of £3,899 HERE.
Discuss on our Facebook page, over HERE.
Pros:
Dual Titan X graphics cards deliver 5K Wow factor.
Epic frame rates.
PC Specialist offers high end build quality.
Surprisingly quiet, even under load.
Decent cooling performance.
480GB SSD.
Cons:
SSD lacks NVMe
Power supply is only rated Gold.
KitGuru says: It may seem expensive but Leviathan X offers stunning gaming performance and very good value for money.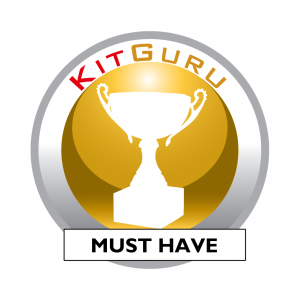 Be sure to check out our sponsors store EKWB here