Nvidia's G-Sync technology has been around for five years now and during that time, we've seen a lot of fantastic gaming monitors launch at higher price points compared to FreeSync counter-parts. This was in large part due to the additional cost of the G-Sync hardware module. However, this year, things will be changing a bit, as Nvidia has announced that it will be bringing G-Sync support to FreeSync monitors through a new certification program.
While G-Sync is proprietary technology, FreeSync just requires an up-to-date DisplayPort or HDMI connection for variable refresh rates. At CES today, Nvidia announced that it has embarked on a mission to test every single adaptive-sync (FreeSync) monitor available and certify specific ones for G-Sync support at a driver level. So far, 400 monitors have been tested and 12 specific models have passed.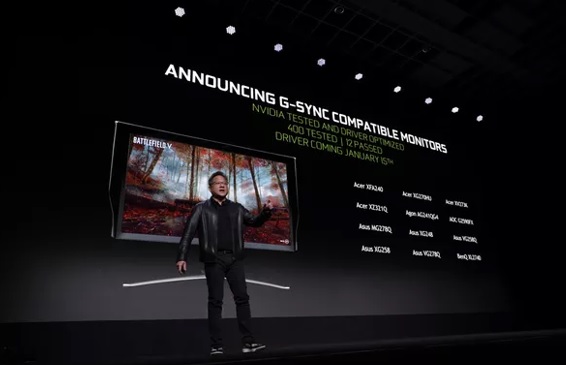 The list of G-Sync compatible monitors currently includes:
Acer XFA240.
Acer XZ321Q.
ASUS MG278Q.
ASUS XG258.
Acer XG270HU.
AOC Agon AG241QG4.
ASUS XG248.
ASUS VG278Q.
Acer XV273K.
AOC G2590FX.
ASUS VG258Q.
BenQ XL2740.
If you own one of these FreeSync monitors and an Nvidia graphics card, then a driver update on the 15th of January will allow you to switch on G-Sync. Nvidia's VRR technology has been available without the proprietary module for some time now, although this has been reserved for gaming laptops. Now, it is opening up to the gaming desktop world too and over time, many more FreeSync displays will support G-Sync too.
Update (13:23): We have received confirmation from Nvidia that 'certified' FreeSync monitors will have Adaptive Sync enabled by default in the driver. If you have a monitor that has not been certified, you can enable Adaptive Sync manually in the Nvidia control panel.
KitGuru Says: This is brilliant news to me, as it finally opens up the Nvidia ecosystem to a wider range of monitors, most of which will be cheaper than a G-Sync specific model. G-Sync through the driver has worked well on laptops, so we should see similar results on the desktop side going forward.