Last week, it became clear that Nvidia wasn't finished with GPU launches for the year, as it began teasing the TITAN Xp Collector's Edition. Now, we have all of the details. It turns out that the TITAN Xp Collector's Edition is a Star Wars themed graphics card, tying in to the upcoming movie.
With Star Wars: The Last Jedi coming out in December, marketing is ramping up. Not only will we have Battlefront II coming out this month, but Nvidia's TITAN Xp Collector's Edition comes in two versions, the 'New Jedi Order' edition and the 'Galactic Empire' edition, inviting fans to choose between the light and dark side.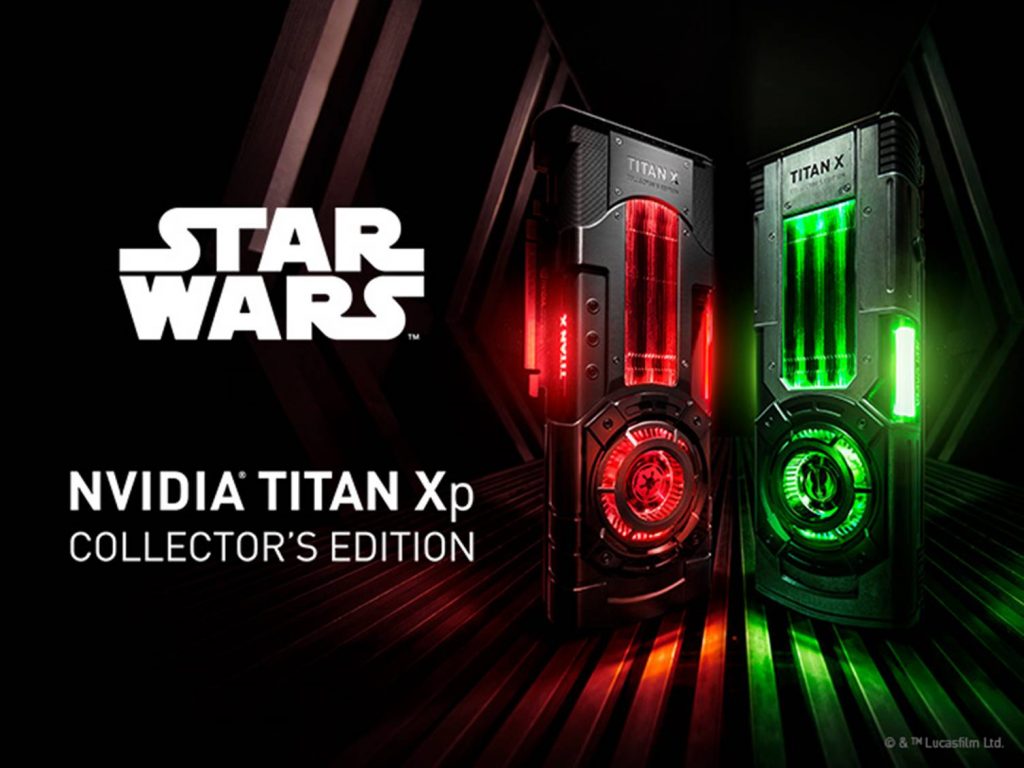 These new Collector's Edition graphics cards are designed to offer nods at the Star Wars universe. For instance, the 'New Jedi Order' edition has a glowing bright green light intended to be reminiscent of Luke Skywalker's famous lightsaber. The Jedi Order symbol can also be seen on the GPU fan. The Galactic Empire edition glows red by comparison, and has the Empire/Sith symbol on the cooling fan.
The Jedi-themed GPU is built with a battle-worn finish to reflect the long struggle of the rebel alliance. The cooling shroud uses diecast aluminium with a corrosive salt spray to achieve this effect. The Galactic Empire GPU on the other hand is clean for a more pristine look, reflecting the Empire's rich resources.
Both GPUs come with multiple windowed areas to showcase internals and lighting. GeForce Experience users will get first dibs at pre-orders. Both GPUs come priced at $1200, with shipments expected to go out shortly after. Specs and performance are exactly the same as the original TITAN Xp, with all of the GP102's CUDA cores enabled and 12TFLOPS of compute performance.
KitGuru Says: When the TITAN Xp Collector's Edition was initially teased last week, I never would have guessed that it would actually be a Star Wars themed graphics card. I'm left wondering what Leo will think on his next episode of 'Leo Says'. What do you guys make of this?