On Monday we ran a little public poll on our Facebook page. Around 2,000 readers answered and today, as promised, we share the results. No, This is not an AMD versus Nvidia editorial because that always gets much too heated and people end up arguing over nothing. We simply wanted to know how many of you are running AMD or Nvidia graphics in your systems in 2017. The results are interesting.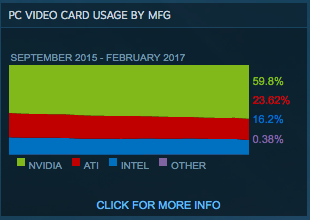 The latest STEAM hardware survey shows that almost 60% of their user base are using Nvidia graphics, with almost 24% running with AMD hardware. Another 16.2% of the STEAM base are using Intel integrated, which in itself is a scary thought. The last time I tried to game with Intel integrated was not a pleasant experience.

We didn't offer an Intel integrated option, but out of the people polled, almost 61% said they were gaming with Nvidia graphics. 39.2% said they were using AMD hardware – which is a pretty impressive result considering the AMD release cycle has been quiet for some time. With AMD VEGA around the corner we would imagine people are hanging fire on an upgrade, possibly a large percentage of AMD fans waiting on the new hardware to be released.
AMD VEGA has been much hyped in recent weeks, and Scott Herkelman, vice president and general manager of Radeon gaming at AMD suggested that 4GB of HBM2 Vega graphics card memory could have similar bandwidth against the 11GB of memory fitted to the GTX 1080ti. All of this has to be taken with a pinch of salt, well until key review sites like KitGuru get their hands on the hardware.
KitGuru says: Are you waiting on the new AMD cards before you get yourself an upgrade or did you already invest in one of the new Nvidia cards such as the GTX1080 ti?