The Gigabyte GTX980Ti XTREME Gaming Windforce box artwork is rather bland, with a primary focus placed on the 'Xtreme Gaming' logo. The rear of the box highlights various aspects of the technology.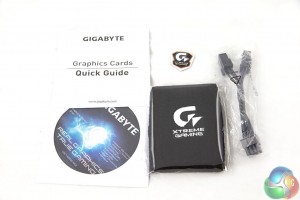 The bundle includes a wrist band, power converter cable, case badge, software and literature.
The Gigabyte GTX980Ti XTREME Gaming Windforce is a large card – predominately black with minor while/silver accenting. It incorporates a substantial backplate on the rear of the PCB, shown above. The Windforce 3X cooler is rated to be able to cope with up to 700 watts of heat.
The middle fan spins in a clockwise direction, opposite to the other two fans. This apparently optimises air flow to help dissipate heat more effectively. The fans remain off when the GPU is idle or under light low conditions. There are LED indicators on the fans to hint at the fan status. Fitted inside a normal ATX case they can be difficult to see however.
The 'Windforce' name on the card is lit by an RGB illuminated LED.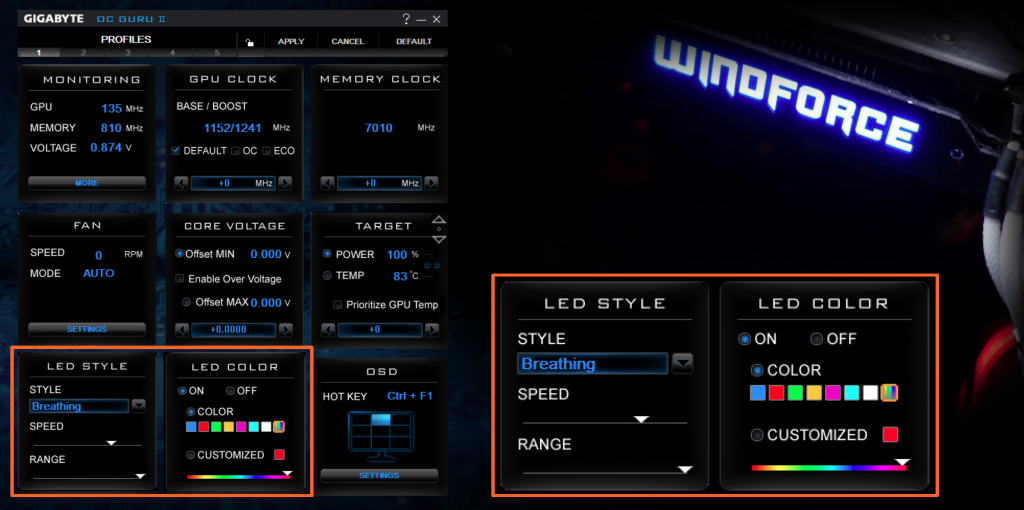 This LED can be controlled via the OC GURU II utility software included on the disc, or available from Gigabyte's website.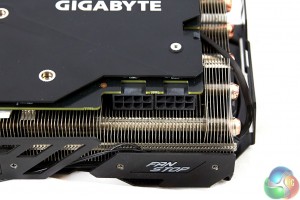 The card takes power from two 8 pin PCIe power connectors, shown above. Gigabyte have added smart power LED indicators close to the PCI E connectors. If the lights are always on then the power is fine, if they are flashing then the power is unstable, or the PCI e connector is not inserted properly.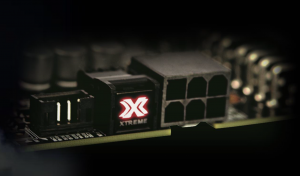 On the PCB there is an additional 8 pin PCIe power connector next to an LN2 Bios switch – perfect if you are using liquid nitrogen and want to break benchmark records. The rest of us will never touch this.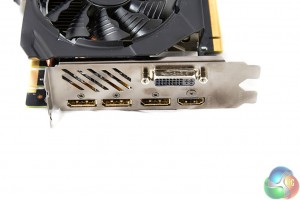 The Gigabyte card ships with a single DVI-D port. There are three DisplayPorts 1.2 and a single HDMI 2.0 port along the bottom of the I/O plate. If you wish, you can use all these ports at the same time for triple monitor gaming. HDMI 2.0 is supported, so you are able to get 60hz at 4K resolutions, without the need for any adapters.
The Windforce cooler is comprised of six thick heatpipes which run into a copper base on one side and two separate racks of aluminum fins on the other.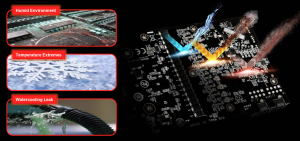 This card is an 12+2 Phase power design and Gigabyte say they have applied a 'breathable aerospace grade coating' to shield against moisture, dust and corrosion. They even seem to claim that this may protect against 'watercooling leaks' (see image above which was taken from Gigabyte 'media kit' literature).
In the literature we received from Gigabyte, Titan X grade chokes and capacitors are used on this PCB to provide 'extreme durability'. These capacitors are said to provide a longer lifespan than those traditionally fitted to a standard GTX980 Ti.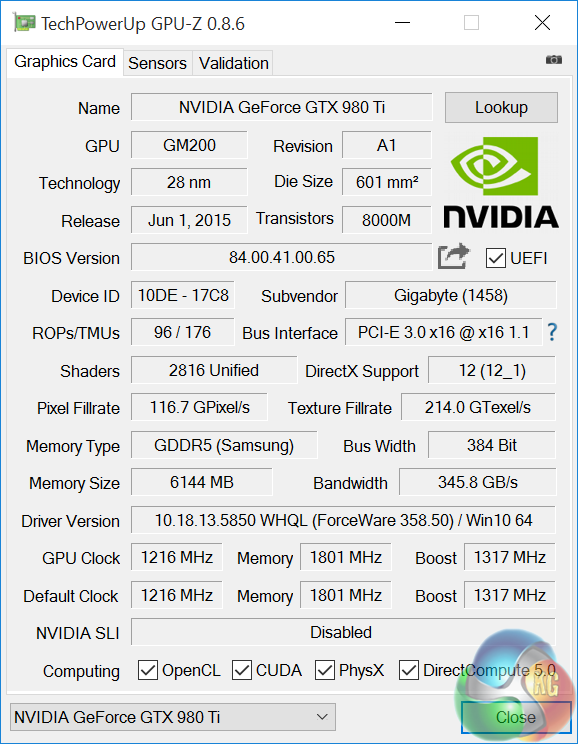 An overview of the hardware in the latest version of GPUz. This overclocked GM200 core runs at 1,216mhz with a boost speed set at 1,317mhz and is built on the 28nm process. The GTX980 Ti has 96 ROPs, 176 Texture units (Titan X has 192 texture units) and 2,816 CUDA Cores (Titan X has 3,072 CUDA Cores). The 6GB of GDDR5 memory runs at 1800mhz (7.2Gbps effective) and is connected via a 384 bit memory interface.