The XFX R9 280 Black OC Edition is a beautifully designed card, equipped with an ultra quiet, high performance cooler that is actually leading the pack when it comes to a noise to cooling efficiency ratio.
A couple of years ago you would have struggled to buy a graphics card at £180 that could play the latest games at high image quality settings at 1080p. The fact that the highly overclocked XFX R9 280 Black OC Edition can even power some titles at 1600p is the icing on the cake.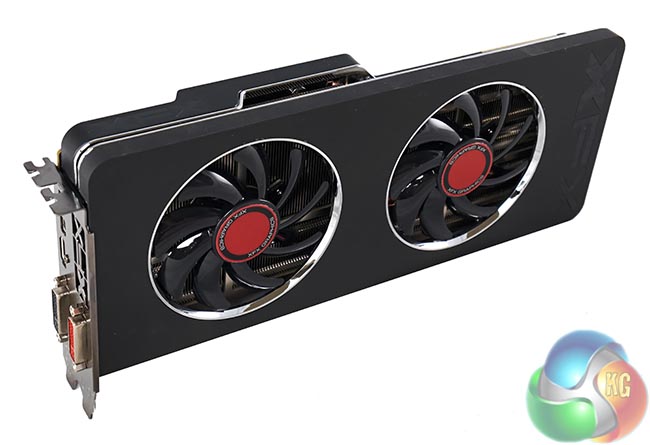 We love the understated, elegant appearance – the subtle matt black cooler is beautifully accented with subtle, smooth chrome edges. Thankfully under the surface XFX have not skimped on the cooler design. They are using a total of 6 thick copper heatpipes which run into two separate racks of aluminum fins on either side of the large, copper core. The two large 90mm fans cool the length of the heatsinks, from directly above.

Under load, the Tahiti core temperatures never exceeded 60c during our tests. When this is combined with the extremely low fan noise emissions this is a cooler for readers who have a particular aversion to noise. The card is whisper quiet at all times, making it extremely appealing for a bedroom or living room environment.
There was plenty of core headroom available on our review sample. We managed to overclock the core by 14%, to around 1,140mhz, increasing performance even further. Additional core clocking headroom will vary from sample to sample, but it is clear there will be at least another 10% available out of the box if you want to push the performance to the limits.
The XFX R9 280 Black OC Edition is available from SCAN in the United Kingdom for £179.99 inc vat. It offers exceptional value for money and will deliver plenty of frame rate performance when partnered up with a new 1080p panel.
Discuss on our Facebook page, over HERE.
Pros:
Very quiet under load.
beautiful design.
excellent cooler design.
plenty of core headroom for overclocking.
competitively priced.
Cons:
A lot of competition between £170 and £190.
Kitguru says: One of the best R9 280 graphics cards we have tested, and it is also one of the best looking too.