Western Digital has quietly started to sell its new WD Blue solid-state hybrid drives with 'self-learning' NAND flash cache. The drives are designed to offer solid-state drive-like performance in select applications, but are not expected to be too expensive since they belong to WD's mainstream family of products.
Initially Western Digital will offer two new-generation WD Blue SSHD models: the WD40E31X drive with 4TB capacity in 3.5" form-factor for desktops as well as the WD10J31X drive with 1TB capacity in 2.5" form-factor for laptops. The solid-state hybrid drives feature 5400rpm spindle speed, Serial ATA-6Gb/s interface, 8GB of intelligent multi-level-cell NAND flash cache, 64MB DRAM cache and so on.

The WD Blue SSHDs automatically determine frequently used LBA sectors of their magnetic media and cache them in the NAND flash memory buffer, significantly speeding up boot times of Windows and load times of frequently used applications. Western Digital claims that its WD Blue SSHDs perform up to four to five times faster than traditional 5400rpm HDDs, based on PCMark Vantage.
The WD Blue hard disk drives are usually positioned for mainstream PCs and users, who are not seeking maximum performance. For enthusiasts, Western Digital offers WD Black HDDs and hybrid drive. In fact, the WD Black² is essentially a 1TB hard drive and a 120GB solid-state drive in one 2.5"/9.5mm form-factor package. The drive connects to the host controller using a single Serial ATA-6Gb/s interface and appears as one storage device with two partitions, allowing users to manually select which storage media – NAND flash or magnetic – to use.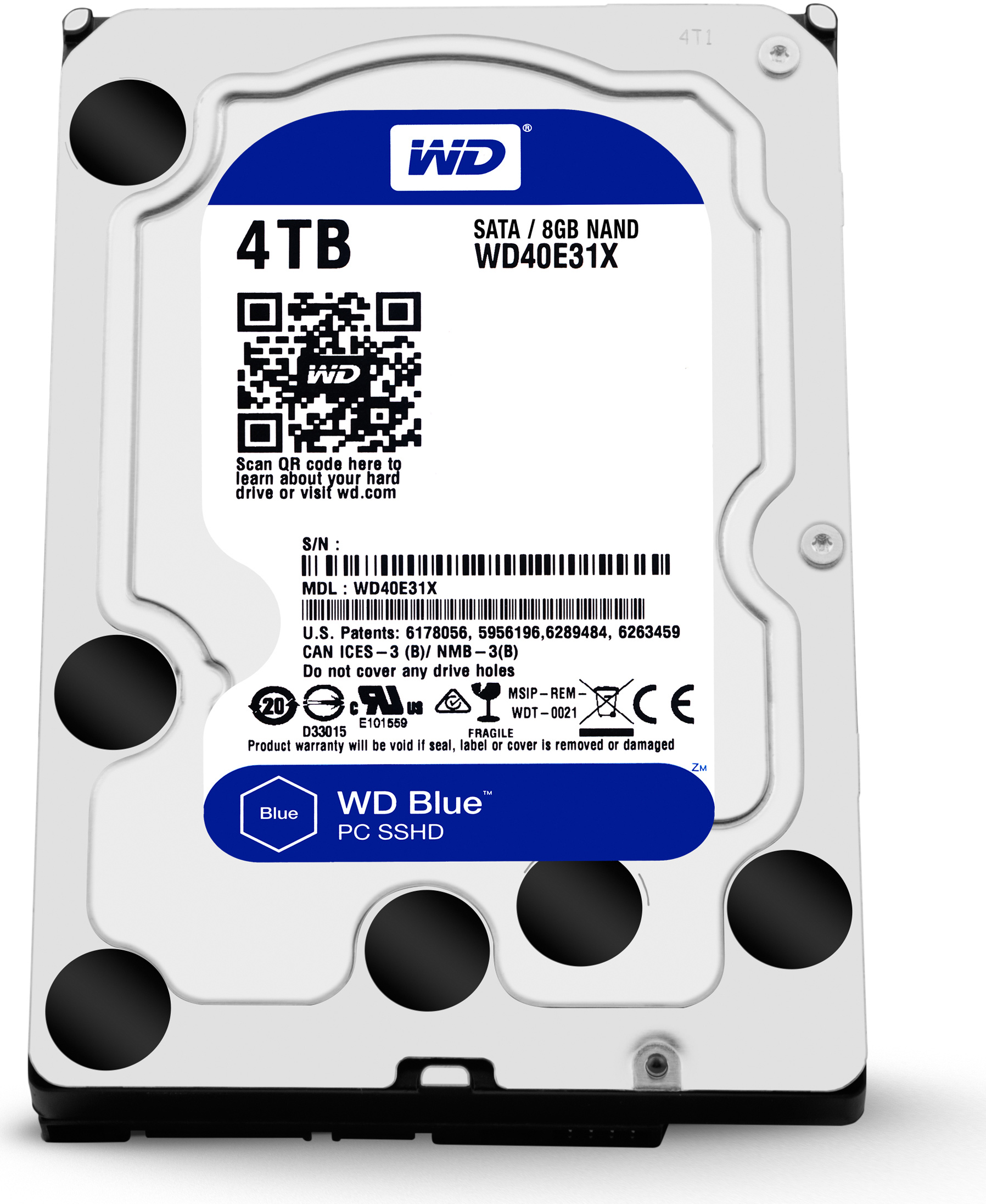 Even though the new WD Blue solid-state hybrid drives will not perform like SSDs or the WD Black2, they should combine vast amount of storage space with increased performance in select applications at a moderate cost, something that mainstream users and PC makers need.
The new WD Blue SSHDs feature rather premium pricing. In the U.K., the 4TB WD40E31X costs £142.78, whereas the 1TB WD10J31X is listed for £71.84. In the U.S., the new SSHDs cost $179 and $99 for 4TB and 1TB models, respectively. While the prices are slightly higher compared to 7200rpm HDDs, it should be noted that WD's new SSHDs feature 5400rpm spindle speed.
Discuss on our Facebook page, HERE.
KitGuru Says: Hybrid drives have not really become popular among performance enthusiasts, who prefer solid-state drives. Therefore, offering SSHDs at a small price-premium to mainstream customers may make a lot of sense.