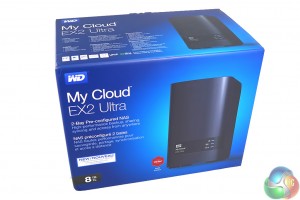 The WD My Cloud EX2 Ultra 8TB arrives in a colourful blue box, with a high resolution image on the front, showing the product in all its glory.

Design wise, the EX2 Ultra carries on with the familiar "WD My Book" design so it can sit unobtrusively on a shelf. This may be all well and good from an aesthetic point of view but if you want to plug in an external drive to back up data you may find yourself cursing the lack of a front USB port as the pair of USB3.0 ports that are provided (these are the only external ports) sit in the rear panel. Three blue LEDs in the front of the device show power on/off and activity status for each of the disks.
Just like its predecessor, the EX2 Ultra has a top loading format. A button in top of the unit releases the top air vent to access the drives. The two drives are held in place by a metal clamp and turnkey combination and once this is undone the drives can be removed.
The drives have tags attached to them to make the job of getting them out easier and although these tags feel a little flimsy, whipping drives in and out of the unit on a regular basis isn't likely to happen that often. The drive bays support hot swapping of drives.