The My Cloud EX2 Ultra -bay NAS is the latest addition to WD's My Cloud Expert series aimed at SOHO use and is an update of the previous My Cloud EX2. The biggest of these updates is the change of SoC, from a 1.2GHz Marvell Armada 370 to a Marvell Armada 385 1.3GHz. The dual cored 385 is the flagship of the latest 28nm process Armada processors powered by ARM's Cortex-A9. Also tweaked is the memory, bumped up from 512MB to 1GB of DDR3 memory.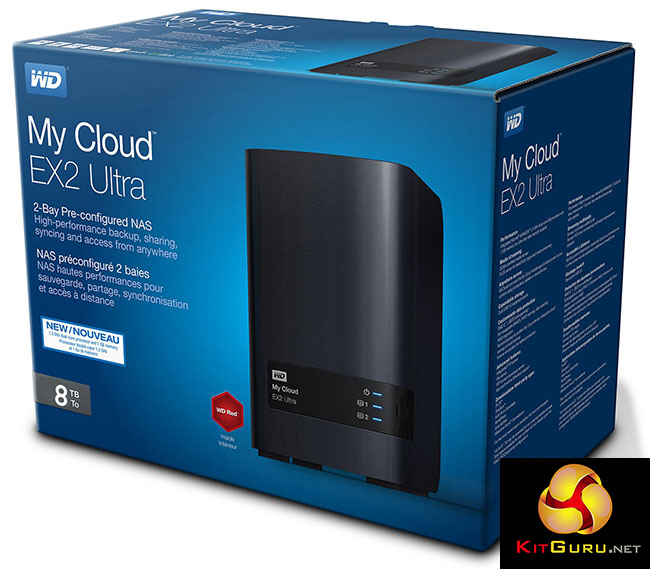 The other big update concerns the pre-configured storage capacity upper limit. The EX2 stopped at 8TB whereas the Ultra stops at double that – an impressive 16TB (£802.99) using WD's latest 8TB Red drives using HelioSeal helium-technology.
Along with the 8TB unit under review which costs approximately £400.00, there are 12TB (£519.99) and 4TB (£245.00) versions as well as a diskless one (£135.00) should you want to use your own choice of drives.
Specifications
HDD Interface: 2 x SATA 6Gb/s
HDD Form Factor: 2 x 3.5″
CPU: Marvell ARMADA 385 1.3GHz
On Board Memory: 1GB DDR3
External Connectivity:
1x Gigabit Ethernet
2x USB 3.0
Cooling: active
Max. Power Consumption: 5W (HDD in stand-by), 18W typical
Dimensions: 99mm (W) x 165mm (H) x 157mm (D)
Weight: 2.3kg