Setting up the EX2 Ultra takes no time at all, just connect it up, enter the mycloud setup address that's provided in the box into a browser and away you go.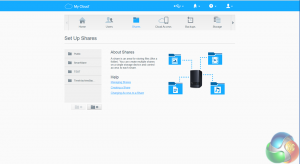 Any NAS lives or dies by its user interface and although WD's My Cloud OS 3 may not have the same graphical impact as say the Asustor or QNAP GUI's for example its simpler design is intuitive and easy enough to navigate around.
The My Cloud opening page displays all the information you're ever likely to need; disk capacity and how it's being used, number of users, Cloud devices and installed apps, health of the NAS and what firmware version is being used.
One useful tool to download from the WD site is WD Access. Once loaded it sits in the system tray and clicking on it reveals a small sub menu with some very useful shortcuts. One is to access the My Cloud OS, another lets you view all the folders on the NAS via File Explorer while another allows dragging and dropping of files from the PC to the NAS.
You can also check and review any notifications coming from the unit without actually accessing it directly.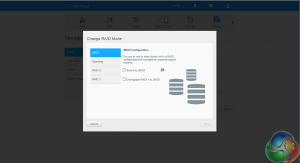 The EX2 Ultra 8TB comes with a pair of 4TB Red drives set up in a RAID 1 array (yielding a capacity of 3.93TB) but should you want to switch to a RAID 0 or even a JBOD setup it's very easy to perform.
Setting up the My Cloud mobile app is another straightforward job (at least on the Android OS). Once installed you can send and retrieve photos and manage Cloud services. It also shows how the NAS capacity is being used, any users (users can be added as well) and what firmware version is being used, which can also be updated via the app.
There also an automatic backup function for photos and files.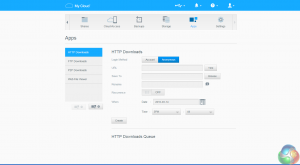 WD's list of apps for the EX2 Ultra is nowhere near as extensive as some of its competitors but the ones that are listed are all pretty useful; aMule and Transmission look after peer to peer downloads, PLEX and SqueezeCenter media servers, Anti-Virus Essentials a simple antivirus package and Acronis for backups and data recovery.
Also available are WordPress, Joomla, phBB, phpMyAdmin and Dropbox.