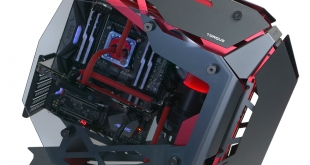 Antec Torque is an extraordinary open PC chassis that is formed from 3mm aluminium sections and two 4mm tempered glass panels. Our sample of Torque came in grey and red with styling that reminded us of a motorcycle with a kicked up rear end. By contrast the other colour combination of white and black looks like a Lego Bionicle. We are quite sure the styling of Torque will catch your eye and give you pause for thought, however the question of whether you love or hate it might be a different matter.
Watch the video via our VIMEO Channel (Below) or over on YouTube at 2160p HERE
Note: if the above images are not displaying properly, you may need to disable Ad Block as it is known to interfere with our display code

Specification:
Motherboard support: E-ATX, ATX, Micro-ATX, Mini-ITX.
Expansion slots: 7.
Included fans: None.
Fan mounts: 3x 120mm front, 3x 120mm roof.
120mm radiator mounts: 120mm/240mm/360mm front, 120mm/240mm/360mm roof.
140mm radiator mounts: None.
5.25-inch optical drive bays: None.
Internal drive bays: 1x 3.5-inch/2.5-inch, 1x 2.5-inch.
Dimensions: 644mm H x 621mm D x 285mm W.
The time we spent working with Torque reinforced the point that this isn't really a PC case in the conventional sense. Sure you can install a motherboard, graphics card and power supply but there isn't much separation between the inside and outside. The way the various components screw together is also unusual as you take the red core chassis, attach some stand-offs, attach two of the grey panels, add the top and front covers and then finish off with the two glass side panels.
Towards the end of the video, once the cooling loop was complete, yours truly managed to install the top cover back to front and we were completely unaware until a viewer posted a comment after the video went live on YouTube. When you stand back and take a long, slow look the error was obvious but working up close it completely passed us by. In case we need to reiterate, this is an unusual PC chassis!
The specification of Torque allows you to install pretty much any motherboard or graphics card that you choose with support for 360mm radiators in the roof and at the front. You can install radiators of any thickness you choose, however the cooling system is limited to units of 120mm. It would surely have taken little extra work by the factory to support 140mm but the way the aluminium has been formed means that wider radiators are out of bounds.
It is also worth noting that cable management is hard going. If you wish to conceal your cables it is essential you route them behind the grey aluminium panels, however these panels have a number of large holes that make life difficult. In addition there is very little clearance behind the panels which adds to the difficulty.
With our test system built we were confident that cooling would be exemplary as there are no restrictions to air flow, but seeing is believing so it was time to fire up a stress test.
Testing
To put this case through its cooling paces we will be using a test system consisting of an Intel Core i9-7980XE, Asus ROG Strix RX Vega 64 OC 8GB and an SSD. This system allows us to produce a substantial amount of heat and effectively test the Antec Torque's cooling capabilities.
For stress testing we use AIDA64 to create the maximum amount of load our CPU and GPU are ever likely to see.
Test System:
Processor: 2.8GHz Intel Core i9-7980XE
Motherboard: Gigabyte X299 Aorus Master
Memory: 32GB G.Skill TridentZ DDR4-3200MHz
Graphics card: Asus ROG Strix RX Vega 64 OC 8GB
Power supply: Seasonic Prime Platinum 1300W
Storage drive: 1TB M.2 Intel SSD 7
OS: Windows 10
Custom Loop:
Radiators: 2x EK CoolStream SE360
Fans: 6x Antec Prizm 120 ARGB
Pump/Reservoir: EK-XRES 140 Revo D5 RGB PWM
CPU Block: EK Velocity RGB
Graphics Block: EK Radeon Vega Strix RGB and Backplate
Coolant: EK Cryofuel Solid Scarlet
Fittings: Alphacool 13/10mm Eiszapfen
Tubing: Alphacool 13/10mm Eisrohr Plexi Satin
Cooling Performance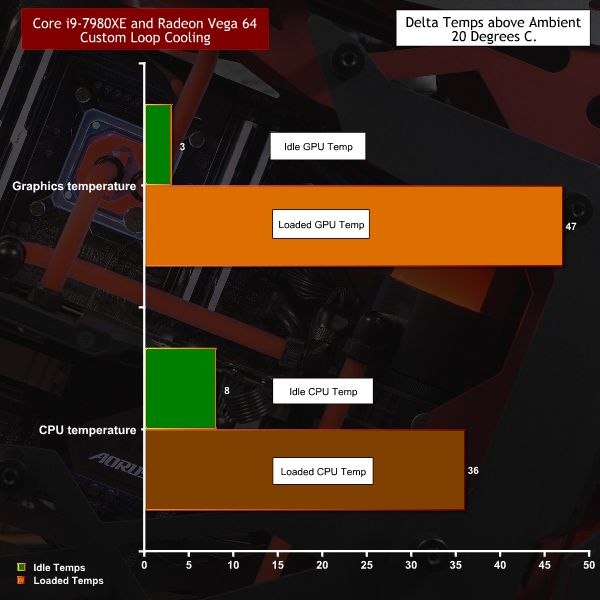 Cooling Performance Overview
Antec Torque performs impressively well, although we would expect nothing less from a pair of EK 360mm radiators, D5 pump/reservoir and EK CPU and graphics blocks. We know that Vega 64 is a power-hungry and hot GPU and Intel Core i9-7980XE is a monster CPU but despite that temperatures were pleasingly low.
Acoustics Performance Overview.
When we first started the PC the six Antec fans were running at Full Speed and the noise level was unpleasantly high. We set the fan profiles to Silent and the noise levels were reduced to an audible but tolerable level.
The Antec Torque is a unique PC chassis that demands serious attention to detail. We have seen at least one PC build in a Torque with a 240mm All In One cooler along with an air cooled graphics cards and to our eyes it just looked wrong. We considered it essential to use a full custom cooling loop and filled both radiator positions for purely aesthetic reasons. It took a considerable amount of time to build the PC as the effort involved in any form of cable management was quite severe.
In terms of eye candy we were using six Antec Prizm ARGB fans on the two radiators and that meant we had a huge amount of RGB lighting to work with as we also had RGB in the CPU block, pump/reservoir and graphics block. As we stated in our video the RGB control required some work but the finished look was very pleasing and the light show was like nothing we have ever seen before.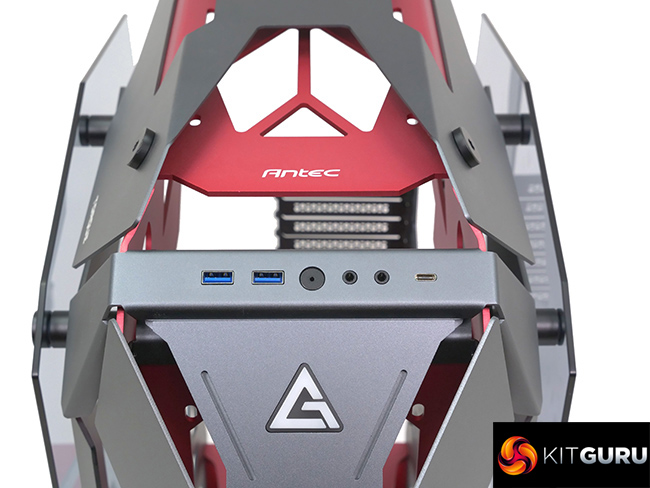 Antec Torque is certainly expensive, however we can understand the price as the cost of the components is likely to be rather high. In addition we have to assume that Antec will sell relatively few of these chassis which will raise the unit cost. Having said that, if you are building a high end PC like ours anyway, you are surely spending at least £150 on the case in the first place, so the step to £350 is relatively small.
We have a few gripes and moans about Torque such as the lack of support for 140mm fans and the trials and tribulations of cable management. We also have a list of positive points that mainly centre around the quality of the aluminium panels but also include the Type C USB port on the front I/O panel. The thing is, we are confident that Torque isn't one of those products that you weigh up with a list of pluses and minuses.
The problems you will face building an impressive PC in this chassis are immediately apparent and we are quite sure you will either want this chassis or will simply walk on by.
You can buy the Antec Torque from Scan for £349.99 HERE
Pros:
Aluminium panels look good and are nicely made.
Huge amount of space for your cooling system.
USB type C included on the front I/O panel.
No restrictions to cooling air flow.
Cons:
Cable space behind the motherboard tray is limited.
The second glass panel shows off the cables you are trying to hide!
No support for 140mm fans.
User guide is basic.
You don't get any spares of the special fasteners used in Torque.
KitGuru says: All eyes will be drawn to Antec Torque so you had better make sure your build looks superb.