Note: if the above gallery is not displaying, you may need to disable Ad Block as it is known to interfere with our site code.
The layout of the X370 Pro4 looks neat and tidy with a monochrome colour scheme that is black at the top and bottom, with white stripe across the area with the two graphics slots. When you take a closer look at the layout, it is fair to question why this board is ATX size as it would seem easy enough to squeeze the hardware into a Micro-ATX format. It is clear that ASRock offers pretty much every combination of chipset and form factor so the X370 Pro4 is just one SKU among many.

We focused on the 6+3 VRM power arrangement and rapidly came to the conclusion that X370 Pro4 shares all the features of the ASRock Fata1ty Gaming K4.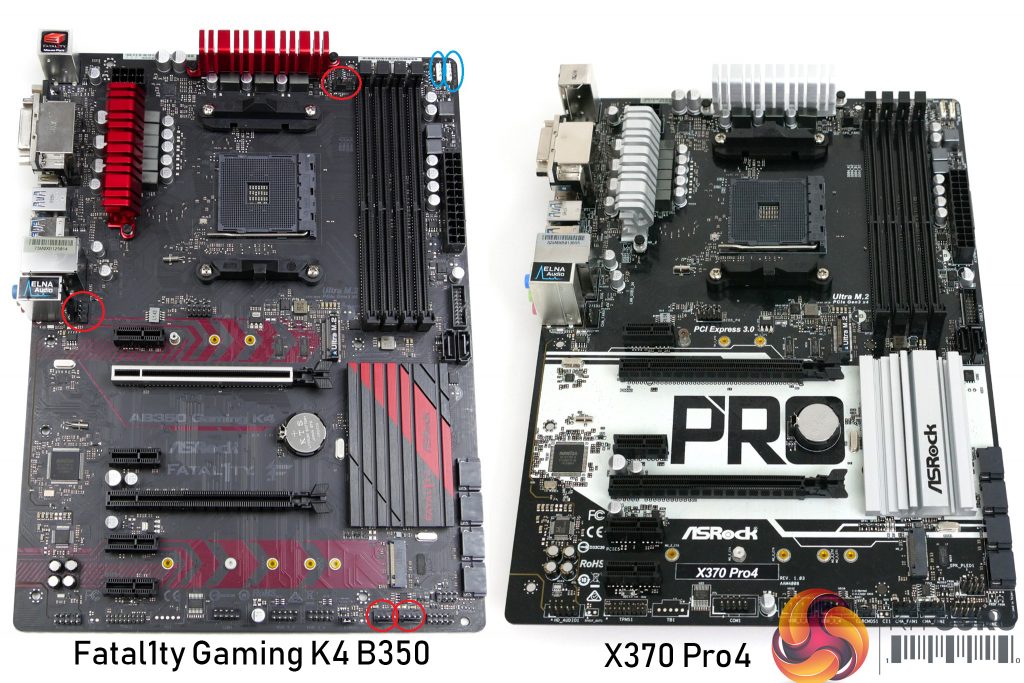 At this stage in the review we took a step back and concluded that yes, the X370 Pro4 consists of little more than a cosmetic makeover. That would logically lead to a terribly short review but happily we were saved by ASRock's desire for us to use the board with a 2nd Gen Ryzen.
This meant we used a Raven Ridge APU, which in turn led us to pay attention to the graphics connections on the I/O panel. As you will see in our video we had the choice of HDMI, DVI and D-Sub and as we typically use a 4K display this pretty much forced us to use HDMI, which was hard work in this particular configuration.
Performance and overclocking
Test system
APU Ryzen 5 2400G at stock clock speed 3.75GHz
CPU Ryzen 7 1700X at 3.9GHz
CPU cooler Noctua NH-L9x65 SE-AM4
RAM 16GB G.Skill FlareX DDR4-3200MHz
Graphics Sapphire Nitro+ RX Vega 64 8GB HBM2 (with Ryzen 7 1700X)
SSD Samsung PM961
Power Supply Seasonic Prime Titanium 1000W