Cooling.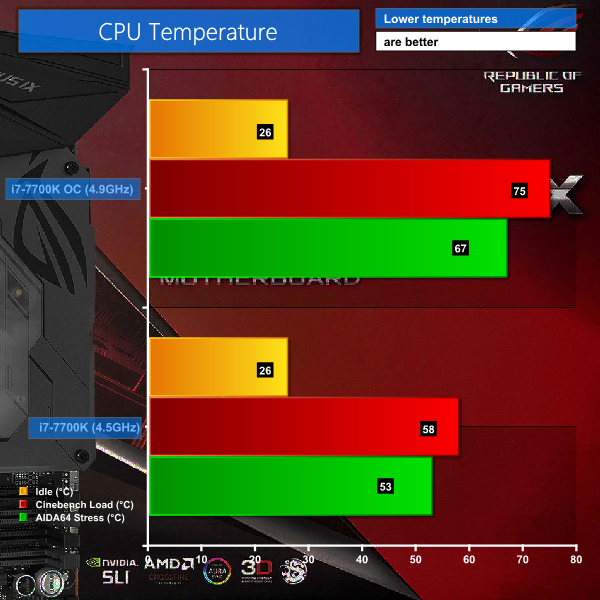 Summary of Cooling Performance.
At stock clock speeds our open loop custom cooling system performed to all intents and purposes just like the Fractal Design Celsius S24 that we used on the Asus Strix Z270F Gaming. When we overclocked the CPU from 4.5GHz to 4.9GHz there is a clear divide between the two cooling systems and you can see in AIDA64 the custom loop runs at 67 degrees while the Asetek cooler used by Fractal Design hits 89 degrees.
That is the point where you might choose to push forward with the ROG Maximus IX Extreme and overclock to 5.0GHz or 5.1GHz, or you might instead choose to take those sub-70 degree figures and consider the lower temperatures to be a good way to preserve the long life of your CPU. In custom loop terms that temperature of 67 degrees is still relatively high and we generally like to see temperatures that are below 60 degrees.
We must remember the monoblock is cooling the VRMs and SSD, as well as the CPU, so the system is working fairly hard for its living. Even so, the power draw of the CPU under load is nothing special at 135W at 4.5GHz and 175W at 4.9GHz.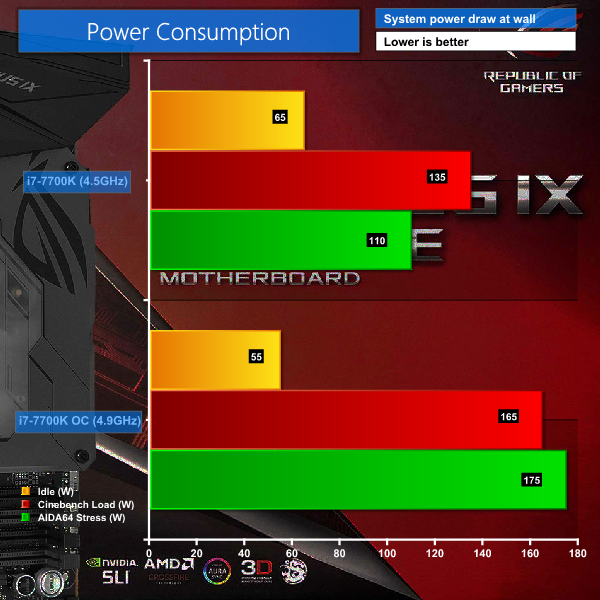 Those figures are well within the capability of our cooler and prove the benefit of a monoblock over a system that purely cools the CPU.