Power and Temperature Testing
Around six minutes of our video are dedicated to the question of 'What's going on with the power draw?' As we demonstrate in the video and with these screen grabs from HWiNFO, the combination of Core i9-10900K and Gigabyte Z490I Aorus Ultra behave quite predictably on Auto settings and also when we overclocked to 5.1GHz. Overclocking to 5.2GHz is a different story as the VID climbed to around 1.55V which is very high and drives HWiNFO to report a CPU Package Power over 300W.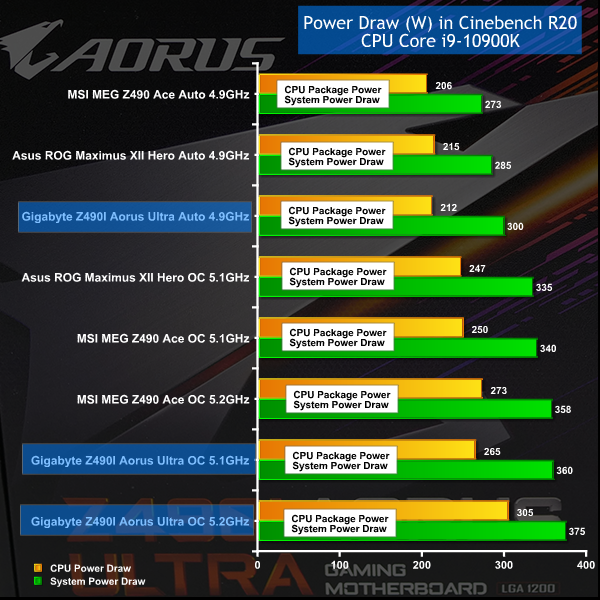 Power Draw Overview
We are confident that HWiNFO overstates the CPU Package Power, however the figure from the wall socket cannot lie and no matter how we look at things the Gigabyte is drawing more power than its competition.
CPU Temperature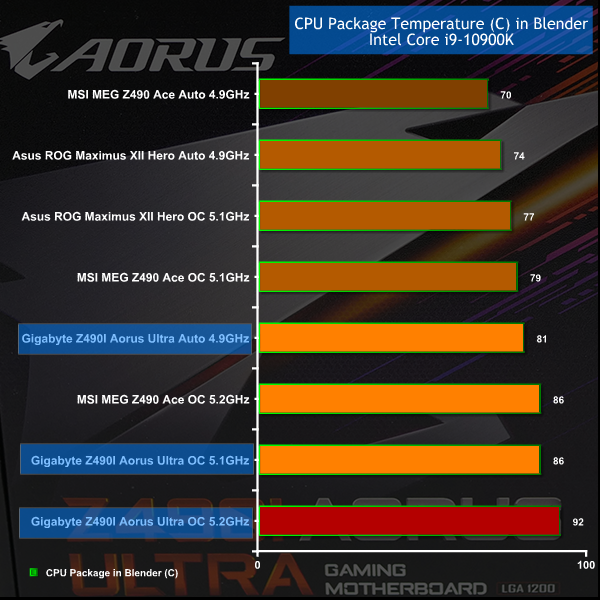 CPU Temperature Overview
The consequence of this behaviour with power draw is that Gigabyte Z490I Aorus Ultra runs the Core i9-10900K considerably hotter than the competition. On Auto settings the Gigabyte is runner hotter than the overclocked Asus ROG Maximus XII Hero, which is something we did not expect to see. If you choose to overclock the Gigabyte Z490I Aorus Ultra we recommend you work on the settings to get the various voltages down to a sensible level and also suggest you play it safe with the clock speed. While our settings gave good performance at 5.2GHz we would not be happy running this system as a daily driver.
VRM Temperatures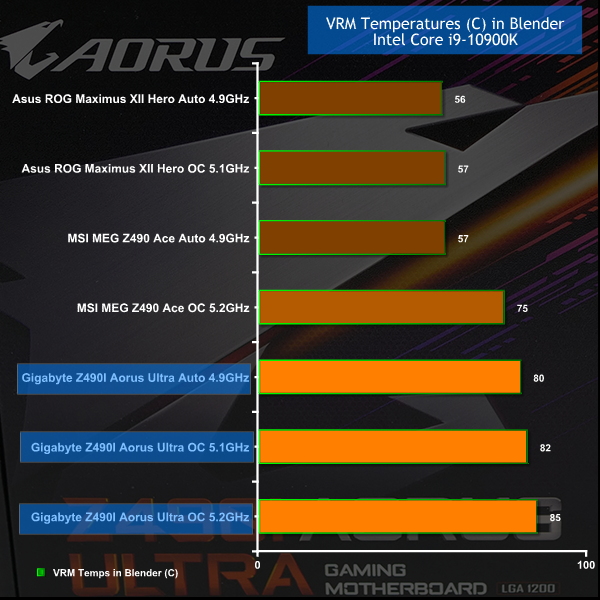 VRM Temperatures Overview
This graph of VRM temperatures is both telling and also slightly deceptive. As we explain in our video a 120mm case fan mounted anywhere near the VRM coolers will reduce temperatures by around 20 degrees C. Nonetheless the hardware is drawing a lot of power and is running hot. It feels to us the VRM coolers are only doing a mediocre job. We are quite certain the high quality hardware chosen by Gigabyte can tolerate temperatures at these levels however we would much prefer to see temperatures in line with the Asus and MSI Z490 boards.