The Mini-ITX Gigabyte Z490I Aorus Ultra looks impressive when you take it out of the box, and it continues to impress as you dig into the features. We like the breakout cables that support two USB 2.0 headers and three extra PWM fans and would be happy to see that approach used on other motherboards. The feeling of good will continues as you remove the various covers and shields so you can get a good look at the hardware, and there is no denying the ISL VRM hardware looks purposeful.
Gigabyte has loaded the board with Surface Mounted Tantalum Polymer Capacitors that cost significantly more than conventional capacitors and at this stage in the proceedings we were feeling very pleased. Our single area of minor concern centred around the VRM cooler which looks a bit lightweight. We have confidence that Gigabyte knows what they are doing – their AMD X470 and X570 motherboards have generally been good on the VRM front – and high quality hardware produces less heat, so this may well be a false alarm.
With the Z490I Aorus Ultra running we found performance on Auto settings was exactly what we expected to see, and when we overclocked we hit 5.1GHz quite easily and could push on to 5.2GHz with a bit of work. The performance figures were good, however the power draw was rather high and as a result the CPU temperature was rather high. What really surprised us was that VRM temperature was also relatively high, starting at 80 degrees on Auto settings and rising slightly when we overclocked.

Truth be told, if we had used the Gigabyte Z490I Aorus Ultra for our launch review of Intel Core i9-10900K in place of the MSI MEG Z490 Ace we would very likely have criticised the CPU for running as hot as we had previously expected. In fact we praised Intel for having 'Impressively low CPU temperatures' and should perhaps add the words 'with this combination of hardware.'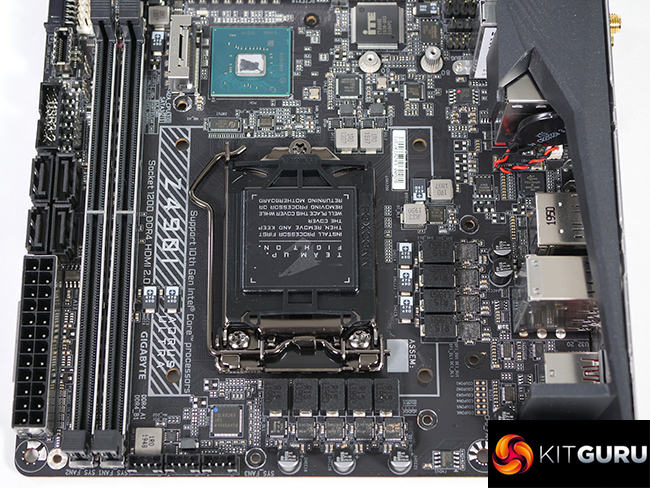 This leaves us in a tricky spot as we think the Gigabyte Z490I Aorus Ultra would be a questionable choice of hardware if you overclock your Mini-ITX PC and demand every last scrap of performance. That is often a risky move with Mini-ITX as the hardware is packed so densely but especially so in this instance. Gigabyte appears to have created hardware to the necessary standard but something has let the side down, presumably in the BIOS department.
If you instead decide to run your 10th Gen Intel CPU on Auto settings you sacrifice very little performance and the power and temperature figures look much better than they did previously. If we are correct that the BIOS needs some work then we have to hope that a revision is in development and will drag the Gigabyte Z490I Aorus Ultra back in line with its Z490 competition.

You can buy the Gigabyte Z490I Aorus Ultra for £265 from Overclockers UK HERE.
Discuss on our Facebook page HERE.
Pros:
Neat design that packs in plenty of features.
Excellent VRM hardware.
Four PWM fan headers.
Loads of USB support.
Cons:
Power draw is high and that hurts CPU temperature.
VRM cooler feels a bit light weight.
KitGuru says: Gigabyte Z490I Aorus Ultra is feature-packed ITX motherboard, we just hope a BIOS revision can help improve the CPU and VRM thermals down the line.