Heatsinks on G.Skill's new Trident Z RGB DDR4 modules come complete with some unique heatspeaders, which should really stand out from the crowd. Along with some high-end metalwork to make sure the RAM chips don't get too toasty, these sticks have a translucent band which lights up when in use, in any colour you choose.
RGB lighting has been gaining traction in the gaming world for the past few years, showing up in keyboards, mice,headsets and internal hardware too. While there have been RAM sticks in the past which have LED lights on them and even some customisable ones, the new G.Skill Trident Z kits are designed to take it to a whole new level.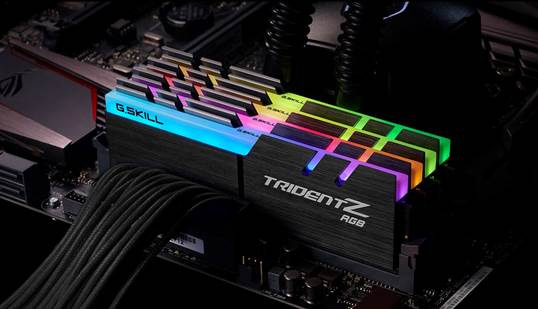 The light bar on each stick stretches from one end to the other and is powered by a number of RGB LEDs under the hood, making them vibrant and powerful. However there is no need for additional power connectors, all of the energy required is drawn through the standard memory slot.
At default the Trident Z RGB DDR4 kits will display a rainbow of different colours that flow across the sticks in a wave-style, but G.Skill will be releasing back-end software for adjusting the colouring manually in February next year.
[yframe url='http://www.youtube.com/watch?v=fPx0LNzgQm4′]
Available in speeds up to 4,266MHz, all kits will also offer full support for XMP 2.0. They will be available to purchase worldwide in mid-January.
Discuss on our Facebook page, HERE.
KitGuru Says: For anyone looking to add another dose of colour to the interior of their system, these sticks seem like a nice touch. The lighting isn't particularly subtle, but it is vibrant and will be fully customisable come February.