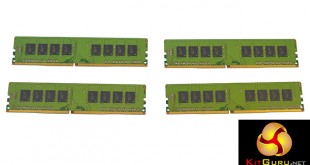 The increasingly widespread application of DDR4 on mainstream platforms has helped to drive the memory technology's production rates upwards with pricing travelling in the opposite direction. A 32GB quad-channel kit of no-nonsense DDR4 memory can now be considered affordable by a greater audience who may have advanced workloads that consume vast amounts of system memory. Crucial is hoping to tick the 'value' checkpoint with its 2133MHz set of DDR4 memory.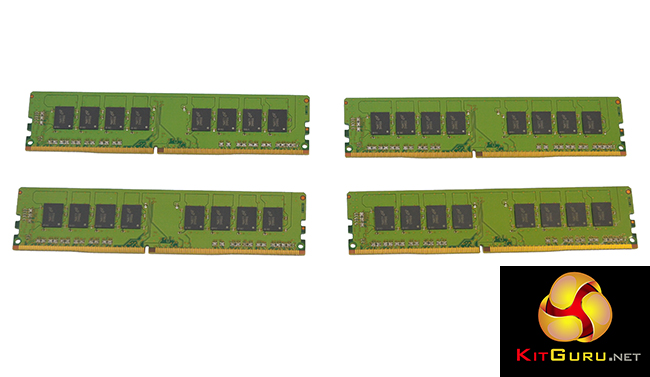 Crucial is targeting individual buyers in need of relatively large quantities of system memory to throw at workloads that aren't dependant on the vastly enhanced operating frequencies that DDR4 is capable of.
The no-frills, no-gimmicks nature of Crucial's quad-channel DDR4 kit is evident; the memory operates at DDR4 JEDEC specifications of 2133MHz CL15 with a DRAM voltage of 1.20V. There are no potentially intrusive heatspreaders, which aren't really needed for 1.20V memory, and the PCB is an ugly shade of green.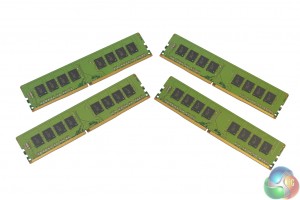 With that said, it's all of those design decisions which promote simplicity that makes Crucial's kit such a cost-effective option for consumers. For those who just want a set of memory that will serve their day-to-day tasks without flashy looks and potentially unwarranted heatspreaders, the cost-adding adjustments are completely unnecessary.
Crucial ships the basic 2133MHz DDR4 in many capacity and kit options. The kit that we are examining today is a 4x8GB quad-channel set, although there is nothing stopping the four sticks being installed in a Z170-based system for 32GB of dual-channel memory.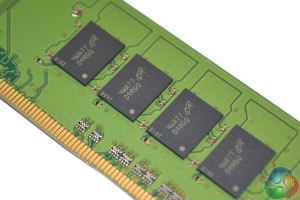 Crucial is able to push its pricing muscle thanks to direct supply from the brand's parent company – Micron. A total of sixteen memory chips spread across both sides of the PCB form each stick's 8GB capacity. Micron's D9RGQ chips are used. The individual sticks are marked as CT8G4DFD8213.

Specifications:
Model Number: CT4K8G4DFD8213.
Compatible with Intel Haswell-E and Skylake CPUs.
Frequency: 2133MHz (PC4-17000).
Timings: 15-15-15.
Voltage: 1.20V.
Quad Channel Kit: (4x 8GB).
Lifetime Warranty.