Earlier this month, HyperX and MSI were able to set a new DDR4 memory overclocking world record, reaching speeds of 7156MHz. Now, just a few weeks later, this record has been broken, with MSI and HyperX hitting 7.2GHz speeds.
HyperX is of course the gaming division of Kingston (soon to be acquired by HP) and has served the memory market for decades now. This particular record-breaking overclock was achieved by the MSI OC team in Taiwan, using an 8GB HyperX 4600MHz Predator memory stick, an MSI MEG Z590 UNIFY-X motherboard and an 11th Gen Intel Core i9-11900KF running at 3.5GHz.
The hardware setup is similar to what was used to set the 7156MHz record a few weeks ago, but the motherboard has been swapped out for a different one. This paved the way for the MSI OC team to reach 7200MHz this time around.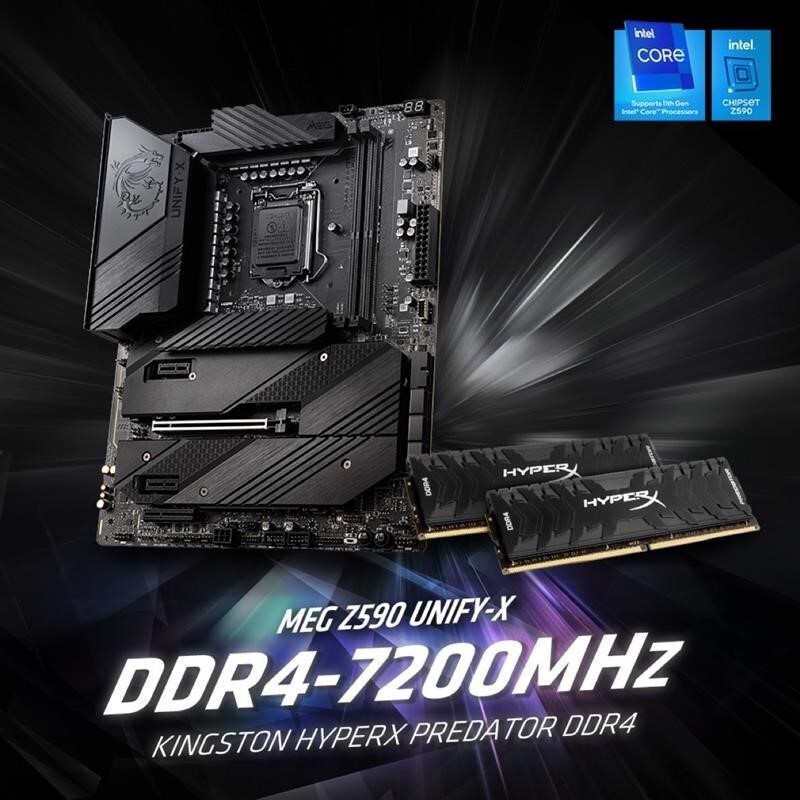 As you would expect, HyperX is very pleased with the result, with the company's DRAM business manager, Kristy Ernt, saying: "HyperX is thrilled to be part of this breakthrough in DDR4 overclocking history, with HyperX Predator memory used to set two world records within the past month. Our HyperX engineers continue to focus on improving high-speed yields to get faster products in the hands of our customers and push previously unattainable performance records."
While you are unlikely to achieve an overclock this high at home using standard cooling methods, HyperX does sell a number of validated high-speed memory kits. The HyperX Predator DDR4 kit used here is available in speeds up to 4800MHz with latencies between CL12 and CL19. Single-dimm kits can be found in capacities of up to 32GB, if you get a kit with multiple dimms, you could install as much as 256GB of memory on a system.
Discuss on our Facebook page, HERE.
KitGuru Says: HyperX is leading the overclocking race at this point and with DDR5 on the way, we have to wonder if this record will be broken again before we shift away from DDR4.