PC enthusiast memory maker G.SKILL has announced a new line-up of top-tier memory kits for discerning modders and gamers. The Trident Z RGB DDR4-3333MHz 128GB and 64GB retail kits are squarely aimed at the high-end X99 and Z270 motherboards, respectively, currently driving the likes of Intel's Xeon E5 (v3)-series and Kaby Lake CPUs.
The retail kits include either 8x or 4x 16GB of G.SKILL's trademark RGB lit non-ECC unbuffered 3333MHz DIMMs, which contain lighting control IC for compatible motherboards. The 8-DIMM kit is intended, naturally to max out all the memory banks on an X99 motherboard with quite the visual effect, while the 4-DIMM kit is intended for Z270-based Kaby Lake systems.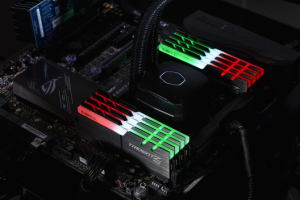 While the memories are rated at a snappy 3333MHz, you can play around with the settings, says G.SKILL. The kit, being XMP 2.0 compliant makes memory timing selections in the BIOS easy enough, and while it is XMP, we did realize that if you happen to reduce the number of DIMMs to as little as two (Ryzen, anyone?) you'll be able to squeeze out 3866MHz, with 18-18-18-38 timings, without raising the voltage (default 1.35v).
While technically you'll be wanting to ride a 128GB/64GB monster into modding la-la-land, the pricing on this kit has not yet been announced. Availability is set for May 2017.
KitGuru Says: We're not quite sure how many of you out there are blinging-out multi-thousand-dollar workstations running Xeon E5 CPUs with flashy lights, but if you are, this looks and acts the part.