Release date for the Z97 and H97 chipsets is rapidly approaching and motherboard makers are frantically preparing for the upcoming launch. We have a gallery of pictures for the upcoming Gigabyte motherboards based on the Intel 9-series chipset. No further explanation is required; simply sit back and feast your eyes on Gigabyte's comprehensive range of 9-series motherboards.
You can discuss these boards on our Facebook page, over HERE.

Z97 Gaming motherboards
Gigabyte will release a host of Gaming series motherboards. Highlights of the Gaming motherboards include a Killer E2200 series NIC, Realtek ALC1150- or Creative Sound Core 3D-based audio system and a red and black colour scheme.
The Z97X-Gaming 3 (the motherboard in the picture is incorrect – it is actually the H97-Gaming 3), Z97X-Gaming 5 and Z97X-Gaming 7 will be offered in the ATX form factor. SATA Express and m.2 support is consistent across these three boards.
Increased capabilities with multi-VGA configurations is offered by the Z97X-Gaming G1, Z97X-Gaming G1 WiFi-BK and the Z97X-Gaming GT. Both of the G1 boards utilise a Creative Sound Core 3D audio system.
Two smaller form factor boards are present in the Gaming series – the mini-ITX Z97N-Gaming 5 and the mATX Z97MX-Gaming 5. Both boards utilise a Realtek ALC1150-based audio solution and a Killer E2200 series NIC.
Also predominantly centred around gaming is the G1.Sniper Z97 motherboard. Last year Gigabyte introduced their G1.Sniper Z87 motherboard which offered many gaming features at a very aggressive price point.
Z97 Series motherboards
The Gigabyte Z97 series motherboard will span a variety of price points and offering differing features based on the target markets. A black and yellow colour scheme is new for Gigabyte on many of their Z97 series motherboards.
Gigabyte are also going to introduce two black edition motherboards that will feature additional stability and reliability certification. We previewed the Gigabyte Z97X-UD5H-BK Black Edition motherboard over HERE.
Three smaller form factor motherboard will be in Gigabyte's Z97 series; two mATX and one mini-ITX.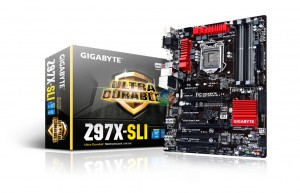 The Gigabyte Z97X-SLI sits in the Z97 series of motherboard but targets users who want a relatively low-cost route to SLI compatibility.
Z97 Overclocking motherboards
Two overclocking motherboards released by Gigabyte will specifically target overclocking enthusiasts.
The Z97X-SOC and Z97X-SOC Force both use bright orange and black colour schemes. We previewed the Gigabyte Z97X-SOC Force motherboard HERE.
H97 motherboards
Gigabyte is also releasing a range of motherboards based on the lower-cost H97 chipset.
Three H97 series boards will target all-round users.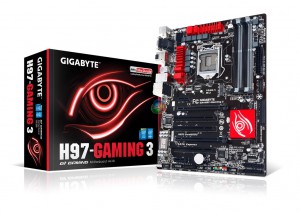 Gigabyte has the H97-Gaming 3 for gamers.
Three H97-based micro-ATX and a mini-ITX motherboard cater for smaller form factor users.
High Resolution Gallery
KitGuru Says: An extensive range of Z97 and H97 motherboards from Gigabyte. Check back soon for full reviews.