SATA
For SATA 6Gb/s testing we use a Kingston HyperX 3K (SandForce SF-2281) SSD.
Z97 SATA 6Gbps performance is as we would expect; a SATA-powered SSD will not be bottlenecked by the Z97 Extreme6.
SATA 6Gbps ports offered by ASMedia's ASM1061 controllers are significantly slower than the native connections. Such ports should be reserved for less speed-intensive storage requirements.
M.2 connector

We use Samsung's ultra-fast XP941 SSD to test ASRock's Ultra M.2 connection. Plextor's popular M6e 256GB M.2 SSD is used to test the speed of the Z97-based M.2 connection. We reviewed the 512GB Plextor M6e (and its PCIe x2 adapter card) HERE.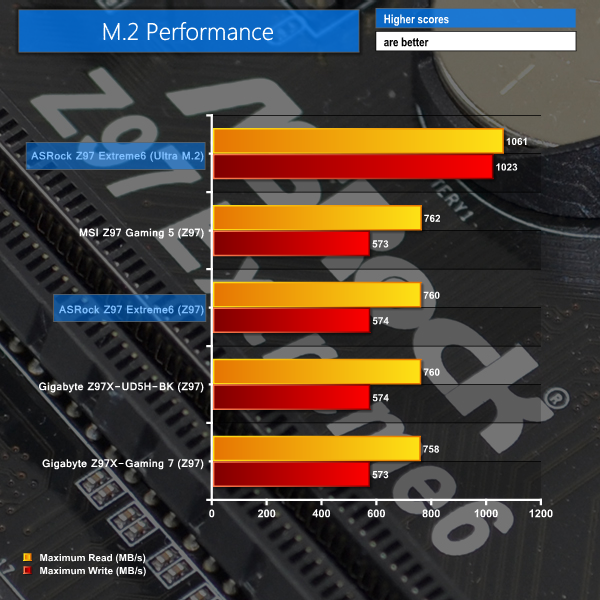 Providing a transfer rate of more than 1GBps, it is clear that ASRock has an impressive technology in Ultra M.2. For upcoming M.2 drives, the four-lane connection may be a smarter choice than Intel's bottlenecked two-lane, 10Gbps link.
We would not be surprised if many competing vendors used PCIe 3.0 x4-powered M.2 connections to provide fast storage connections on their motherboards. ASRock has proven with Ultra M.2 that a higher-than-10Gbps M.2 connection can be implemented with some smart engineering.
We can confirm that the Z97 Extreme6 motherboard's Z97-fed M.2 connection is perfectly compatible with M.2 SATA SSDs.
USB 3.0
We tested USB 3.0 performance using the Kingston HyperX 3K SSD connected to a SATA 6Gb/s to USB 3.0 adapter powered by an ASMedia ASM1053 controller.
USB 3.0 transfer rates of the Z97-powered ports are identical to other boards without UASP-activating software.
ASMedia ASM1042AE USB 3.0 ports aren't quite as quick as the Z97 alternatives, but they do help to increase a board's overall connectivity options.
Audio

We use RightMark Audio Analyzer (RMMA) to analyse the performance of the motherboard's onboard audio solution. A sampling mode of 24-bit, 192 kHz was tested.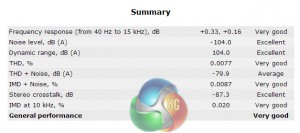 Based around a Realtek ALC1150 codec, TI NE5532 amplifiers, and Nichicon Fine Gold capacitors, ASRock's Purity Sound 2 audio system is able to deliver 'Very Good' audio performance, according to RightMark Audio Analyzer.
The noise level and stereo crosstalk performance of ASRock's Purity Sound 2 system on the Z97 Extreme6 is particularly strong.