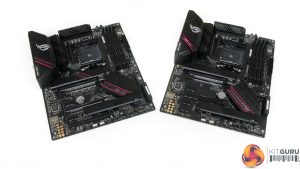 Starting off, we see that both motherboards feature the typical ROG aesthetic styling of dark black and grey components with touches of red.
You get a big rear IO cover on both boards but the B550-E Gaming is clearly denser when it comes to features and onboard electronics.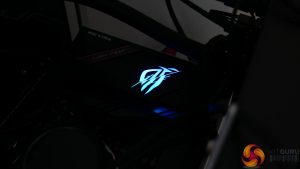 RGB is present and subtle but looks good. AURA control capability is available and can be used to control partnering hardware.
Neither board features any form of backplate, with ASUS instead opting for some ROG branding that is utterly pointless as it will never be seen inside a chassis.
Both boards use a 6-layer PCB which is positive from a quality perspective.
You get support for high-speed memory in excess of 5GHz according to ASUS' product page. Front panel USB 3.0 5Gbps headers are located on both motherboards close to the 24-pin connector. Only the B550-E Gaming gets an internal USB Type-C header and it is fed by B550 chipset 10Gbps ports.
Four LEDs provide information during POST and are a good method of quick troubleshooting. The B550-E goes a step further by adding a 3-pin Addressable RGB header on this right-side edge but the B550-F Gaming (WiFi) does not.
There are no onboard power or reset or clear CMOS buttons and no onboard voltage measuring points. The lack of buttons is disappointing on the higher-end B550-E Gaming.
8+4-pin CPU power connectors provide ample current in both cases. A cluster of 4-pin fan headers are found along the top edge and the VRM heatsink location is conducive to minimising interference headaches.
Both boards have a 4-pin RGB header up top.
All six SATA ports operate directly from the B550 chipset. On both motherboards, SATA ports 5 and 6 share bandwidth with the secondary M.2 slot. When SATA drives are connected to those ports, the M.2 SSD in the secondary slot drops to PCIe 3.0 x2 bandwidth.
This is a disappointing limitation, especially as there is only one other M.2 slot. It would have been better to steal lanes from other locations, such as the PCIe x1 slots that rarely get used. Granted, the number of users installing more than four SATA drives is also slim.
Dual M.2 slots are present for drives up to 110mm long. The top slot is up to PCIe Gen 4 x4 with lanes direct from a Ryzen CPU. The second slot is up to PCIe Gen 3 x4 from the B550 chipset but shares lanes with two SATA ports and will drop to x2 if they are used.
The M.2 PCIe connection linked to the chipset will quickly run into CPU-to-chipset link bottlenecks as it is also PCIe Gen 3 x4 but must feed all chipset-connected devices.
From a bandwidth perspective, this is not an ideal M.2 implementation on either board. It would have been better to give the secondary M.2 dedicated PCIe lanes from the chipset and instead force the final two SATA ports to share with other connections. If nothing else, this helps users avoid incorrect installation of their SATA drives that will slow down their NVMe SSD (yes, we have seen that from even experienced system builders).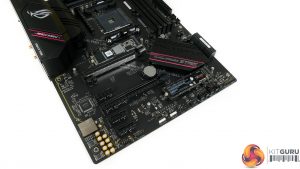 Slot spacing is absolutely ideal as the faster CPU-fed M.2 slot has less PCB trace distance and the chipset-fed slot is away from the heat of a graphics card.
A beefy aluminium heatsink with a good thermal pad covers either M.2 slot. These slots are easy to access, even with a graphics card installed.
The top, steel-reinforced slot on each board runs at PCIe Gen 4 x16 bandwidth direct from the Ryzen CPU.
In the case of the B550-E Gaming, its second slot is also steel-reinforced and uses PCIe Gen 4 lanes from the CPU so can run at up to x8 bandwidth by stealing lanes from the slot above. Therefore, the B550-E can run at PCIe Gen 4 x16/x0 or x8/x8 from the AMD CPU lanes.
This is good for dual GPUs and as it is x8, 2-card SLI and CrossFire are officially supported. Alternatively, you could install another one or two PCIe Gen 4 SSDs in this slot for a high-speed link to the CPU at the cost of dropping the GPU to x8 link.
Sticking with the B550-E, its bottom slot runs at up to PCIe Gen 3 x4 from the chipset, but it shares lanes with the two PCIe x1 slots. This full-length connector will run at x2 bandwidth if either of those are populated.
The B550-F Gaming (WiFi) second slot is PCIe Gen 3 x4 from the chipset but it too shares bandwidth with the x1 connectors. Populating the x1 slots reduces the full-length slot's bandwidth.
Slot spacing and layout is ideal for motherboards of this calibre. You get ample spacing for triple-slot graphics cards and you can also run dual-slot expansion devices in the second full-length connector.
If you want to use all the SATA ports but do not want to drop to PCIe Gen 3 x2 on the second M.2 slot, you could use an add-in-card for your M.2 SSD in the chipset-connected PCIe x4 slots, provided you do not use the x1 slots at all. You could also do PCIe Gen 3 x4 RAID SSDs through the chipset (provided you don't use the SATA ports) but you will run into bandwidth issues from the PCIe Gen 3 x4 CPU-to-chipset link.
Dual USB 2.0 headers is ideal for smart AIO or RGB users. Both boards have Thunderbolt AIC headers. Two 4-pin fan headers and two RGB headers are present along the bottom edge. And you also get a temperature sensor header in a smart location.
The B550-E Gaming also has a 2-digit debug LED which is always very useful and good to see.
Both boards use the ASUS SupremeFX audio solution. This is based around the SupremeFX S1220A audio codec and uses Nichicon audio capacitors and dual op-amps.
AI Mic noise-cancelling microphone support is included and this can filter out background noise. While it places a small load on the CPU, ASUS argues that this is better than placing a load on the GPU, as competing technologies will. More details can be found on the ASUS webpage.
The B550-F Gaming (WiFi) has six 4-pin fan headers with four within easy reach of the CPU socket. Three total RGB headers are present – one 4-pin up top and one 4-pin and one addressable down the bottom. It is disappointing that only three RGB headers are supplied when most other motherboards offer four.
The B550-E Gaming also has six total fan headers. Four are within easy reach of the CPU socket, but the AIO pump header is moved to a more preferential location up top. You get four total RGB headers – 4-pin and addressable up top-right and also on the bottom edge.
Reasonable speed control is available through the UEFI and software but the minimum fan speed allowances on the curves are limiting and the zero RPM modes do not always work. Gigabyte's Smart Fan 5 is a better overall alternative, but ASUS' solution is competitive against MSI and ASRock.
Starting with the B550-F Gaming (WiFi), you get two USB 2 ports, one of which doubles for BIOS Flashback duties. There are also four USB 3 5Gbps ports. Only two 10Gbps USB 3.2 Gen 2 ports are on the entire motherboard – one Type-A and one Type-C both fed by the B550 chipset.
The B550-E Gaming gets four USB 2.0, one of which gets BIOS Flashback duties. There are three USB 3.2 Gen 2 10Gbps ports fed by the CPU, one of which is Type-C. No clear CMOS button on the B550-E Gaming is disappointing.
Both boards feature Intel I225-V 2.5GbE instead of the Realtek alternative. And you get Intel AX200 WiFi 6 for high-speed networking connectivity, plus Bluetooth 5.1. Displayport 1.2 and HDMI 2.1 are provided for high-resolution video outputs from an APU.
The usual audio connections are available for the B550-F Gaming (WiFi) but the B550-E Gaming trades optical SPDIF for audio Type-C. This may be a preference for some users with Type-C headsets, but it will be disappointing for those with high-end surround sound speakers.
Neither board gets a rear clear CMOS button and that is fine for the B550-F Gaming market segment but disappointing for the B550-E Gaming.
B550-F Gaming (WiFi) Power Delivery System:
The B550-F Gaming (WiFi) uses fourteen total power stages in a 12+2 configuration. The PWM controller is a Digi+ ASP1106 in 4+2 phase mode – this is likely a rebadged Intersil controller. 4+2 is pretty limited for a motherboard at this price point. There are no PWM phase doublers – ASUS uses teamed power stages instead.
Twelve teamed CPU power delivery stages are powered by four PWM control channels. Twelve Vishay SiC639 DrMOS power stages are rated for 'up to' 50A of continuous current output. Two SoC phases also use Vishay SiC639 DrMOS power stages. Plus, there are 5K-rated MIL capacitors.
Overall, this is a reasonable design for this price point. Four real PWM control phases is slim but the 12+2 stages of current capability is strong. This design is basically identical design to the ASUS TUF Gaming X570-Plus motherboard and we tested that and gave it good feedback, as did others.
You get very similar VRM heatsinks on both boards – individual blocks of metal with minimal effort for efficient cooling performance. No heatpipe between the two is fine as the CPU power stages are evenly split between the two zones. It is good that there's a thermal pad for the chokes – this could help a little.
The heatsinks are not too tall and no fan is good. They are clearly designed for aesthetics instead, but that is probably OK given the hefty set of power stages they are used with will need minimal cooling.
B550-E Gaming Power Delivery System:
Sixteen total power stages in a 14+2 configuration are used for the B550-E Gaming. ASUS uses a Digi+ ASP2006 PWM controller. There is no information about this controller so we are unsure on its design. No PWM phase doublers are deployed because ASUS uses a teamed power design instead. This is likely a 7+1 configuration.
Fourteen teamed CPU power delivery stages use MPS MP86992 co-packaged MOSFET power stages. I cannot find any information whatsoever regarding the power stages, which is slightly concerning, so we will have to check thermal performance. The two SoC phases use the same power stages.
This looks to be a good design at this price point, but our thermal testing will highlight whether the uncommon power stages are fit for purpose.
Heatsinks for the B550-E Gaming are practically identical to those used on the B550-F Gaming (WiFi) and, therefore, our feedback is the same.
Both motherboards use a moderately sized chipset heatsink. No fans are required for VRM and chipset cooling, thankfully.