Manual CPU Overclocking:
To test the ASUS ROG STRIX X570-E Gaming motherboard's CPU overclocking potential, we set the CPU Core Voltage to 1.35V and applied the Level 4 LLC setting.

We were able to hit a stable frequency of 4250MHz using 1.35V as set in the UEFI. We applied the Level 5 LLC setting initially in order to hit 1.352V according to CPU-Z. However, this resulted in higher-than-expected CPU and system power draw and resulted in temperatures that were too high. To compensate, we backed down to Level 4 LLC instead.
The Level 4 LLC setting saw a load voltage of 1.328-1.336V in Cinebench, which represents a 14-22mV offset. The CPU temperatures were controllable at this level and stability was not compromised.
Motherboard Sensors
ASUS provides a solid set of temperature data points but it is disappointing to see the lack of a VRM temperature sensor. The power data according to HWiNFO and HWMonitor looks to be accurate.
Overclocked Performance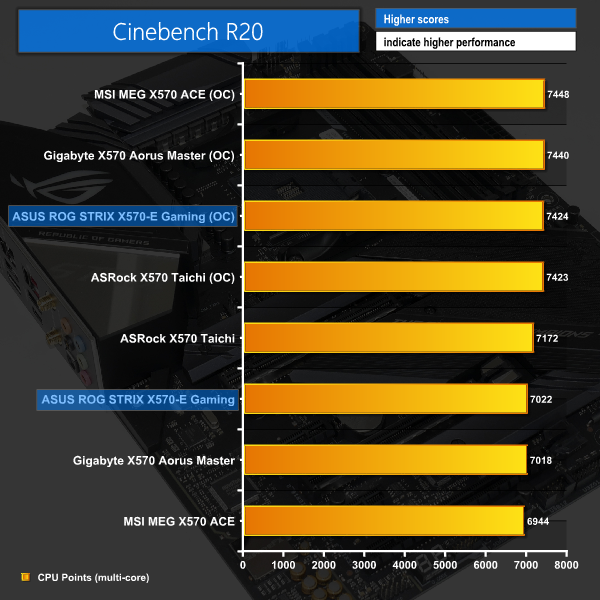 With ASUS' motherboard overclocking the Ryzen 9 3900X to 4.25GHz, Cinebench R20 multi-threaded performance increased by 402 points. That's a solid 5.7% gain that's pretty reasonable if your workloads are primarily multi-threaded.
System Power Consumption
We leave the system to idle on the Windows 10 desktop for 10 minutes before taking a reading. For CPU load results we run AIDA64 CPU, FPU, and Cache stress tests and take a reading. The power consumption of our entire test system (at the wall) is shown in the chart.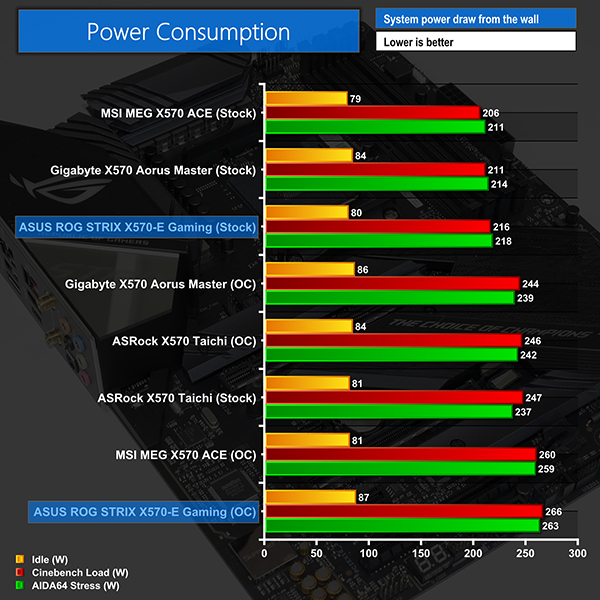 ASUS applies sensible voltage levels to our Ryzen 9 3900X under stock conditions and therefore the power readings from the wall are reasonable. 216-218W under load is just a smidgen higher than the power draw from the MSI and Gigabyte competitors and is significantly lower than ASRock's over-volted X570 Taichi. Bear in mind that ASUS had our Ryzen 9 3900X operating at an average of 4017MHz all-core frequency with the latest AGESA ABBA BIOS revision.
Overclocked numbers are less favourable to ASUS, with our own adjustments to the awkward LLC settings being largely to blame. CPU-Z registered a core voltage of 1.328-1.336V under Cinebench multi-core load, though the power draw reading from the wall would suggest that the actual number is higher. Interestingly, the ASP1405 PWM controller used by ASUS is widely believed to be a rebadged International Rectifiers IR35201. That's the same PWM chip that is used on the MSI MEG X570 ACE motherboard – a competitor which exhibited similar, uncharacteristically high power draw for the given software-read voltage level.
My suggestion in this scenario would be to reduce the operating voltage even further in the UEFI and take software-read voltage readings with a rather large pinch of salt. You may find that your CPU can overclock with uncharacteristically low software-read voltage levels, but the wall power draw is similar to competing motherboards operating at a higher real CPU core voltage.
System Temperatures
We run the AIDA64 CPU stress test for 1 hour while recording the system data using HWInfo. This data is then analysed to show the CPU temperatures and also the VRM MOSFET temperatures, by using our own physical monitoring methods that you can read about in more detail HERE.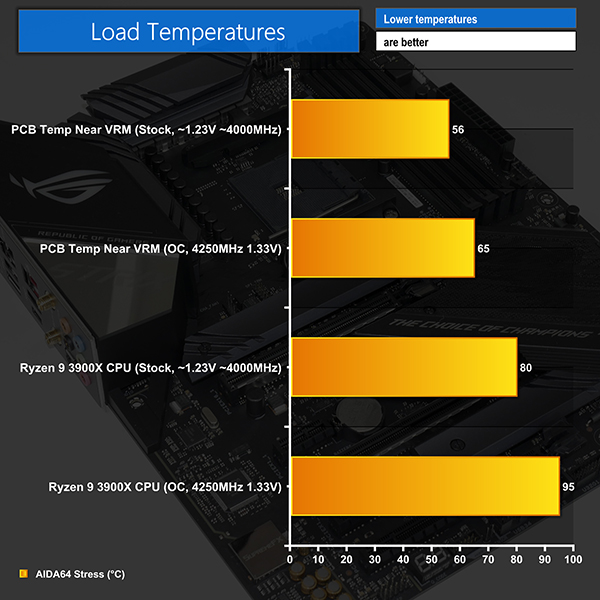 To check VRM temperatures, we measured PCB temperature on the hotspot area near to the MOSFETs. Check our temperature recording methods found in our recent X570 VRM testing article for more details.
The Ryzen 9 3900X CPU temperature is held around 80C under stock conditions, thanks in large to ASUS' sensible voltage levels. Overclocked CPU temperature is more concerning at well above 90C. The higher-than-usual power consumption observed in the previous chart translates directly into increased thermal output for the struggling AIO cooler to contend with. A steady-state load temperature of 95C, with short-duration spikes a few degrees higher, would be enough for me to turn down the voltage and/or frequency of this overclock if I wanted daily usage.
VRM temperatures are excellent, even with the system overclocked heavily. Less than 60C under stock conditions and staying well below 70C when overclocked highlight the efficiency of ASUS' power delivery components. These readings were recorded using our test equipment; ASUS does not provide sensor-read temperature data in OS-based software, which is disappointing as the vendor clearly has nothing to hide.
Chipset temperatures were fine, showing the typical mid-60s reading for X570 motherboards. ASUS' chipset cooling solution seemed perfectly adequate at managing the heat output without requiring excessive fan speeds. The small 40mm fan stayed below 3000 RPM for the vast majority of our testing.