The ASUS ROG STRIX X570-E Gaming is a premium motherboard that sticks to its ROG philosophy by offering a superb power delivery solution that is particularly competitive at this price point.
Performance was solid throughout testing. That point is thanks in large to ASUS' excellent deployment of the AGESA ABBA microcode in the latest BIOS revision that had us seeing boost clocks as high as 4.65GHz from the Ryzen 9 3900X.
Overclocking performance was strong, even if ASUS' load-line calibration settings are needlessly awkward. While the accuracy of our selected overclock voltage was not good due to the aforementioned LLC awkwardness, stability was perfectly good at our chip's 4.25GHz maximum.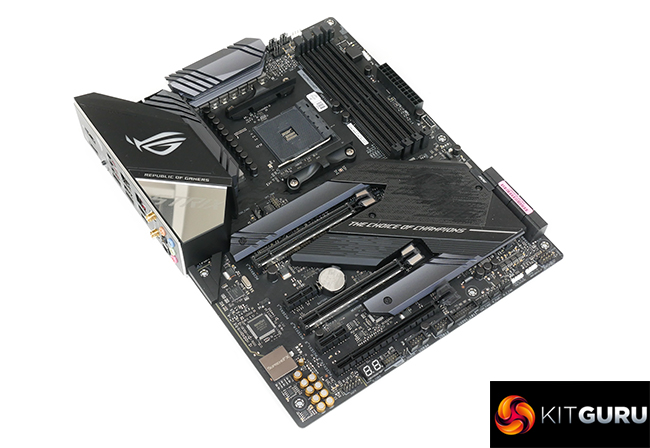 The balance of features is solid overall. RGB lighting zones are subtle but good. ASUS only provides two M.2 connectors when competitors offer three, which is disappointing. Eight SATA connectors may be a worthwhile trade-off for some, though. There are no onboard buttons or voltage checkpoints, either, which is disappointing for an enthusiast motherboard.
However, ASUS does provide 2.5Gb Ethernet from a Realtek chipset, which ASRock's X570 Taichi, for example, does not.
Although ASUS' board cover makes M.2 SSD installation more difficult than it needs to be, the provided heatsinks work well. Another heatsink that worked well was the chipset cooling solution. ASUS' 40mm open-style fan remained below 3000 RPM in our testing and was unobtrusive. Positioning of the fan is not ideal as it will suck in hot air from a graphics card. This did not prove to be an issue in our CPU- and motherboard-focused testing, however.
With a strong overall set of features built around an absolutely superb power delivery solution, ASUS' ROG STRIX X570-E Gaming is a particularly compelling option at its £300 asking price.

The ASUS ROG STRIX X570-E Gaming is priced at £309.95 at Overclockers UK. (its on sale at £299.95 as we go to press today).
Pros:
Market-leading power delivery solution at this £300 price point.
Excellent boost frequencies from the latest AGESA ABBA BIOS.
2.5Gb Ethernet.
All 10Gbps USB 3.2 Gen 2 on the rear IO.
Easy to use UEFI with good features.
Excellent fan control capability.
Decent chipset cooling solution.
Good RGB lighting onboard.
Cons:
Only two M.2 connectors – competitors offer three.
M.2 installation method is needlessly awkward and inhibits SSD heatsink usage.
Awkward LLC settings make voltage inaccuracies common.
No onboard buttons or voltage monitoring points.
KitGuru says: Well-built all-round and an elite power delivery system, ASUS' ROG STRIX X570-E Gaming is a strong X570 contender at the £300 price point.