A dark black colour is contrasted by a lighter grey to create the appearance of the Gigabyte X299 Aorus Gaming 3. The board features a rear IO cover with Aorus branding but the Gigabyte name is barely visible and could have easily been positioned on the MOSFET heatsink.

Gigabyte motherboards have been on the market for many years and loyal customers may wish to show off their love for the company.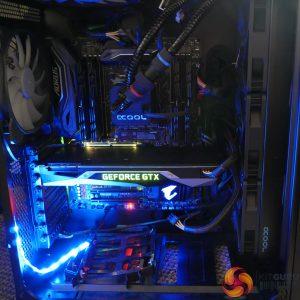 Gigabyte's RGB LEDs are of a high quality. The controllable lighting zones are:
PCIe slots
Audio track
Chipset heatsink
VRM heatsink
3x LED headers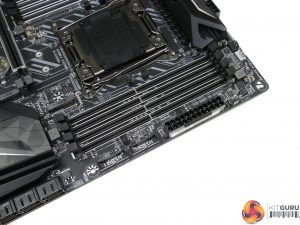 Two internal USB 3.0 5Gbps headers sit next to the 24-pin power connector. A cluster of fan headers is also found in close proximity, making them useful for powering CPU or chassis fans.
There's no internal 10Gbps USB 3.1 Gen 2 header, which is disappointing for a motherboard of this calibre. The new connector will become standard within this board's lifespan so it is somewhat short-sighted, or perhaps overly cost-conscious, of Gigabyte not to include the 'futureproof' connector.
Four DIMM slots are positioned either side of the LGA 2066 socket, making this motherboard quad-channel memory capable with a Skylake-X CPU. Gigabyte conveniently highlights which slots should be used with a Kaby Lake-X CPU and its dual-channel memory support.
The steel-plated DDR4 slots are designed to look good but they also help to mitigate PCB flex when inserting DRAM modules.
Gigabyte uses a decent heatsink to cool the MOSFETs. As is the norm in today's market, the heatsink is clearly designed with aesthetics as a priority. With that said, the physically-larger design is better than ASUS' competing offering and the geometry should provide better heat dissipation potential.
Nevertheless, Gigabyte needs to be added to the list of motherboard vendors that really need to improve their performance when it comes to designing effective heatsinks for power-hungry platforms.
Eight International Rectifiers IR3556M MOSFET solutions are tasked with CPU power delivery duties (that additional IR3553M phase is likely to feed supplementary components). The 50A-rated Integrated PowIRstage solutions are well-respected in the industry and will be perfectly capable of powering even overclocked Skylake-X CPUs (provided they can be cooled adequately).
Primary management is handled by the IR35201 digital PWM controller which looks to be running in 8+0-phase operation. Three additional International Rectifiers digital PWM controllers – all IR35204 units – manage the memory and system sections. Memory looks to be a 2-phase system per DIMM bank which uses IR3553M MOSFETs and R30-marked chokes.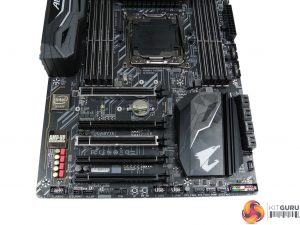 Gigabyte deploys five full-length PCIe slots spread across a six-deep span. The pair of 'Dual Armor' metal-reinforced slots are the primary slots that both receive up to 16 Gen 3 lanes from the CPU. The bottom full-length slot is the other high-bandwidth link, receiving up to 8 lanes from a 44-lane chip.
PCIe lane distributions for slots 1, 3, and 5 are x16/x16/x8 for a 44-lane CPU, x16/x8/none for a 28-lane CPU, and x8/x4 when using a 16-lane CPU. That's right – SLI is not supported with a 16-lane CPU, nor is a full x16 connection to a single GPU. Gigabyte should take plenty of the blame for this but, quite frankly, Kaby Lake-X chips are such stupid products on the X299 platform that it's hard to throw too much criticism the board vendor's way.
We checked to make sure that the lack of x16 or x8/x8 support was not a mistake in Gigabyte's product information. It was not a mistake. This is a £270 motherboard that will not support SLI with a 16-lane CPU. That's not good enough, irrelevant of whether the Kaby Lake-X CPUs should or should not exist.
The remaining slots are labelled PCIEX4_1 and PCIEX4_2. The upper four-lane slot (sat below the primary graphics card slot) looks to operate using CPU lanes when a 44- or 28-lane chip is installed. The lower four-lane slot (sat below the secondary steel-plated slot) looks to use four lanes from the chipset.
I would have thought that the latter would share its bandwidth with one of the M.2 connections as that would have been a logical compromise on a rarely-used PCIe expansion slot. However, Gigabyte does not make this clear anywhere in the manual and this will cause confusion for potential customers with heavy PCIe expansion requirements.
Slot layout is likely to be adequate for most users. However, buyers with a pair of 2.5-slot graphics cards, such as Gigabyte's own Aorus GTX 1080 Ti models, will find all the remaining slots blocked. A supplementary PCIe x1 slot just below the left-hand DIMM bank would have been welcomed.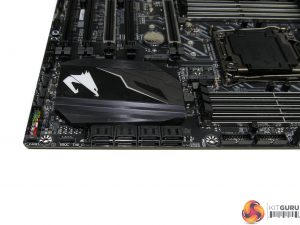 Eight right-angled SATA 6Gbps ports all operate from the X299 chipset. Sat next to the SATA ports are the Thunderbolt and VROC headers.
Both un-cooled M.2 slots can handle up to PCIe 3.0 x4 NVMe SSDs or SATA alternatives. However, only the lower slot (M2P_32G) can do so without significant restrictions elsewhere. Page 18 in Gigabyte's manual explains the situation well; the lower M.2 slot does not interfere with SATA ports, except stealing the connection from SATA_0 when an M.2 SATA SSD is used.
The upper M.2 slot, however, is clearly placed on a flexible chipset arrangement with the SATA and PCIe lanes. A SATA or a PCIe SSD in the upper M.2 slot will disable SATA ports 4, 5, 6, and 7. That seems excessive, especially in terms of M.2 SATA SSD usage, but it also highlights the X299 PCH flexibility given to motherboard vendors, in addition to the bandwidth restrictions for high-end boards.
A lack of M.2 SSD cooling is disappointing as this board's £270 retail price leaves plenty of room in the budget for a basic heatsink, as seen on Gigabyte's higher-end SKUs. The omission of U.2 is also slightly disappointing but somewhat understandable given the prevalence of fast M.2 SSDs.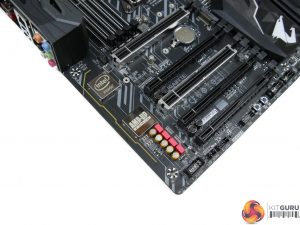 Gigabyte's AMP-UP audio solution is built around the Realtek ALC1220 audio codec. Nichicon and WIMA audio capacitors are also present and the signals travel along segregated PCB tracks.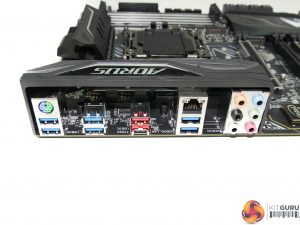 USB ports steal the show on the relatively bare rear IO. Gigabyte deploys six USB 3.0 5Gbps Type-A ports, all of which operate from the X299 chipset. USB 3.1 Gen 2 10Gbps is provided in Type-A and Type-C form using an ASMedia ASM3142 chipset.
A PS/2 port is provided for legacy support while an Intel chipset (likely I219V) is leaned on for GbE. Six 3.5mm audio jacks provide surround sound capability but it is disappointing to see Optical SPDIF out omitted. A rear-mounted clear CMOS button would have been a good addition.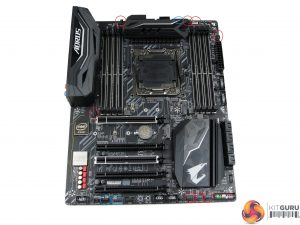 Gigabyte distributes eight 4-pin fan headers across the motherboard, all of which feed into the superb Smart Fan 5 control system and support high current ratings. The controllable fan headers and monitoring are managed by an ITE IT8795E chipset.
Two 5-pin RGBW headers are located on the board – one on the top edge and the other on the bottom edge. There is also a digital LED header on this motherboard.