Gigabyte ships the Aorus X570 Master in a dark box that features plenty of product information.

Starting off with appearance, we can see that Gigabyte has opted for a simplistic black and grey colour scheme, with small silver accents adding some shine in certain areas.
This is, in my opinion, ideal as users can tailor the colour profile of their system without loud and specific motherboard colours ruining the matching. I like what Gigabyte has done with the plastic IO shroud – the angular appearance looks good and none of the motherboard's branding is over the top.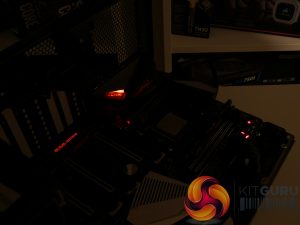 Small touches of RGB lighting are found on the rear IO shroud and the bottom-left audio area. Gigabyte keeps the amount of RGB lighting minimalistic thus encouraging users to purchase their own hardware that can be synced.
I personally feel that a little extra lighting around the chipset heatsink and DIMM slots would be a welcomed inclusion on a motherboard at this price point. Not everybody has RGB memory modules.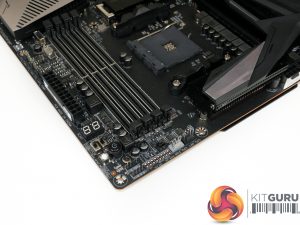 On the memory front, Gigabyte deploys the usual four DIMM slots that each feature strengthened mounting points. The double-latch mechanism is a little more awkward than the single-latch alternative, though that's a matter of opinion. Up to 128GB of DDR4 memory is supported, when using 32GB DIMMs.
Gigabyte quotes DDR4 memory frequency capability at 4.4GHz via overclocking, though your mileage may vary above or below that number, depending on several factors. Make sure you stick to 3600MHz memory unless you want to mess around with Ryzen 3000's memory controller divider.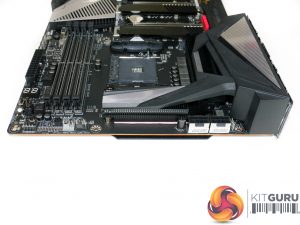 There are fan headers galore near the DIMM and 24-pin area and this is ideal for accessibility from the CPU socket and chassis roof and front fan mounting points.
Also up in the top-right are the debug LED, onboard power and reset buttons, and the dual BIOS switches. All of these features are ones that I love to see on motherboards; the LED digit is extremely useful for troubleshooting, as are onboard buttons. And the dual BIOS switches play nicely into Gigabyte's motherboard resilience approach, especially as one of the two 128Mbit BIOS chips is socketed and therefore replaceable.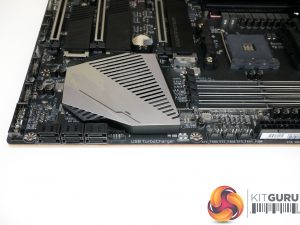 Gigabyte deploys six chipset-fed SATA 6Gbps ports on the X570 Aorus Master, sitting them alongside a Thunderbolt header for separately-purchased add-in cards. It is good to see six SATA ports equipped, though two of these will be unusable with a PCIe SSD in the lowest M.2 slot. That's a fair trade-off as you can still run dual M.2 PCIe SSDs with the full complement of six SATA drives.
The vertically-facing internal 10Gbps USB 3.2 Gen 2 Type-C header is fed by the X570 chipset and can be used on modern cases. I don't have any major complaints about Gigabyte's positioning here, although it could have been a little closer to the edge of the board.
Both 5Gbps internal USB 3.0 (or USB 3.1 Gen 1 or USB 3.2 Gen 1, if you prefer) headers are along the board's bottom edge, making them a little difficult to reach for some larger cases. I am glad to see two internal USB 2.0 headers provided as these are still in high demand for use with AIO coolers and other peripherals.
Gigabyte deploys a total of three M.2 slots, two of which support drives up to 110mm in length. Both SATA and PCIe drives are supported in each of the slots and they all get a solid lump of metal and thermal pad to aid with drive cooling.
The uppermost slot gets its PCIe 4.0 x4 or SATA connection from the AMD CPU, while the remaining two are fed by the X570 chipset. As previously highlighted, you'll want to use the top slot first, then the second, then the third as the lowermost one shares bandwidth with two SATA ports. All three ports could be used together for an impressive RAID array.
Positioning of the second slot is usual – sat beneath where a graphics card will be installed. It's worth keeping an eye on temperatures for this drive as hot air could easily be dumped out of a graphics card cooler and directly onto the M.2 heatsink. Perhaps your most powerful write-intensive SSD would be best situated in the top slot, though there may be benefits to having the OS drive fed by the CPU-connected M.2 link.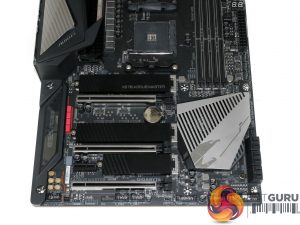 The expansion slot area looks a little bare, but that's not really a problem given the current climate of multi-GPU usage. Three full-length slots get the reinforced steel treatment, while the tiny x1 connection does not. Spacing between the two main PCIe slots is ideal, especially with the popularity of 2.5- and 3-slot graphics cards.
PCIe 4.0 lanes from the Ryzen 3000 CPU are split between the top two full-length slots as x16/x0 or x8/x8. The lowest full-length slot operates at Gen 4 x4 bandwidth from the X570 chipset and the PCIe x1 slot receives a single Gen 4 link.
Gigabyte builds the X570 Aorus Master's audio system around the popular Realtek ALC1220 codec. Also forming part of the system is an ESS SABRE9118 DAC and dedicated WIMA audio capacitors.
A handful of Nichicon Fine Gold audio capacitors are also thrown in for good measure. The codec and DAC chips are shielded by Gigabyte's extension of the rear IO shroud.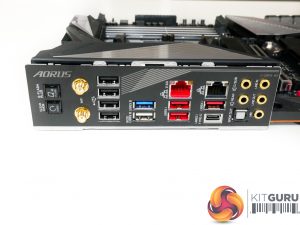 Even given the competition at this price point, the rear IO port selection on Gigabyte's X570 Aorus Master is healthy. Firstly, the use of an integrated IO shield is excellent. There's no onboard video connection for use with APUs but I do not see this as a realistic use case for an enthusiast-geared X570 board. So, no negatives marks there.
Four USB 2.0 Type-A ports are great for servicing low-bandwidth peripherals such as keyboard, mouse, headset, and printer. Alongside those are another two USB Type-A ports conforming to 5Gbps USB 3.0 speeds and one being assigned for BIOS updating duties.
The red USB Type-A ports and the Type-C connector are all USB 3.2 Gen 2 10Gbps speed either from the X570 chipset or from a Ryzen 3000 CPU. There's plenty of USB connectivity available and that's a good thing.
Another area of focus is clearly on networking connectivity. In addition to the dual antenna connectors for the 2.4Gbps-capable 802.11ax WiFi adapter, Gigabyte includes a pair of RJ-45 Ethernet ports. While the black port is 1Gbps from an Intel chipset, the red port offers 2.5Gbps data rates through a Realtek chipset. I am glad to see a widespread push to higher-than-1Gbps wired networking on consumer products.
Rounding out the rear IO is the usual affair of audio jacks with gold plating and the ever-useful clear CMOS and Q-Flash Plus buttons. The latter is particularly useful if you buy a future Ryzen CPU without updating the motherboard BIOS as you can do so without a compatible chip being installed.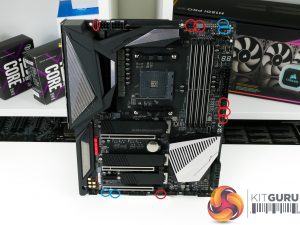 A sizeable total of seven 4-pin fan headers is spread around the motherboard. Six are within easy access of the CPU socket, two of which are preferred for CPU control duties. The final one is laid along the motherboard's bottom edge. All of the headers are near the edge of the board which makes cable management far easier.
You also get two LED headers in the top-right and another two in the bottom-left. These pairs are split as one 12V RGB plus one Addressable LED header in each location.
Voltage measurement points in the top-right of the motherboard is another inclusion that I love to see. These are especially useful for relatively new platforms, such as Ryzen 3000 and X570, where monitoring software does not necessarily display accurate voltage information, as we found in our testing. There's no arguing with physical voltage connections and the readings from a multimeter.
Gigabyte builds the X570 Aorus Master around the foundation of a solid power delivery system that is well-equipped for handling hefty Ryzen 3000 CPUs. The 12+2-phase VRM features components from Infineon – IR3556 50A power stages to be precise – and is managed by an XDPE132G5C digital controller.
That PWM chip is noteworthy as it is a true 16-phase controller manufactured by Infineon. It is not simply a lower-phase-count unit that is bolstered by doublers, which is what we'd typically see from the common Intersil or International Rectifiers solutions found on competing motherboards.
That's important as the 12 VCore phases are truly twelve phases and can benefit from the reduced latency of true phase control without doublers.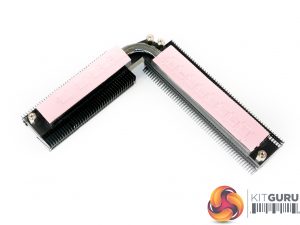 Importantly, given the amount of power that high core count AM4 chips can push through the dual-8-pin connectors and CPU socket, Gigabyte deploys a well-designed, finned heatsink to dissipate heat losses from the integrated power stages. This is imperative in maintaining efficient and high-performing operating temperatures for the high- and low-side MOSFETs found within the electrical components.
It is good to see Gigabyte taking MOSFET cooling seriously rather than slip back into the older habits of designing for aesthetics first, as we see on some competing motherboards.
Gigabyte also throws reference to the metal backplate in the heat dissipation discussion. It is fair to highlight that it has the ability to move heat away from the rear PCB hotspot around the MOSFET area. Though its biggest benefit will be via increasing the structural rigidity of the motherboard. That's particularly important if you're hanging a 2kg CPU cooler from the mounting holes.
Shifting around all that electrical current is what Gigabyte terms a 'Middle-Loss, six-layer' PCB. That's one of the main differences between the X570 Aorus Master and the Extreme, with the more expensive sibling getting a 'Low-Loss, eight-layer' PCB instead.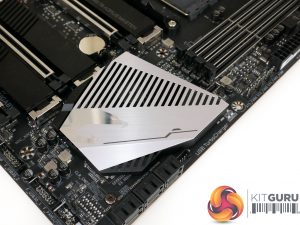 The 40mm fan hidden within the sturdy chipset heatsink is a necessary evil, as we have seen on most X570 motherboards. Since Gigabyte's more recent BIOS versions, the fan can be speed controlled so this makes its noise output far more tolerable. It wasn't intrusive in our testing now that the speed control is functioning. We could not hear the fan above the loud Corsair H100X during periods of heavy CPU load.