Automatic CPU Overclocking (UEFI-Based):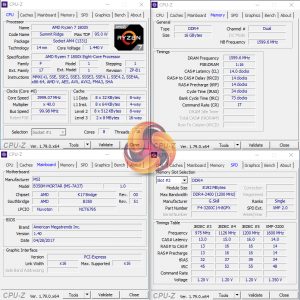 MSI's Game Boost overclocking preset applies a +400MHz overclock to the base frequency of a Ryzen chip, which was the 1800X in our testing.

To achieve this frequency increase, MSI's motherboard fed up to around 1.45V to the processor under load. That's a little too high for a relatively inexpensive motherboard that uses a basic VRM system and is likely to be partnered with basic cooling hardware.
Credit to MSI for including an aggressive overclocking preset. However, we would recommend caution and a strong cooling system if using the Game Boost setting with highly clocked Ryzen chips.
For lower-frequency CPUs such as the Ryzen 5 1600, the increase in voltage is likely to be less aggressive.
Manual CPU Overclocking:
To test the MSI B350M Mortar motherboard's CPU overclocking potential, we aim to set the CPU voltage close to 1.40V. CPU VCore is set to 1.40V and we applied the Mode 4 LLC setting. NB voltage was not adjusted and there is no option to change SOC voltage in the MSI UEFI.
We maintained the DRAM frequency at 3200MHz to take its stability out of the overclocking equation.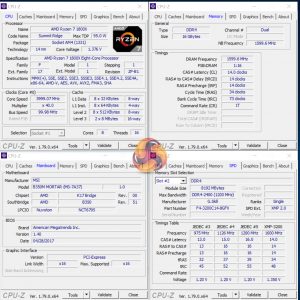 We could not hit the 4.05GHz limit that our 1800X is capable of at 1.40V. This was irrespective of whether we used the Mode 3, 4, or 5 LLC setting.
Instead, we had to back the CPU frequency down to 4.0GHz to garner full stability with multiple runs of Cinebench. Load voltage was around 1.376V using the Mode 4 LLC setting and this resulted in stability.
We were slightly surprised to see the B350M Mortar put in a 50MHz lower frequency result than the B350 Tomahawk. Both MSI boards use the same power delivery configuration and one of the few differences seems to be an additional heatsink on the MOSFETs of the Tomahawk.
Either way, the B350M Mortar kept our 8-core 1800X stable at 4.0GHz, which is a solid result and consistent with B350 offerings from competing vendors such as ASRock and Gigabyte.
Overclocked Performance

As a performance comparison, we have included the results from three B350 motherboards. The maximum overclocked configuration achieved with each board was a 4000MHz (40.0x100MHz) or 4050MHz (40.5x100MHz) processor frequency whilst using 3200MHz CL14 memory.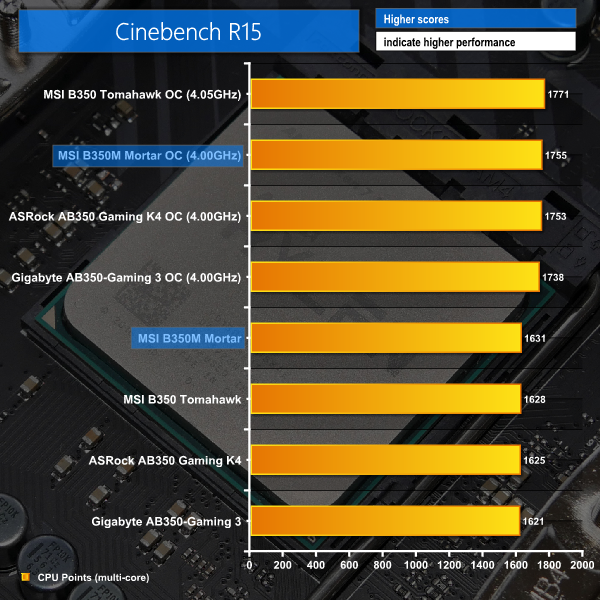 The CPU overclock on the B350M Mortar delivered a strong gain in Cinebench performance. MSI's own Tomahawk still leads this chart thanks to its better overclocking result.
Power
We leave the system to idle on the Windows 10 desktop for 5 minutes before taking a reading. For CPU load results we run Cinebench multi-core and take a reading. The power consumption of our entire test system (at the wall) is shown in the chart.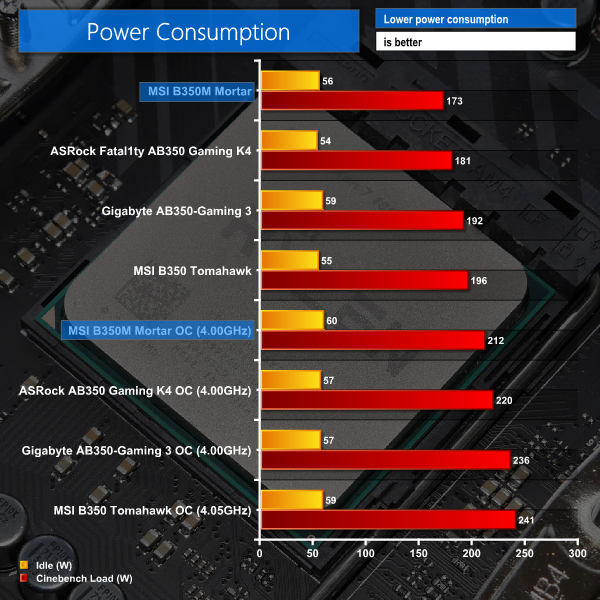 Accurate and conservative voltages, coupled with less physical area taken up by the micro-ATX design, allowed the B350M Mortar to deliver very good power draw numbers.
In both the stock and overclocked configurations, MSI's micro-ATX Mortar used less load power than the competitors it is charted against.