MSI ships the MEG X570 ACE in packaging that shows a product image and special features.

Looking at appearance, MSI's recent change in tone can be perceived as a welcomed difference in the sometimes-stagnant motherboard market. The company adds gold touches to its heatsink covers and shrouds in an attempt to set itself apart from competing vendors.
These touches may be to some users' preference, but they may also clash with other people's colour scheme. Nevertheless, it is hard to criticise MSI for trying to differentiate itself by trying something new in a crowded market.
Onboard RGB lighting is an area where MSI clearly sets itself apart from competitors at this price point. Using a reflective mirror-type panel, MSI's 'Mystic Light Infinity' looks absolutely superb.
The reflective panel permits the creation of a lighting scheme that creates the look of depth, and multiple LEDs allow the colour to be mixed within this single zone.
Despite this single rear-IO zone being the only RGB lighting on this motherboard – something that MSI deserves criticism for – the quality and unique look of the 'Mystic Light Infinity' panel makes up for this annoyance. If you are an enthusiast who places importance on system appearance, we would imagine that this feature will be welcomed.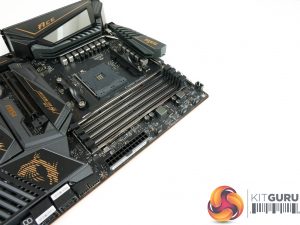 MSI deploys the usual four DIMM slots with steel strengthening to support up to 128GB of DDR4 memory. The double-latch mechanism is a little more awkward than the single-latch alternative, though that's a matter of opinion.
MSI quotes DDR4 frequency support of up to 4600MHz with Ryzen 3000 when using A-XMP in OC Mode. A quick look at MSI's QVL for the board actually shows 4800MHz Corsair DIMMs as compatible when pushing 1.5V. Of course, such success will also be dependent upon BIOS stability and the strength of an individual CPU's IMC.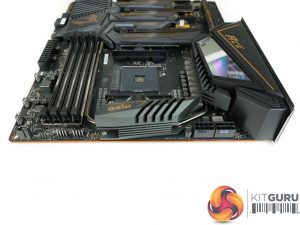 Along the top edge we see the dual 8-pin power connectors in addition to the two 4-pin fan headers reserved for CPU duties. There are no onboard voltage monitoring points on the MSI MEG X570 ACE.
That's a big disappointment for an enthusiast-level motherboard with overclocking as one of its focus points. Add in the relative immaturity of the new X570 platform at this point in time, which can result in erroneous software voltage readings, and the lack of simple multimeter support is even more disappointing.
MSI's single BIOS chip is a sizeable 256Mb offering. The company is clearly learning from previous AM4 mistakes from all motherboard vendors by offering a large BIOS chip to provide support for future BIOS updates.
A noteworthy omission is any form of BIOS redundancy through a dual BIOS implementation. If your overclocking settings go bad and your system crashes, you'll have to cross your fingers and hope that the board can recover itself. Certainly not ideal for such a costly product.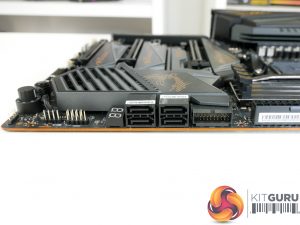 Perhaps one of the most striking oddities for the MEG X570 ACE is its inclusion of only four SATA 6Gbps. This is bizarre on such a premium offering, especially as the flexible X570 chipset contains the ability to provide another couple by sharing bandwidth from one M.2 connector (an approach that competing offerings deploy).
There's no doubt that four SATA 6Gbps ports is likely to be enough for most users, especially with several M.2 connectors. However, providing four instead of the usual six also forces some users into awkward system decisions. Two hard drives alongside two large and cheap SATA SSDs certainly isn't an uncommon configuration for prosumers or storage enthusiasts.
What happens when that shiny new 10TB hard drive deal shows up? You can't simply drop it in and add to your storage pool. That's inflexibility that is needless on a product at this price point that utilises the highly-configurable X570 chipset.
Flanking the SATA ports is one of the two internal USB 3.0 headers. MSI's right-angled installation is excellent as it makes it far easier for users to hide the fat cable. And if your case is not wide enough to deal with the edge-mounted connector, there's another provided at the bottom of the board. Smart move, MSI.
Positioned just below the bank of SATA connectors is the two-digit debug LED. This LED can display POST information and is incredibly useful when troubleshooting issues. Once the system has POSTed, the LED is set to display current CPU temperature, which is a useful feature.
I am not a fan of the positioning of the debug LED or the power and reset buttons found nearby. I prefer for these to be positioned in the top-right corner of the motherboard – away from interference with large expansion cards or nearby system headers. The top-right location also makes it far easier to see the debug LED when the motherboard is inside a chassis; the current position will be hidden by 2.5- or 3-slot graphics cards or even dual-slot cards when looking from an angle.
Another of the onboard buttons is MSI's Game Boost OC dial that cranks up to eleven… obviously. While undeniably a gimmick that serves no additional purpose beyond what can be done in the UEFI, with the exact same settings, the dial may be considered a novelty feature that some users love and others do not. Personally, I'd have used this PCB real estate to allocate another two SATA ports instead, as they're far more useful.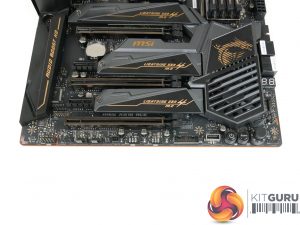 The single internal USB 3.2 Gen 2 10Gbps header is found on the bottom edge of the MEG X570 ACE. This location is good, provided your case connection is long enough, as the cable can be tucked away with relative ease.
It is good to see the inclusion of two USB 2.0 headers as these are useful for AIO coolers and other peripherals.
MSI deploys three M.2 slots, one of which supports drives up to 110mm in length. SATA 6Gbps and PCIe 4.0 x4 drives are supported in all the slots, with the top connection coming from a Ryzen CPU and the bottom two being fed by the X570 chipset.
There is no bandwidth sharing with other connections such as SATA ports, so you're free to use whichever slot you prefer in whichever order you like. The top slot and bottom slot look to make most sense as they're furthest away from a heat-producing graphics card's cooler. All three M.2 slots can be used simultaneously.
MSI is taking M.2 cooling particularly seriously with the MEG X570 ACE. Each of the slots features a thermal pad-equipped metal cover to aid with moving heat away from the SSD. MSI also positions the bottom two slots such that they should receive incidental airflow from the chipset fan. This is a smart idea, provided you aren't simply using hot air from the chipset area to try to 'cool' the toasty SSDs.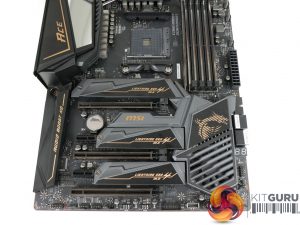 All three of the full-length PCIe slots get MSI's PCIe Steel Armor reinforcing treatment. The top two full-length slots get their PCIe lanes from the CPU and can run at x16/x0 or x8/x8 bandwidth (in PCIe Gen 4 mode with a Ryzen 3000 CPU). Crossfire and SLI are supported.
The lowest full-length slot uses four PCIe Gen 4 lanes from the X570 chipset and is therefore best suited for high-bandwidth devices that are not a graphics card. Both PCIe x1 slots use chipset-fed Gen 4 lanes, but only one of them can be used at any time.
Expansion slot spacing is the norm for modern ATX motherboards and that is ideal. The top slot is far enough away from the CPU socket to not suffer with large air cooler interference. And the spacing to the next high-bandwidth PCIe slot is ideal for multi-GPU compatibility with 2.5- and 3-slot graphics cards.
MSI's audio system is based around the popular Realtek ALC 1220 audio codec. An ESS Sabre HiFi DAC is included and MSI puts this system on an isolated PCB layer.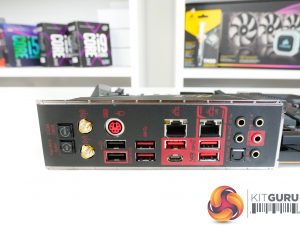 MSI's use of an integrated IO shield for the rear IO is excellent. It is a small touch that adds a premium feel to this high-end motherboard. Don't expect to pop an APU into this AM4 offering as MSI does not deploy any rear IO video connections. We are absolutely fine with that; if you're trying to put an APU in this motherboard, you have made some very poor purchasing choices.
Two USB 2.0 ports and two more USB 3.0 5Gbps are mounted next to the PS/2 combo port. I understand the value of PS/2 to hardened overclockers, but I would argue that two more USB 2.0 ports for peripherals such as headsets would be of better value to the vast majority of buyers. One of those USB 2.0 ports is allocated Flash BIOS duties for updating the BIOS without a CPU installed – ideal for new buyers.
Four USB 3.2 Gen 2 10Gbps connectors are provided – three in Type-A form and one as Type-C. The Type-A and Type-C bank come from a Ryzen 3000 processor while the double Type-A bank is from the X570 chipset. That's worth bearing in mind if you have compatibility issues with any of the individual ports.
Gigabit Ethernet is provided by an Intel 211AT chipset and I am glad to see Realtek-based 2.5Gb networking onboard. It's about time we move past GbE in the home. Adding to the high-speed networking ecosystem is a 2.4Gbps-capable, 2×2 Intel WiFi 6 AX200 802.11ax wireless networking adapter. Bluetooth 5 is also supported by this pre-installed device.
Audio connections are the usual combination and the clear CMOS button is far enough away from USB ports to minimise accidental actuations.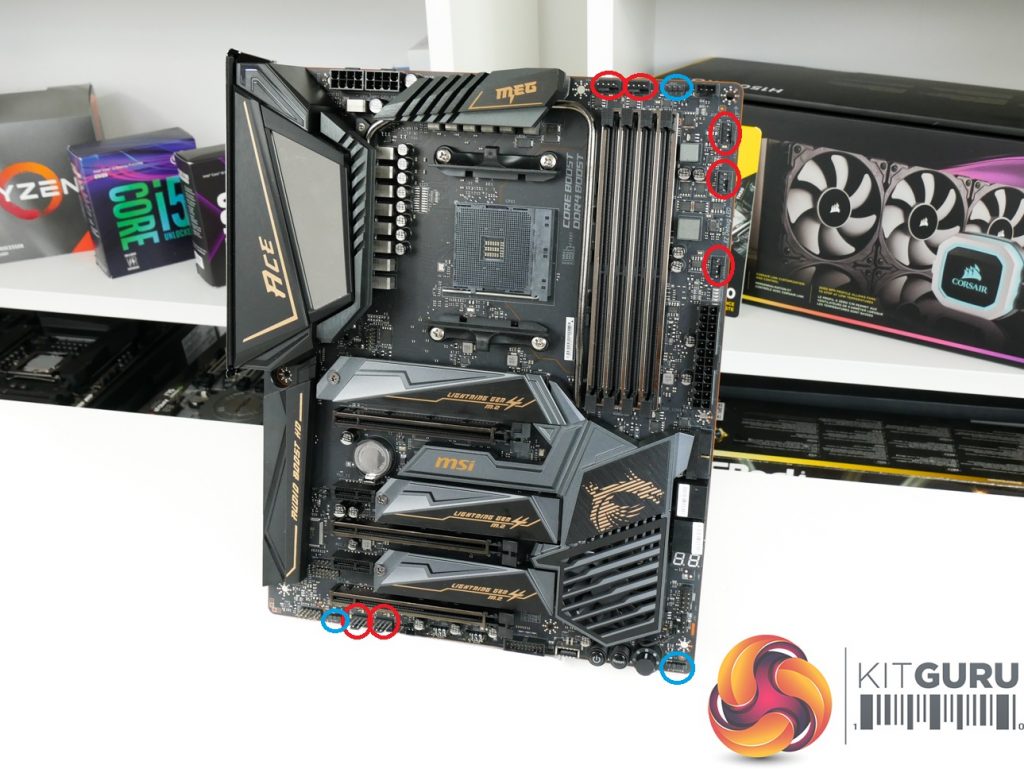 Seven 4-pin fan headers are provided, five of which are reachable from the AM4 CPU socket. There's no fan header in the usual location at the top-left of the motherboard meaning that any cable from a rear chassis fan should be routed at the back of one's case.
The top-right RGB connector is a standard 4-pin variant and sits next to a dedicated Corsair header. The two 3-pin addressable RGB headers are found at the bottom edge of MSI's board.
MSI's 12+2-phase VRM is deployed in a (6×2) + 2 configuration. The chip controlling all of this is the highly-respected International Rectifiers IR35201, aided by six IR3599 phase doublers mounted on the rear.
International Rectifiers IR3555 60A power stages are used for each of the VRM phases. A dozen of these driving the CPU alone gives MSI's MEG X570 ACE a theoretical capacity of 720A for a Ryzen processor.
Compared to the non-doubled twelve phase VRM solution found on Gigabyte's competing X570 Aorus Master, MSI is forced to use phase doubling with the IR35201 PWM controller in order to drive the dozen CPU phases. However, MSI aims to offset this compromise by equipping the VRM with 60A International Rectifiers power stages instead of Gigabyte's chosen 50A alternatives from the same vendor.
Whichever way you look at it, MSI's power delivery solution is superb and heavily overbuilt. Overbuilding by this degree may seem wasteful but it highlights MSI's foresight in understanding that the AM4 platform still has plenty of life in it and future Ryzen processors may demand significantly higher power delivery.
MSI's all-in-one VRM plus chipset cooling design is superb. I would typically criticise MSI for not using a finned heatsink on the MOSFET region. However, the connection via heatpipe, in addition to the efficiency of the 12+2 phase VRM solution, should not make this an issue.
It has been highlighted that a heatpipe is used to connect the MOSFET heatsinks with the chipset heatsink as this will allow the VRM to receive some level of active cooling thanks to the chipset fan. And that's a perfectly reasonable design logic which MSI looks to have implemented well. If you're going to be (somewhat) forced to put a fan on a motherboard, you may as well have it serving more than one task.
One point to note about the connected heatsink is that the MOSFETs and chipset will distribute heat between one another. This could, in certain scenarios, result in higher-than-expected MOSFET temperatures or vice versa. For example, heavy CPU-only load that is stressing the MOSFETs will see them shift heat along to the chipset and elevate its temperature even though it may not be highly loaded. That specific scenario would result in the fan increasing its speed to deal with the elevated chipset temperature – something we wouldn't typically see on competing motherboards with disconnected chipset and VRM heatsinks.
This is not a negative of MSI's design as it is the whole reason that the MEG X570 ACE is able to benefit from enhanced cooling mass. However, it is something that is worth noting if your chipset or MOSFET temperatures seem slightly higher-than-normal when only one or the other is loaded.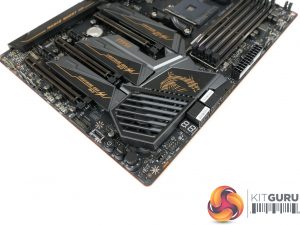 The 45mm double ball bearing fan that MSI deploys is a step up from the solutions on competing vendors. Using a smaller hub which allows for a larger blade area, MSI is able to maintain lower rotational fan speeds whilst also delivering what the company perceives to be adequate cooling.
Speed control of the PWM fan is also superb, with the UEFI featuring a 4-point control curve and preset user modes. It would not be unreasonable to take advantage of the well-built, heatpipe-connected cooling system and run the 45mm fan at 0 RPM under low chipset temperatures.
As far as noise output goes, I could not hear the chipset fan above the pump and fans of a Corsair H100X AIO. That's irrelevant of whether the CPU and system were lightly or heavily loaded.