We will be outlining the MSI X99S MPower motherboard's performance with the Core i7 5820K CPU at its stock frequency (3.6GHz due to forced turbo). Overclocked performance will be outlined later in the review.
We opted for components representative of an X99-based system that would use a sub-£190 motherboard, which included 2400MHz DDR4 memory and the excellent Haswell-E 5820K processor.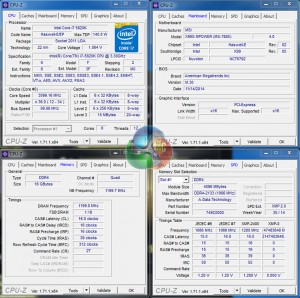 By default, the MSI X99S MPower motherboard applies multi-core turbo (MCT) and forces the 5820K to a constant 3.6GHz when XMP is enabled. This will be displayed as the 'stock' setting.
The CPU VCore idles around 0.757V when idling, and increases to around 1.064V when loaded.
X99 Motherboard Test System:
Compared X99 Motherboards:
Asus X99-A (BIOS v0502 and Catalyst 14.4 drivers).
Gigabyte X99-UD4 (BIOS F9c).
Software:
MSI X99S MPower BIOS v22.3.
Catalyst 14.9 VGA drivers.
Tests:

3DMark 1.3.708 – Fire Strike (System)
SiSoft Sandra 2014 SP2 – Processor arithmetic, memory bandwidth (System)
Cinebench R15 – All-core CPU benchmark (CPU)
WinRAR 5.10 – Built-in benchmark (CPU)
HandBrake 0.9.9 – Convert 4.36GB 720P MKV to MP4 (CPU)
ATTO – SATA 6Gbps, USB 3.0, M.2 transfer rates (Motherboard)
RightMark Audio Analyzer – General audio performance test (Motherboard)
Bioshock Infinite – 1920 x 1080, ultra quality (Gaming)
Metro: Last Light – 1920 x 1080, high quality (Gaming)
Tomb Raider – 1920 x 1080, ultimate quality (Gaming)