General Data
Manufacturer (OEM)
Enhance Electronics
Primary Side
Transient Filter
4x Y caps, 3x X caps, 2x CM chokes, 1x MOV
Inrush Protection
NTC Thermistor
Bridge Rectifier(s)
APFC MOSFETS
APFC Boost Diode
Hold-up Cap(s)

1x Hitachi (450V, 390uF, 2000h @ 105°C,

HU

)

Main Switchers
APFC Controller
Resonant Controller
Topology

Primary side: Half-Bridge & LLC Resonant Controller
Secondary side: Synchronous Rectification & DC-DC converters

Secondary Side
+12V MOSFETS
8x Infineon BSC014N04LS (40V, 100A @ 100°C, 1.4mOhm)
5V & 3.3V
DC-DC Converters: 4x Infineon BSC018NE2LS (25V, 97A @ 100°C, 1.4mOhm), 2x Infineon BSC050N04LS (40V, 54A @ 100°C, 5mOhm)
PWM Controller: 2x Anpec APW7160A
Filtering Capacitors
Electrolytics: 1x Suncon (modular board)
Polymers: FPCAP, Suncon, Unicon (2000h @ 125°C, UPL, UPH)
Supervisor IC
SITI PS223 (OCP, OTP, OVP, UVP, SCP, PG)
5VSB Circuit
Rectifiers
Standby PWM Controller
ATK AT6002H
This platform uses highly overrated components, in order to stress them as low as possible even during prolonged full load scenarios. Two powerful bridge rectifiers along with potent switching FETs are used in the primary side, while on the secondary side a great number of +12V FETs regulate the +12V rail.
The larger the number of FETs the less load each one of them has to deal with, so the output heat remains at low levels. With active cooling this power supply could easily deliver up to 800W of power, since it uses similar specification parts with the SX800-LTI.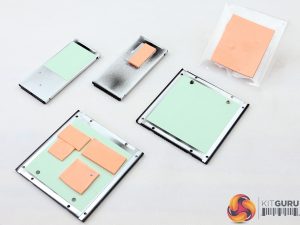 Breaking apart this PSU is not an easy task, mostly because you have to document the whole process in order to be able to re-assemble it back together properly. The OEM is Enhance Electronics and the design is modern, featuring a half-bridge topology along with an LLC resonant converter in the primary side.
In the secondary side a synchronous rectification scheme is used, meaning that FETs regulate the +12V rail, while the minor rails are handled by a couple of DC-DC converters. All caps but the bulk cap and one installed on the modular board are polymers. They are of high quality since they are provided by respected manufacturers and belong to good lines.
The entire transient or EMI filtering stage is installed on a vertical daughter-board, which also hosts the AC receptacle and the power switch. The EMI filter consists of four Y and three X caps, two CM chokes and an MOV (Metal Oxide Varistor). This filter looks complete, however the EMI tests will show if it does a good job.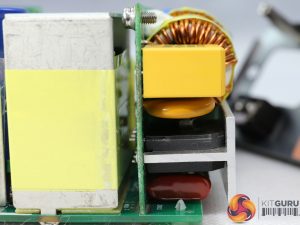 Two powerful GBU15J bridge rectifiers are used in this power supply. They would be totally overkill in a 'normal' 450W PSU, but this is a passive SFX-L unit so the more capable the parts the more resilient they are to increased operating temperatures.
The APFC converter uses two Infineon IPL60R104C7 FETs and a single CREE C3D08060A boost diode. The single bulk cap is provided by Hitachi and it doesn't have so high capacity, to allow for a longer than 17ms hold-up time.
The main switching FETs are two Infineon IPB50R140CP which are controlled through a Silicon Labs Si8230BD. They are arranged into a half-bridge topology.
The APFC controller is a ATK AT6101L IC while the LLC resonant controller is a Champion CM6901T6X.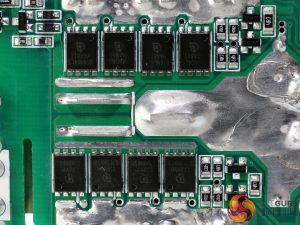 In the secondary side eight Infineon BSC014N04LS handle the +12V rail. Those FETs are installed on the solder side of the main PCB.
Almost all filtering caps are polymers and are provided by FPCAP and Unicon. The only electrolytic cap is installed on the PSU's modular board.
A pair of DC-DC converters generates the minor rails. It uses four BSC018NE2LS and two BSC050N04LS FETs, provided by Infineon. On the same board there are also two Anpec APW7160A PWM controllers.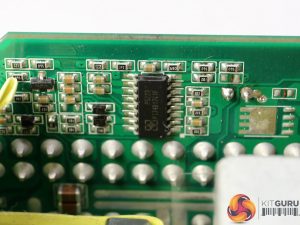 The protections IC is a SITI PS223, which is among the very few supporting over temperature protection out of the box.
The primary rectifier of the 5VSB circuit is SVF2N70MJ FET, while the secondary rectifier is a MOSPEC S10L45 SBR. The standby PWM controller is a ATK AT6002H.
The soldering quality is pretty good, as usually is the case in Enhance Electronics products.
At the front side of the modular board we find a single electrolytic cap, along with several polymer ones. Around the back there is a large number of MLLC caps. Two interesting facts about those caps: their capacitance changes according to the applied DC voltage; the higher the voltage, the less the capacitance. Moreover, MLCC caps (and all the rest ceramic caps) can be the source of electronics whine, also known as coil whine although it isn't only generated by coils.
These type of caps can create all sorts of problems for the supply. According to our sources, actually the majority of failures in quality PSUs are because of cracked MLCCs. Even a single defective MLCC can create major problems to a power supplies operation.