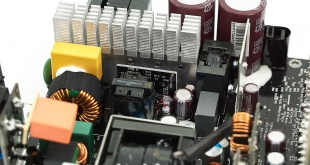 Today we take a look at one of the latest power supplies from Aerocool – their Platinum Grade Project 7, in a 650W capacity. Highly regarded tech publication Techpowerup were heavily involved in the production of this unit putting it through weeks of beta testing while offering advice before it went into production. It is a fully modular supply shrouded with a perforated mesh style surround offering RGB fan support. Its expensive, but competitively priced when looking at similar offerings from market leaders.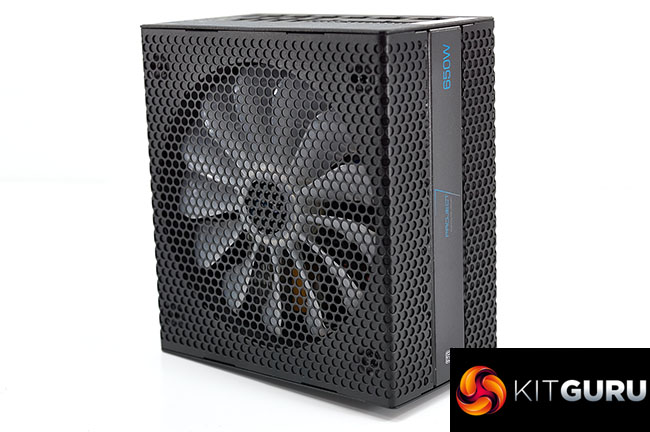 It is an interesting concept creating a power supply in conjunction with a technology news and review publication and I spoke with Techpowerup. They told me 'Hi Allan, We worked with Aerocool in developing this PSU by providing feedback, engineering & development support, as well as testing.' So their involvement does seem extensive. CrMaris from Techpowerup is one of the most skilled power supply reviewers globally, so we certainly feel that while perhaps an unusual partnership, its not such a bad move by Aerocool. Help get direction by an expert.

Its worth pointing out that there are three power supplies in this range – a 650W, 750W and 850W model. Only the 650W model is created in partnership with Techpowerup.
History will show that Aerocool tend to work almost exclusively with OEM Andyson so it will be interesting to see if this is the partner for this unit later when we crack the power supply open.
Aerocool are offering an additional RGB controller hub to use with this power supply. It lets you control the speed of up to five fans and the lighting of any RGB fans or strips. The controller hub works with the full range of Project 7 products. Unfortunately we didn't get this to include in the review today.
Key Features
80 Plus Platinum certified for the highest efficiency: Under typical load, efficiency is at 92% when 115VAC and efficiency is around 94% when 230VAC.
Designed to work efficiently even at 50°C ambient temperature.
High-quality Japanese capacitors provide uncompromised performance and reliability.
RGB fan on PSU can be controlled through the P7-Hub (P7-H1) and motherboard including "Asus Aura", "Gigabyte RGB Fusion" and "MSI Mystic Light Sync".
Super Quiet PSU function as fans only spin up on 60% load and fans spin at less than 500 RPM before 80% load.
Certified to provide protection including OVP (Over Voltage Protection), UVP (Under Voltage Protection), OCP (Over Current Protection) and OPP (Over Power Protection).
The fully modular and soft black flat cables make cable management a cinch and deliver an easier installation experience.
14cm fan provides excellent airflow and the FDB (Fluid Dynamic Bearing) dust proof design protects the bearing and keeps it operating smoothly.
Conforms to ATX12V v2.4 and EPS v2.92 standards and is backward compatible with the ATX12V v2.2 and ATX12V v2.01 standards.
Fully compatible with the latest generation Intel Core series processors starting from the 4th Generation CPU Intel 'Haswell' platform's C6/C7 power saving mode.
Standby power draw less than 0.1W which over-accomplishes the requirements for the latest EU ErP2014 Lot6 and Energy Star 6.0 (<0,25W standby power consumption, <50% standby efficiency).
Review photography handled in house at KitGuru with a Leica S series medium format camera and S series prime lens. Please do not use any of the images within this review without express permission.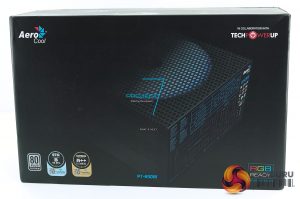 The Aerocool Project P7 650W Platinum power supply arrives in a dark box with an artistic shot of the unit on the front along with some primary specifications. We can see that the supply has earned a LAMBDA-A++ rating from Cybenetics.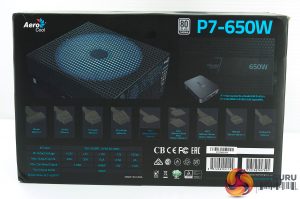 The rear of the box details the cables included inside. The warranty is rated at 7 years – short of the 12 years offered by companies such as Seasonic, but it is still fine for most people.
Inside the box is a small, two pouch bag containing all the modular cables, along with a user manual, mounting screws, cable ties, regional specific power cable and an RGB cable.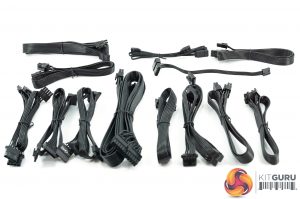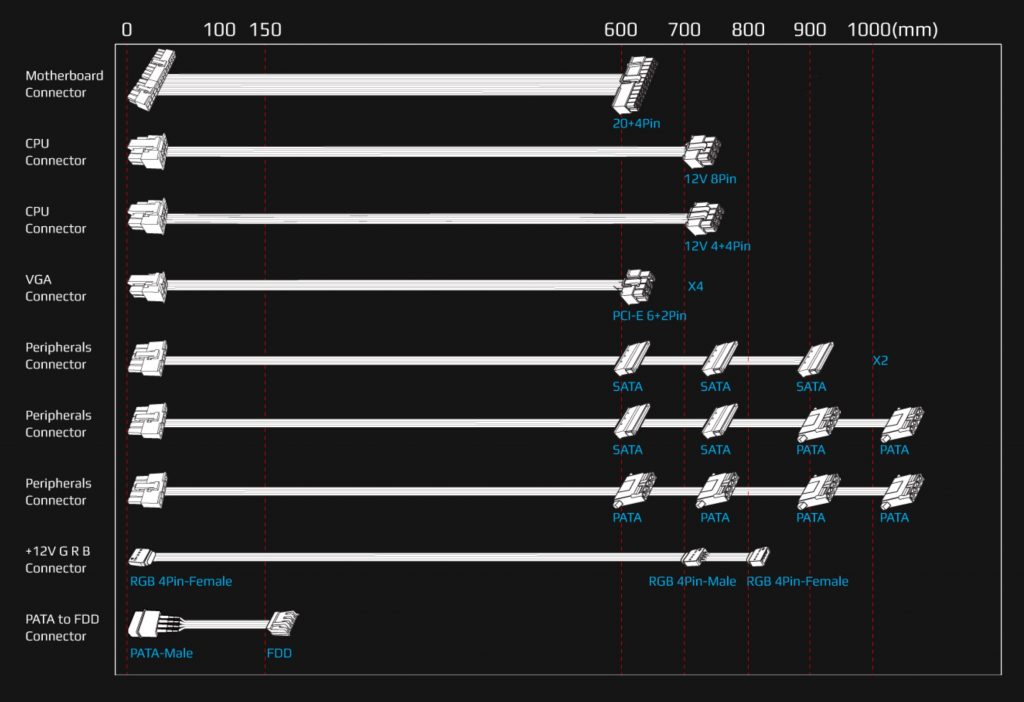 This is a single +12V rail equipped power supply. The cables are quality – between 16-20 AWG and they are all the thin ribbon style for ease of routing.
Aerocool have adopted a dual EPS connector layout, along with four PCIe connectors – plenty for a modest 650 watt rated unit. All of them are available simultaneously. All of the PCIe connectors are on a separate cable to help reduce any potential voltage dipping which can happen if you are using a cable with two connectors. 6 SATA connectors are included which is adequate for a 650 watt unit.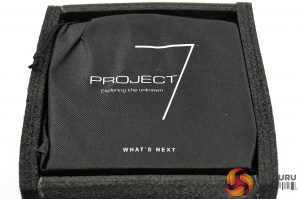 It was good to see the power supply protected inside thick layers of foam and encased inside a 'Project 7' protective cover.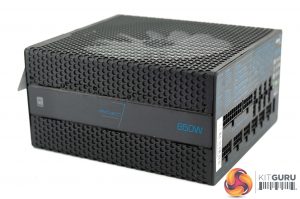 The Aerocool Project 7 P7 650W is a rather unusual design, with the power supply basically encased underneath a mesh style metal surround. I think its rather attractive, but another KItGuru team member wasn't so keen on the design. Its clearly down to personal taste.
It is quite subdued in design meaning it will fit inside most builds without clashing. The only negative would be the blue text which might not look so great inside a black and red system build.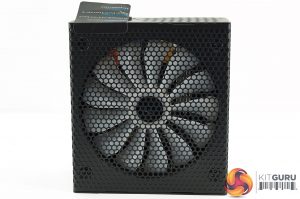 A large white fan can be seen underneath the protective cover. We will take a closer look at the fan when we open the unit shortly.
One side of the power supply has a power switch and connector, alongside a vent to help with air flow. There is a sticker to remove which details the unit's passive mode, a common thing now in higher spec units.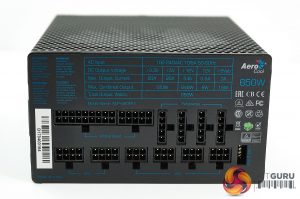 The modular bay is home to the technical specifications sticker – situated above (its not embossed, its just a thick sticker adhered to the metal). It would be impossible to plug in cables in the wrong connectors, as they are all different sizes and widths.
Aerocool Project 7 P7 650W


DC Output

+3.3V

+5V

+12V

-12V

+5Vsb

Max Output

20A

20A

54A

0.5A

3A

Total Power
120W
648W
6W
15W
650 Watts
This 650W power supply can deliver 54A via the +12V rail. The minors rails are strong too. No problems here.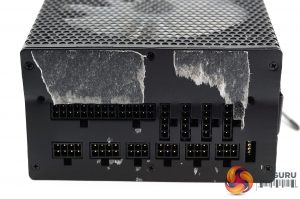 Opening the supply unfortunately requires the removal of the modular bay sticker as there are screws underneath – this completely destroys it and leaves ugly looking residue as you can see above. This won't affect the end user as opening the chassis will invalidate the warranty (so its not something you should ever do), however it was a real shame to see the power supply in this state.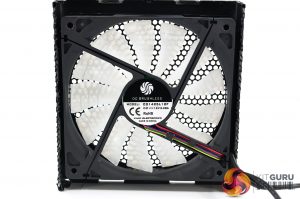 The YIJIN fan is fluid dynamic bearing with model number CD1425L12F and rated 12V 0.28A. There is very little information on this particular fan, but we were told it has been restricted to keep noise levels as low as possible.
Below - a High Resolution Gallery of the internal layout of the Aerocool Project 7 P7 650W
If you dont see the gallery below, turn off your ad blocker.

As we expected the OEM partner for Aerocool is Andyson. On the primary side we have a half bridge topology and an LLC resonant converter. The secondary side uses a synchronous design with a pair of DC-DC converters to produce the minor rails. We managed to check that the PFC controller is a Champion CM6502S.
The first part of the EMI filtering stage comprises two Y caps and an X cap. This filter continues onto the main PCB with two X caps, two Y caps and a pair of CM chokes, alongside an MOV. Andyson have incorporated an NTC thermistor to offer inrush protection. Andyson are using both polymer and electrolytic caps for the filtering of the rails. They are utilising high grade Nippon Chemi Con, Nichicon and FPCAP caps.
Chemi Con electrolytic caps are adopted on the modular board to deliver additional ripple filtering. The soldering on the main PCB is very good and Aerocool have attached a thermal pad to the outer case to offer additional cooling for the +12 FETs.
On the primary stage we were pleased to see two 105c rated Nippon Chemi Con capacitors rated 420V 330uF each, for a total combined output of 660uF.
Correctly testing power supplies is a complex procedure and KitGuru have configured a test bench which can deliver up to a 2,000 watt DC load. We run at 35c in our environment to greater reflect warmer internal chassis conditions.
We use combinations of the following hardware:
• SunMoon SM-268
• CSI3710A Programmable DC load (+3.3V and +5V outputs)
• CSI3711A Programmable DC load (+12V1, +12V2, +12V3, and +12V4)
• Extech Power Analyzer
• Extech MultiMaster MM570 digital multimeter
• Extech digital sound level meter
• Digital oscilloscope (20M S/s with 12 Bit ADC)
• Variable Autotransformer, 1.4 KVA
We test in a single +12V configuration.
DC Output Load Regulation

+3.3V

+5V

+12V

+5VSB

-12V

A

V

A

V

A

V

A

V

A
V
65W

0.92

3.39

0.87

5.07

4.40

12.21

0.50

0.20

-12.02

130W

1.63

3.37

1.65

5.06

9.15

12.18

1.00

0.20

-12.02

325W

2.90

3.35

3.00

5.05

24.25

12.15

1.50

0.20

-12.02

490W

4.00

3.35

4.10

5.03

36.92

12.11

2.00

5.02

0.30

-12.02

650W

5.00

3.33

5.30

5.03

49.71

12.05

2.50

0.30

-12.03
Load regulation is top drawer and within 1% on all rails.
Aerocool Project 7 P7 650W
Maximum Load
716W
We managed to get the PSU to deliver 716 watts before it would shut down, delivering around 66 watts more than the rated specifications.
Next we want to try Cross Loading. This basically means loads which are not balanced. If a PC for instance needs 500W on the +12V outputs but something like 30W via the combined 3.3V and +5V outputs then the voltage regulation can fluctuate badly.
Cross Load Testing
+3.3V
+5V
+12V
-12V
+5VSB
A
V
A
V
A
V
A
V
A
V
590W
1.0
3.39
1.0
5.07
48.0
12.04
0.2
-12.02
0.50
5.01
145W
12.0
3.33
15.0
5.01
2.0
12.20
0.2
-12.03
0.50
5.02
The unit passed our cross load test without any problems. It was hit with 48A on the +12V rail and it held at 12.04.
We then used an oscilloscope to measure AC ripple and noise present on the DC outputs. We set the oscilloscope time base to check for AC ripple at both high and low ends of the spectrum. ATX12V V2.2 specification for DC output ripple and noise is defined in the ATX 12V power supply design guide.
ATX12V Ver 2.2 Noise/Ripple Tolerance

Output

Ripple (mV p-p)

+3.3V

50

+5V

50

+12V1

120

+12V2

120

-12V

120

+5VSB

50
Obviously when measuring AC noise and ripple on the DC outputs the cleaner (less recorded) means we have a better end result. We measured this AC signal amplitude to see how closely the unit complied with the ATX standard.
AC Ripple (mV p-p)
DC Load
+3.3V
+5V
+12V
5VSB
152W
5
5
5
10
270W
5
5
15
10
400W
5
5
15
15
523W
10
5
20
15
650W
15
10
25
20
Ripple suppression is very good, hitting a maximum of 15mV and 10mV on the +3.3V and +5V rails respectively. The +12V rail hits 25mV at full load – all well within industry rated tolerance levels.
Efficiency (%)

152W

93.2

270W

94.1

400W

93.4

523W

92.7

650W

91.4
Efficiency is excellent, peaking at just over 94% and dropping to 91.4% at full load.
We take the issue of noise very seriously at KitGuru and this is why we have built a special home brew system as a reference point when we test noise levels of various components. Why do this? Well this means we can eliminate secondary noise pollution in the test room and concentrate on components we are testing. It also brings us slightly closer to industry standards, such as DIN 45635.
Today to test the Power Supply we have taken it into our acoustics room environment and have set our SkyTronic DSL 2 Digital Sound Level Meter (6-130dBa) one meter away from the unit. We have no other fans running so we can effectively measure just the noise from the unit itself.
As this can be a little confusing for people, here are various dBa ratings in with real world situations to help describe the various levels.
KitGuru noise guide
10dBA – Normal Breathing/Rustling Leaves
20-25dBA – Whisper
30dBA – High Quality Computer fan
40dBA – A Bubbling Brook, or a Refrigerator
50dBA – Normal Conversation
60dBA – Laughter
70dBA – Vacuum Cleaner or Hairdryer
80dBA – City Traffic or a Garbage Disposal
90dBA – Motorcycle or Lawnmower
100dBA – MP3 Player at maximum output
110dBA – Orchestra
120dBA – Front row rock concert/Jet Engine
130dBA – Threshold of Pain
140dBA – Military Jet takeoff/Gunshot (close range)
160dBA – Instant Perforation of eardrum
Noise (dBA)

152W

<28.0

270W

<28.0

400W

30.5

523W

31.7

650W
33.2
Noise levels are very low throughout across complete load. Even at full load, the fan is not intrusive at all, although it can be heard within a very close distance. The fan seems to spin at only 500rpm until around 500 watts of load are required, when it starts to spin up, hitting a peak around 1,100rpm. Excellent results all round.
Temperature (c)

Intake

Exhaust

152W

36

39

270W

39

42

400W

42

47

523W

44

50

650W

47

59
The very high efficiency levels of the power supply ensure that the fan never has to work that hard – its a cool running unit as well.
| | |
| --- | --- |
| Maximum load | Efficiency |
| 716 watts | 90.7 |
At 716 watts, the efficiency level measures 90.7%. Not a practical situation to be running 24/7, but worth noting.
The Aerocool Project 7 P7 650W is the finest Andyson power supply we have tested to date. Clearly their partnership with the team at Techpowerup has paid off as technically this is a very capable design indeed. I have tested a lot of Andyson power supplies over the years, and quite honestly, most of them have fallen way short of the mark and certainly below a level I would feel comfortable recommending to our readers.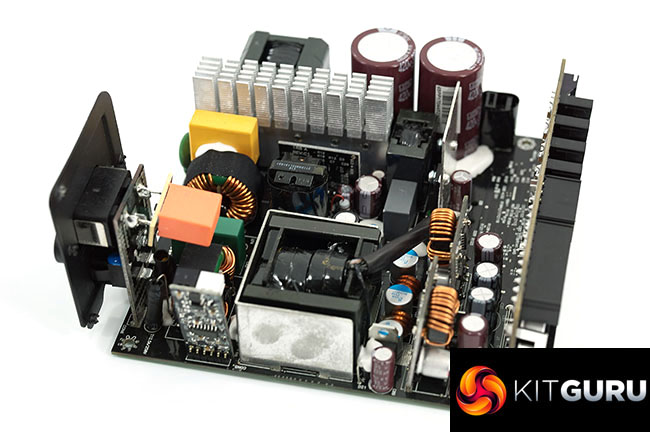 Technically we didn't find any weaknesses that were notable to report. This is the first Andyson power supply I can remember to have Over Temperature Protection which has always seemed essential to us. Clearly Techpowerup forced their hand with Aerocool, so I was pleasantly surprised to see it included.
It is clear to me that the development of this power supply has taken quite some time as there are no glaring weaknesses. Ripple suppression is first class, load regulation is within 1% on all rails and its one of the quietest power supplies I have tested this year. I can't really report further on the RGB support as I never received the optional RGB controller hub from Aerocool.
A quality modular platinum power supply will never be a 'bargain buy', but BOX in the UK are selling it for £134.99 inc vat HERE. This makes it around £20 less than competitors such as the Seasonic Platinum 650W Platinum supply, on sale at Overclockers UK for £154.99 inc vat HERE.
Discuss on our Facebook page, over HERE
Pros:
technically very capable.
very quiet.
well built.
ripple suppression.
RGB support.
fully modular.
7 year warranty.
Japanese capacitors.
Cons:
Not so sure about the mesh covering on the chassis, it might split opinion.
the blue text/accenting might put off colour coordinated system builds with red schemes (minor!).
KitGuru says: An excellent power supply from OEM Andyson. The first we have tested. Ever. Hats off to Techpowerup for helping Aerocool change their direction and raising the quality of this power supply.