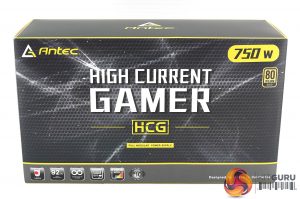 Nothing wrong with the Antec artwork, it makes sense from a marketing point of view to focus on the word 'GAMER', this alone will sell product. A row of Icons run along the bottom of the front of the box, some of which might not make much sense to a general punter in a retail store.

It says ' designed by Antec' in California. I don't see a 'built by Seasonic in Asia' on it though, but I will keep looking!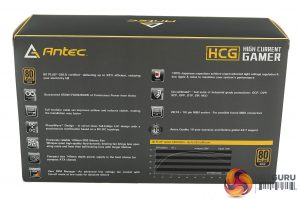 On the back, more details on some of those icons along with information on the 10 year warranty support and 80 Plus Gold efficiency rating. It is interesting how times change – there was a point a few years ago when GOLD efficiency felt state of the art – but with the proliferation of all the new Titanium and Platinum power supplies, Gold is definitely the new Bronze.
Inside the box, we are greeted with a bag containing the modular cables, a regional specific power cable, cable ties, and a user manual.
Connectors
– 1 x 20+4-Pin ATX12V/EPS12V
– 1 x 4+4-Pin ATX12V/EPS12V
– 4 x 6+2-Pin-PCIe
– 8 x SATA
– 3 x 4-Pin-Molex
– 1 x Floppy
– Warranty: 10yr