The ANTEC HCG Gold 750W is a fantastic power supply which will appeal to a very wide enthusiast audience. Antec clearly know that using Seasonic in any sector is going to ensure that the overall quality is best in the market.
Build quality is marvellous and there is no indication that Seasonic have cut corners in the component selection even though this is a relatively lower cost 80 Plus Gold unit — when compared against the influx of Titanium and Platinum units released in the last year. Paint work is high grade and the overall appearance is great.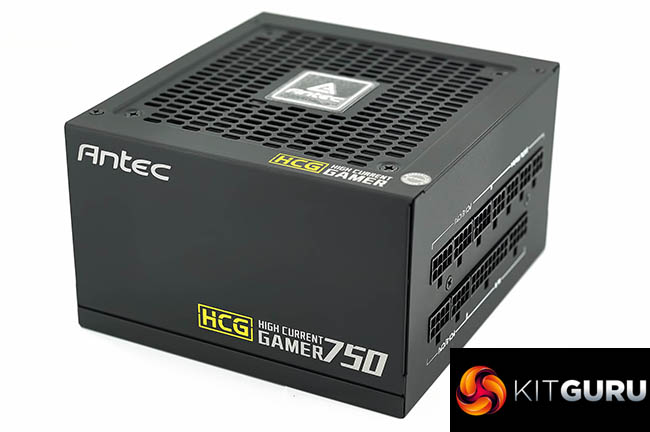 Technically the Antec HCG Gold 750W is solid as a rock. Noise suppression is top tier and the efficiency level is very high, easily achieving 80 Plus Gold certification. Voltage regulation is a strong point too and we recorded no hitches in the delivery either.
The modular cabling system is superb although I do wonder if Seasonic should start adopting the flatter ribbon style cables to help system builders with the ease of routing. Peripheral cables are ribbon style, but most are sleeved.
In operation, the power supply is quiet and this because Seasonic designs are using the latest Hong Hua Fluid Dynamic bearing fans. Its only really audible in the last 15% of load, and this is really not a realistic situation to be running long term. If you need close to 700 watts under load you are better opting for a 1000w+ unit. This will help put less strain on the capacitors, improve efficiency levels, which subsequently lower heat, fan speeds and overall noise.
Seasonic are renowned for their class leading warranty and the Antec unit is backed by a very substantial 10 year warranty. This gives the user peace of mind for some time into the future.

You can buy the ANTEC HCG Gold 750W 80 Plus Gold Modular Power Supply from Overclockers for £102.95 HERE. The only minor negative right now is that you can buy the Seasonic FOCUS Plus 750W 80 Plus Gold modular supply for £101.99 HERE. Antec could really do with getting the price down to £99.99 or even £94.99 as offering basically the same, rebranded Seasonic power supply for more money makes little sense to me.
Discuss on our Facebook page, over HERE
Pros:
Seasonic high grade built quality.
105 Japanese capacitors used throughout.
Load regulation.
Ripple suppression.
80 Plus Gold certification achieved in our tests.
Pure Modular.
quiet.
Cons:
KitGuru says: The ANTEC HCG Gold 750W 80 Plus Gold Modular Power Supply is available online for around the £100 mark. This Seasonic designed power supply should be on anyone's final shortlist. Its got a full 10 year warranty as well.