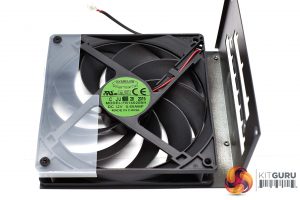 ASUS are using an 'everflow' fan, a dual ball bearing model marked 'FB14025BH' rated 12V 0.60 AMP.

Asus wanted the power supply back after I had tested it, so I didn't take it completely apart, as I usually do. I am stunned that they only seem to have one sample in the UK right now of this particular power supply.
Having looked at this unit I can see that it is a modified version of the Seasonic Focus Plus Gold Platform. This is a quality, reliable, technically sophisticated platform which we have reviewed in the past, and regard very highly.
Input filtering starts on a small PCB with Y and X capacitors in place – moving to the main PCB for completion.  Inside are a fair few smallish heatsinks to aid with cooling key components. The power supply is using a full bridge LLC topology with synchronous rectification with DC-DC VRM's for +3.3V and +5V rails on secondary.
Asus are using bigger heatsinks to likely try and reduce noise levels. By memory the PCB looks to be a bit bigger too. Asus are using high grade 105c rated Japanese capacitors throughout the design with the primary hold up capacitor rated 560uF 400V @ 105C.