The Republic Of Gamers line up is a very important brand for ASUS. Its specifically targeting the discerning enthusiast user willing to spend a premium to get the best possible performing products. ASUS' decision to partner up with market leader Seasonic was an excellent decision. Seasonic products have consistently scored well in KitGuru reviews over the last decade and they remain our highest award winning power supply manufacturer.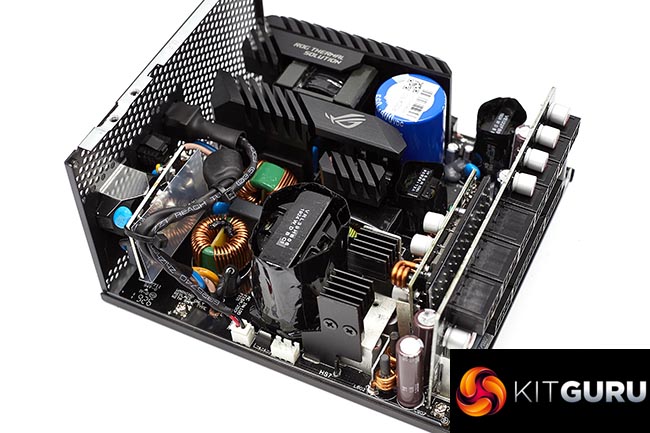 This is not a generic Seasonic product however. ASUS have bought into the FOCUS + platform and made some modifications. ASUS have invested time and resources into beefing up the PCB and heatsink design, which in turn means better passive cooling capabilities. The all important real world results indicate that this is a very quiet power supply, even when delivering up to 650 watts of constant power over sustained conditions. By beefing up the cooling capabilities you are buying into what we would consider the best 80 Plus Gold platform available to the consumer right now.
Technically, we already know how good Seasonic's FOCUS platform is. We have tested the power supplies in the past and they are class leading in regards to ripple suppression and load regulation. The capacitors are 105c rated, high grade Japanese, and with the enhanced cooling inside, we would imagine this unit will last a long time. ASUS do offer a 10 year warranty with the unit for peace of mind.
Right now we have no links to buy the product, but we know after speaking with Overclockers UK that they will have the unit in stock very shortly at around the £139.99 price point. I will update the review once I get more buying information and links.
Pros:
Very high quality Seasonic platform – modified and enhanced by ASUS.
fantastic heatsink design.
quite under load.
Japanese capacitors.
cosmetic customisation options will appeal to many.
delivered close to 850W under extreme load before shutting off safely.
technically very solid.
10 year warranty.
Cons:
Kitguru says: This is one of the finest 80 Plus Gold power supplies on the market in 2019. ASUS have modified and enhanced an already very capable Seasonic platform. Its expensive, but if you want the ultimate in quality and component selection, the ROG STRIX 750W deserves serious consideration.