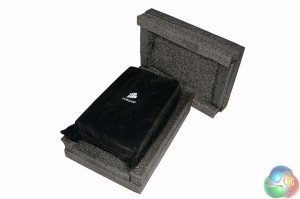 Finally, a closer look at the power supply itself. The Corsair AX1500i Digital ATX unit ships protected inside a felt bag, which is encased between two very thick foam blocks. Unless the courier plays basketball with the box, we can't imagine anyway for the power supply itself to receive damage during shipping.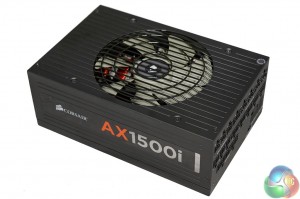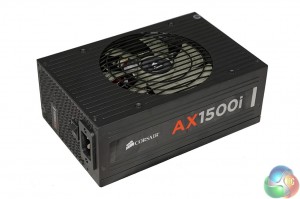 We love the appearance of the Corsair power supplies. Their sublime use of two tone colour labeling systems, with a stylish choice of font ensure they fit in well with any system build. It measures 225mm and is one of the biggest power supplies we have tested. You will need to be sure that your case can handle this behemoth chassis – AeroCool Dead Silence users need to look elsewhere.
The paint work is matte black and is painted very thickly on the chassis. This unit passed our screwdriver test with flying colours. We run the head of a Philips screwdriver down the side of the chassis with light to moderate force. How many times have you accidentally 'connected' with a power supply during a system build? Full marks to Corsair for the build quality of the AX1500i chassis.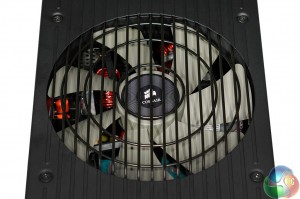 A large 140mm fan can be seen hiding behind the metal grill on the top of the chassis. Corsair branding is visible in the center. We will look at the fan in more detail when we crack open the unit shortly.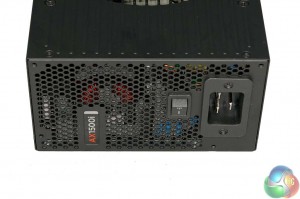 One side of the unit is vented to help enhance air flow. There is a heavy duty power connector on the side, alongside a power switch. Corsair include a small plate with the name of the product printed vertically.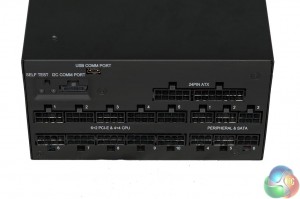 The Modular panel supports up to 18 cables. They are all clearly labelled. There are two Comm port connectors which support the Corsair Link cables we mentioned earlier in the review. There is a self test button in this section and LED indicators underneath.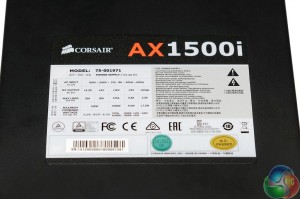 Corsair AX1500i Digital ATX Power Supply

DC Output

+3.3V

+5V

+12V

-12V

+5Vsb

Max Output

30A

30A

125A

0.8A

3.5A

Total Power
180W
1500W
9.6W
17.5W
1500W
The Corsair AX1500i can deliver 125Amps of power to the +12V rail. The +3.3V and +5V output can each supply 30A of power.