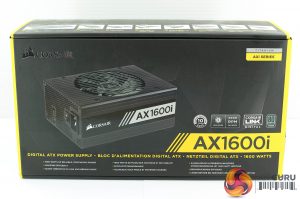 The Corsair AX1600i Digital power supply ships in a large, heavy box featuring an image of the power supply on the front, along with simple, yet effective yellow accents. Corsair highlight the 10 year warranty, Titanium efficiency, Zero Fan configuration and the Digital Link feature.
The rear of the box goes into a little more detail. I like how Corsair show photographs of the cabling along the top of the box – making it really handy to check if you are browsing in a physical retail store (some people still use those, right?).
Inside the box, Corsair include coloured stickers and some user literature on the product. A very nifty idea to solve the problem of the default stickers clashing with a colour coordinated system build.
The AX1600i is well protected during shipping. It is sandwiched between two thick pieces of foam and protected against scratches inside a black felt bag.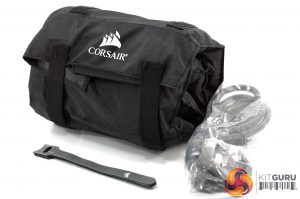 Corsair also supply a regional specific C19 power cable, felt cable ties and mounting screws. They also supply what appears to be a bag of cables, but its much more than that.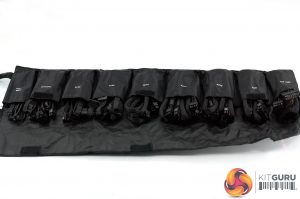 This is not merely just a storage bag, its a compartmentalised rolled up storage pouch with all the cables clearly marked in sections. Almost like a tool kit bag I bought last year from WIHA. I love this idea, so kudos and bonus points to Corsair.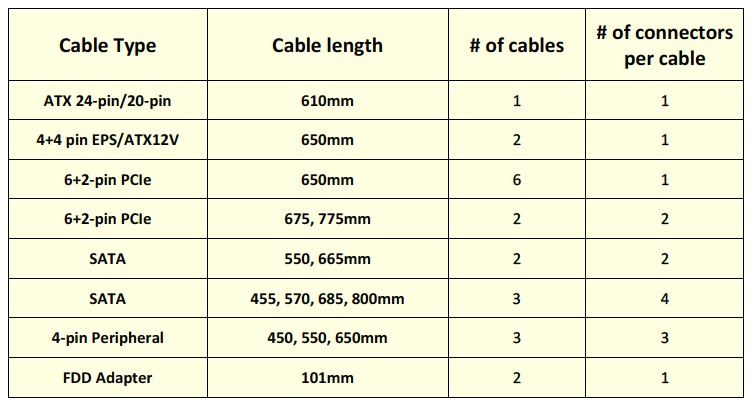 If you want to run a high end render system with multiple graphics cards, this power supply should surely be making your final shortlist. Its worth pointing out that Corsair have changed some of the cables since the AX1500i was launched. The AX1600i is equipped with new 'Type 4' cables.
The 6 pin cables for SATA and peripheral power are the same as the Type 3 cables used with the HXi, RM supplies. The 8 pin cables for the ATX12V/EPS12V and PCIe are pin compatible with Type 3 cables but have added capacitors to help reduce the ripple noise on the leads. The Type 4 24 pin cable has an additional 4 pins – these are 'sense wires' that allow the AX1600i to sense the voltage at the load and adjust on the fly to improve voltage regulation. Corsair published a lot of information on these new cables and you can read more about them over HERE.
Be sure to check out our sponsors store EKWB here