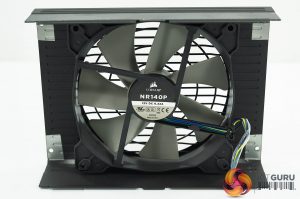 The 140mm fan is branded with a Corsair sticker (model number NR140P). We know this fan incorporates fluid dynamic bearings. The fan is rated to a maximum speed of 1,800 rpm / 0.22A (2.6 watts) at 12 VDC. It is the same fan that was in the AX1500i.
The MTBF of the fan is said to be greater than 100k hours. Corsair use their 'Zero RPM' system which means that the fan won't even rotate under low to medium loads. Medium load for a 1600 watt power supply is quite a lot.
Example? Well we recorded a tiny, barely active 500 rpm fan speed at 800 watts, which is incredible. At 600 watts the fan was disabled completely so its basically as quiet at the Seasonic Prime Titanium Fanless 600 watt unit that we reviewed in December 2017.
If you can't see the image gallery above then you will need to whitelist us or disable your ad blocker – they can interfere with our specialist display code.
The design is using a bridgeless totem-pole PFC circuit utillising GaN power FETs from Transphorm. Regular KItGuru readers who enjoyed our AX1500i Flextronics OEM review back in April 2014 will remember that was a bridgeless, 2 phase interleaved PFC circuit. Corsair claim the Transphorm GaN totem pole PFC is 99% efficient while taking up less space on the PCB.
Inside, its an all 105c Japanese construction, always good to see. High grade Nippon Chemi Con and Rubycon are used in the primary stage. There are three main capacitors – two rated 450v 470uF and one 450v 680uF. This gives a staggering total of 1620uF. One of the highest combined uF output figures we have seen from any power supply to grace our labs.
The soldering on the PCB is immaculate and even the modular daughter card is exceptionally well finished. We can see 2 PFC chokes alongside the EMC/EMI filtering close to the AC socket. Along one side of the PSU is a control board – DSC primary, 1x MCU and 1x DSC secondary. In front of the modular connector board is the +12V output wire with ferrite core to reduce ripple and noise. Along the other side of the supply is the +5V and +3.3V DC to DC converter board.
AX1600i Safety Protections
AX1600i has the necessary protection functions to ensure trouble-free operation, even in extreme conditions. Below is a list of the included protections:
Over Current Protection (OCP): Shuts off power if any rail is overloaded beyond a safe level.
Over Voltage Protection (OVP): Shuts off power if voltages exceed specification.
Under Voltage Protection (UVP): Shuts off power if voltages drop below specification.
Short Circuit Protection (SCP): Shuts off power if a short circuit is detected.
Over Temperature Protection (OTP): Shuts off power if temperatures exceed a specified value.
Over Power Protection (OPP): Shuts off power if the total output power exceeds a safe level.
Be sure to check out our sponsors store EKWB here