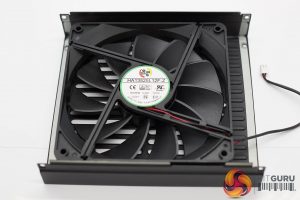 Inside the Corsair AX850, we are greeted to a Hong Hua 135mm Fluid Dynamic Bearing fan (Model: HA13525L12F-Z). This is a quality fan we have seen in some high end units in previous months including many Prime units from Seasonic. the fan is rated for 0.22A and 1600 rpm at 12 VDC. It is generally a quiet fan. It is built for long life and quiet operation.
Below - a High Resolution Gallery of the internal layout of the Power supply.
If you can't see the image gallery above then you will likely need to white list us in your ad blocker as they are known to interfere with our display code.

The internal design of this unit is very clean and the soldering quality is top drawer. All the electrolytic capacitors inside are Japanese made, which is always good to see. The primary bulk capacitors are made by Japanese giant Nippon Chemi Con and are rated 400v 680uf and 400v 470uF. They are from their KMR series rated 105C. This gives a total output of 1150uF which on paper means this unit is very capable of delivering a lot of power – especially for an 850W rated unit.
Secondary capacitors are all Japanese and we can see a diode bridge for AC DC rectification of the incoming AC voltage. All in all this is a really clean, effective design for such a high efficiency unit.
We notice that even though this unit is Titanium rated and clearly highly efficient, Corsair have populated the PCB with 4 or 5 heatsinks in key positions – just to ensure heat gets removed in situations with little, to no airflow.
It has OCP, OVP, UVP, SCP, OTP and OPP protection in place.
We tested the unit to see if it exhibited coil whine, and even under very heavy load conditions and when playing games at lower resolutions running at 300fps we couldn't exacerbate any problems.