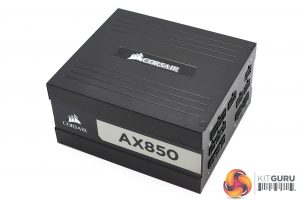 The Corsair power supply is ATX, and is 170 mm x 86 mm x 150 mm in diameter. Its nicely finished and seems fairly resistant to scratches and finger prints.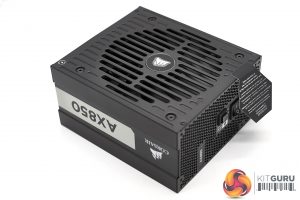 The 135mm fan is hidden behind a metal grill on the top of the power supply. We will get a closer look at this shortly.
There is a large sticker on one side of the case which explains the 'Zero RPM' fan mode. As we always say, less noise is always good.
When the sticker is removed, we can see the power connector, power switch and the 'zero noise' fan button. You can disable it to have the fan active at all times, if you want of course. Perhaps useful in a very warm climate or a case that has restricted airflow.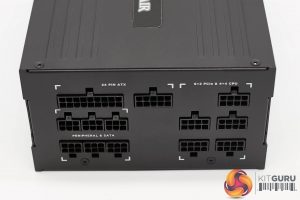 One side of the power supply is home to the modular drive bay which is clearly labelled and to help with routing during the build phase.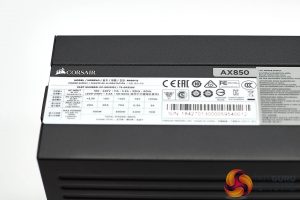 Corsair AX850 80+ Titanium Power Supply

DC Output

+3.3V

+5V

+12V

-12V

+5Vsb

Max Output

20A

20A

70A

0.3A

3A

Total Power
100W
840W
3.6W
15W
850W
The single +12V rail is able to deliver 7 amps which is plenty for any Crossfire or SLI system build I can imagine. The minor rails deliver 20A.