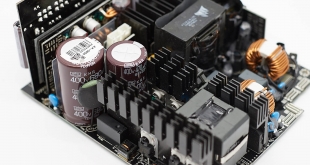 Today we look at one of Corsairs latest power supplies, and one that sits right at the top end of the efficiency spectrum – their new AX850 80+ unit. This replaces their older Gold rated model which I reviewed way back in August 2010. This new model pushes efficiency boundaries to the limit for the consumer market – shipping with a Titanium (96%) efficiency rating.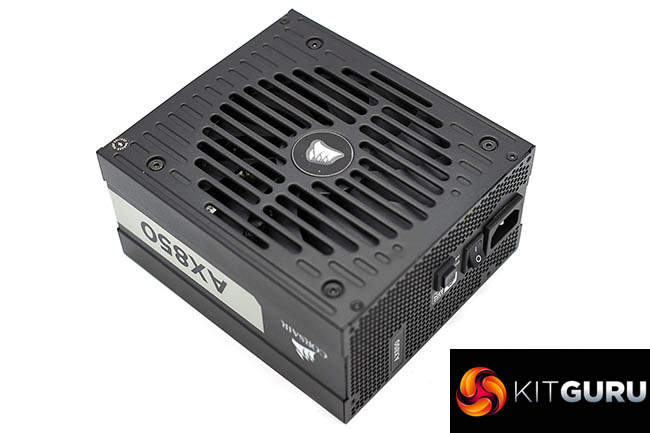 The AX range of units sits high in the Corsair stable and the Titanium rating comes at a cost – this 850 watt model retails for a staggering £215 in the United Kingdom right now (buy from OCUK HERE).
Like the SF750 supply which we reviewed very recently (HERE) Corsair are focusing on reducing noise emissions as far as they can so they have equipped this particular unit with a 135mm Fluid dynamic bearing fan.
Corsair say their FDB fans are a higher standard than most, as they use rifling on the inside and outside of the bearing, as well on the spindle. This ensures proper distribution of lubrication throughout the bearing and an MTBF greater than 100,000 hours. We will look at the noise levels later in this review.
It is worth pointing out that this is not one of Corsair's 'i' series power supplies, so you won't be able to use utilities such as Corsair iCue software for monitoring, but for many people this won't be a deal breaker.
Specifications
AC Input Rating 100-240V
Input Current 11A – 5.5A
FDB Fan bearing
MTBF: 100,000 hours
PSU Form Factor: ATX
Link Compatibility: NO
Frequency 50 ~ 60 Hz
Max Load Max Output
+3.3V 100W
+5V 100W
+12V 840W
+5Vsb 15 W
10 year warranty