The Corsair AX850 80+ Titanium Power Supply is one of the most efficient power supplies we have ever tested at KitGuru. At optimum delivery it delivers efficiency of 96.7% – putting it into the top units we have tested.
Technically this is another great AX product – load regulation is rock solid, and ripple suppression is class leading. The adoption of Fluid Dynamic bearing fan with Zero RPM means that this is a quiet power supply, even under high load situations. Even at full load the noise emissions were cloaked by a single case fan. It also handled the demanding cross load test without an issue.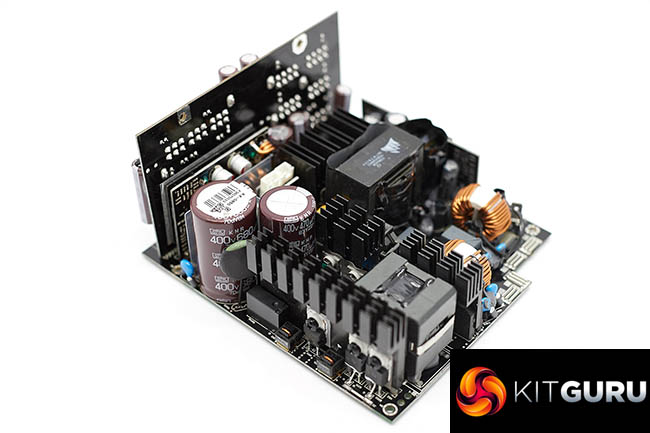 While it is not unique to this particular power supply, the option to have an 'always on' fan will appeal to a specific audience running in a very hot environment or perhaps inside a case with very limited airflow. The high levels of efficiency and quality of internal design ensure that this is a cool running power supply, even when tasked with higher levels of load demand.
Internally Corsair haven't cut corners, and they have adopted high grade 105c Japanese capacitors throughout the build – from brands such as Nippon Chemi Con. Even though efficiency levels reach 96.7%, Corsair have included multiple small heatsinks across the PCB to ensure key components cool adequately with minimal, or no airflow.
Modders out there will appreciate the colour options available on the side panels, with a standard grey logo included, along with black/white, red and blue. I appreciate the cost involved but I would have liked to see the cables come individually sleeved, even if it meant adding a little more to the overall cost of the unit.
I guess Corsair want people purchasing their premium cable kits but at the price point this power supply is targeted the audience just want the best (performing and looking) product they can get, so charging a little extra for individually sleeved cables in the box might have been a good option.

You can buy the Corsair AX850 Titanium Plus power supply from Overclockers UK for £214.99 inc vat HERE
Pros:
Built to very high standards.
Class leading efficiency.
superb ripple suppression.
load regulation is rock solid.
colour options are welcome.
10 year warranty.
very quiet, even under load.
delivered almost 1000 watts.
Primary capacitors are hugely over-specified.
Cons:
It's expensive.
individually sleeved cables would be nice.
KitGuru says: This is another powerhouse power supply from Corsair. The Corsair AX850 Titanium costs a lot of money, but if you want the highest quality power from a unit that exhibits little noise even under full load, this surely has to be right at the top of your list. The included magnetic stickers are a nice extra.