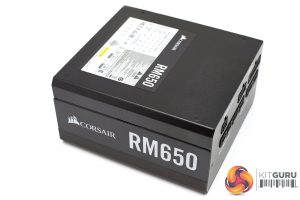 The Corsair RM650 is quite an understated looking unit with a simple black and white aesthetic. It will suit any colour schemed system so we think its a wise move from Corsair not to add coloured accents to the sides.

The power supply measures 150 mm x 86 mm x 160 mm. It is fully modular.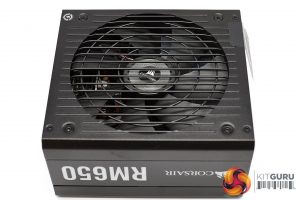 The large fan is hidden behind a metal grille at the top of the unit. We will take a closer look at the fan when we open the supply later in the review.
One side of the unit is home to the power connector and switch along with a vented panel to aid with airflow. Corsair are keen to point out that the fan will not spin under lower load situations.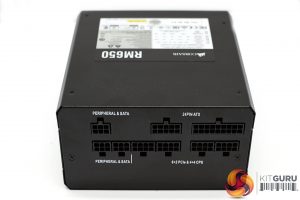 The other side of the unit has all the modular cable connectors – labelled to make setup easy.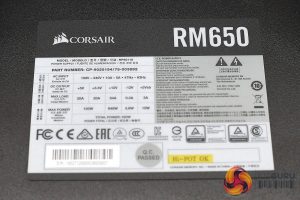 Corsair RM650 Power Supply

DC Output

+3.3V

+5V

+12V

-12V

+5Vsb

Max Output

20A

20A

54A

0.3A

3A

Total Power
130W
648W
3.6W
15W
650 watts
This 650W power supply can deliver 54A on the +12V rail. Minor rails fall within parameters we would expect for the given overall wattage. The +12V rail can deliver 648Watts.