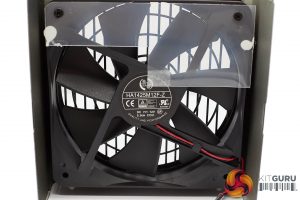 Corsair are using a Hong Hua 140mm fan in this unit, Model number HA1425M12F-Z. This is rated 12V, 0.36A and uses Fluid Dynamic Bearings (FDB). This ensures long life. The design of the fan adopts a unique blade and grille configuration to drive a lot of air when needed.

Below - a High Resolution Gallery of the internal layout of the power supply.
If you dont see the gallery below, turn off your ad blocker

The internal design is clean and there are several large heatsinks to air with airflow. The fan (as you can see from the first image on this page), has a plastic sheet in front of it, partially covering the blades  – this is to force air flow over specific parts of the power supply.
Primary capacitors are by Su'soon rated 270uF, 400V and 330uF, 400V. These are Taiwanese capacitors (Kuan Kun Electronic Enterprise Co., Ltd) with a 105c rating. I can't say I have a lot of experience with these capacitors over the years, but they are definitely not built to the same standards as Japanese capacitors from brands such as Nippon Chemi Con, Panasonic, Nichicon or Rubycon. Definitely a bit of cost saving in action here. As mentioned earlier in the review Corsair say 'Electrolytic and solid capacitors for RM Series power supplies are specified as Taiwanese or Japanese in origin with no guarantee between the two.'
The PCB soldering quality is actually pretty good overall with clean traces. Secondary capacitors are mostly Taiwanese/Chinese again.