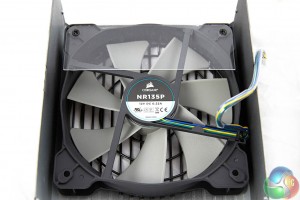 Corsair are using their NR135P fan inside the RMi Series 1000W power supply – the same fan also used in the 750 watt unit we also review today. This fan has intake blades specifically designed to move a high volume of air through the power supply components with less noise than a conventional fan design. Corsair claim the fan blades are properly balanced to help reduce resonance at higher speeds. This fan incorporates fluid dynamic bearing to help prolong life and reduce noise further than a ball bearing or sleeve bearing design.
Corsair make the point that they have invested a lot of time into ensuring these units do not exhibit any 'coil whine'. This can be caused by poor winding of a transformer or coil. Also the conducting and insulating layers of a capacitor can vibrate excessively if the components are not wound properly. These vibrations can lead to audible noise that many people class as 'coil whine'.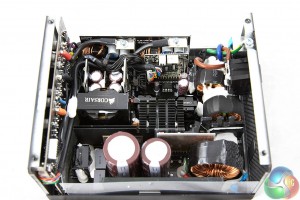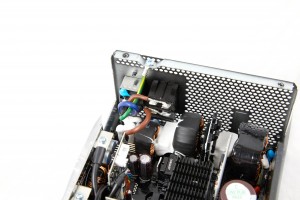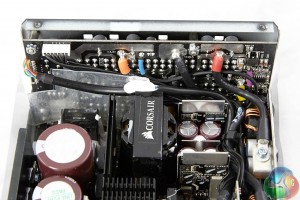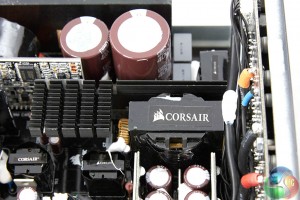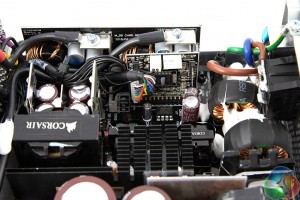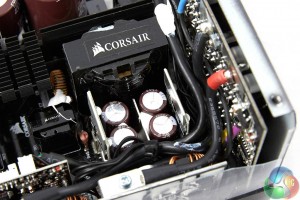 This is a CWT design and the build quality is actually very high. Soldering quality on the PCB and modular connection board is good. The 750W and 850W also have fewer PFC MOSFETs and lower power PWM MOSFETs than the 1000W unit. The 750W also has fewer +12V output rectifier diodes than the 850W and 1000W.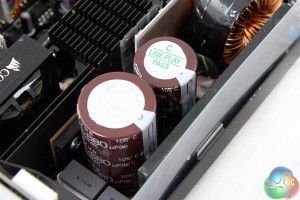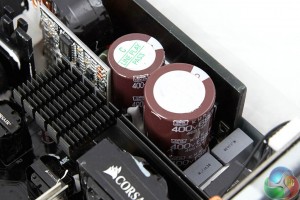 The power supply is using all Japanese capacitors in the primary and secondary stage. In the primary stage are two high grade 105C capacitors from Nippon Chemi Con – a 400V 680uF (KMR series) and 400V 470uF (KMW Series) unit. These are as good as it will get for a mainstream consumer unit.