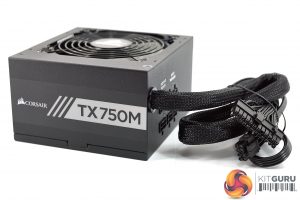 The Corsair TX 750M is a basic, but effectively designed power supply – in a simple black and white colour scheme. The paintwork is nicely finished and is fairly resistant against scratching.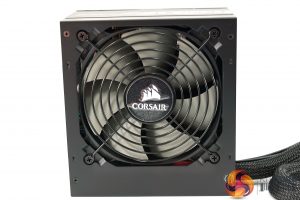 The large Corsair fan is hidden behind a black grill with the company logo on full show in the centre.
One side of the power supply is home to the modular bay which is pretty much bulletproof to follow. Not only is it clearly labelled, the PCIe and CPU sockets are 4+4 pin, whereas all the peripheral ports are 3+3 pin. Even the most ham fisted system builders would have a hard time messing this one up.
Corsair TX 750M Power Supply


DC Output

+3.3V

+5V

+12V

-12V

+5Vsb

Max Output

25A

25A

62A

0.8A

3A

Total Power
130W
744W
9.6W
15W
750W
This supply can deliver 62A on the +12V rail meaning there is plenty of power on hand for a powerful SLI and Crossfire configuration. It can deliver over 93% of its total available power over the +12V rail alone.